| | | |
| --- | --- | --- |
| | | Greetings Vancouver is Awesome readers! We here at Artsy-Dartsy are proud to be new contributors to VIA.A brief background on us: We are Linus and Denise. So pleased to meet you! We love art and design, hence we started a website called Artsy-Dartsy.com to help people like us find out about art and design events in our awesome city of Vancouver!This week there are tons of great events happening. For the full listing please head to Artsy-Dartsy.com. |
This week there are tons of opening receptions and new shows. At Gallery Atsui, they are showing Elimination of the Inbetween. Opening reception is Friday, Apr 9, at 8pm. They are showcasing drawing works from the Concordia Master of Fine Arts Program curated by James Whitman.

Drawing is close to thought, an economical medium, quick and of simple means. It is the least technically and materially burdened of visual media. Like writing, it is a widespread form of thinking and expression beyond artistic practice, easily traversing diverse professional and social worlds. As such it is well suited to the diaristic, and to picturing the relationship between self and other, whether that other be the nearest body, one's family, or the wider social and natural world. The artists in this exhibition use drawing to produce personal histories, to interrogate their social place. Stories from one's neighbourhood, city, and family; one's personal interests, obsessions, and crank notions all are occasions for working out a politic, a viewpoint, a way of relating with one another. These artists are concerned with drawings legibility and approachability, with its ability to extend out to and communicate within diverse social spaces.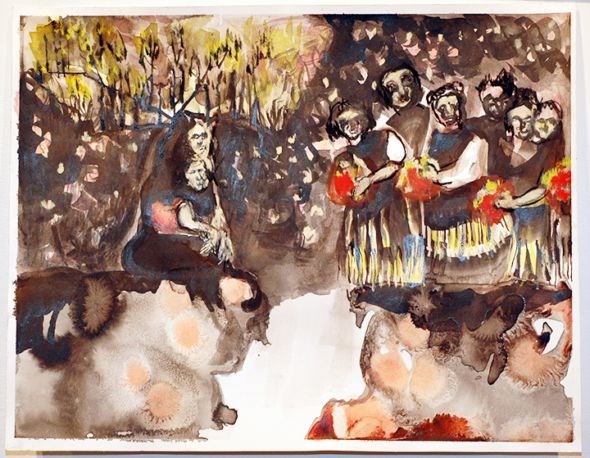 Image: Sarah Pupo
Pecha Kucha has moved to a larger venue and is going on tonight! Lucky for those who have tickets as this event sold out weeks before! Museum of Vancouver is hosting DIY Social Crafting night Friday, and the Ayden Gallery is hosting Carded! for those people who missed the first one at the Jacana Gallery during Olympic weeks.