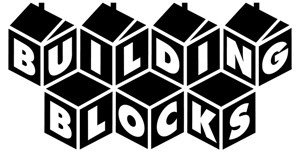 This sponsored feature takes an intimate look at real estate projects in Greater Vancouver, bringing you stories about the developers, the neighbourhoods and the homes themselves.
When looking to find the perfect home, we often believe that buying is best. We assume that becoming a homeowner will make us happier and bring more financial security, that we'll have more space for our possessions and it'll be easier to host family and friends.
But is it possible to have all this without the shackles of mortgages and maintenance? Could there be more to renting than meets the eye? At Pacific Palisades, they believe renting a home should be as great as owning a home—or even better. Read on for PaPa's top 5 reasons why.
1. Convenience
A common frustration of renters and homeowners is maintenance. Sometimes it can take weeks to get a simple problem fixed. At Papa, tenants come first. You don't have to call your condo leasing agent to call the strata board to call a plumber to fix your leaky faucet. Our onsite building managers are on hand 24/7 to address any issues you may encounter. You don't have to pay monthly maintenance fees, either. Everything is taken care of.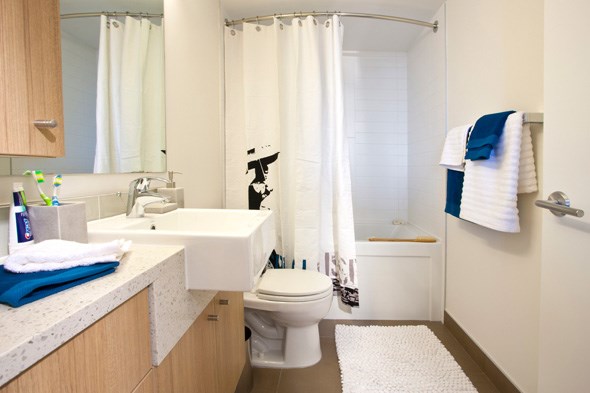 Speaking of faucets, all of PaPa's are Grohe
2. Quality
While we all have fantasies about our dream home, it's probably unlikely that you'll buy that home soon. But you can rent it at PaPa. Each of our brand-new studios and one-bedroom suites is full of light and features hardwood floors, quartz countertops, porcelain tile, blackout blinds, spacious closets, soaker tubs and European-style appliances. Rent at PaPa and you can finally stop drooling over the mid-century condos in Dwell magazine and start living in one.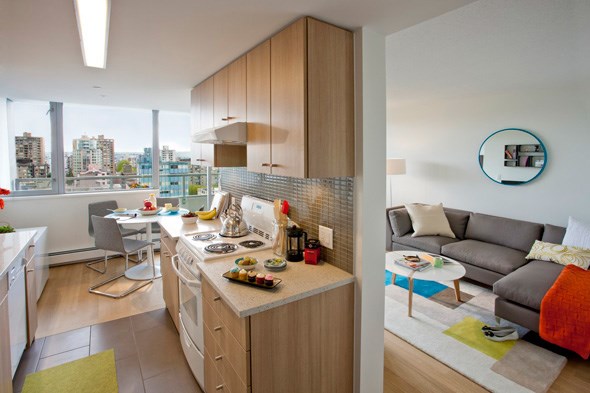 You'll be the envy of all your friends in a PaPa 1 bdr
3. Sustainability
It's rare that you'll buy or rent a condo that has been built with sustainability in mind. However, all PaPa apartments have been built using materials with high recycled content, painted with low-VOC paints and include low-flow toilets, occupancy sensors, LED and fluorescent lighting. All suites also boast efficient heating and ventilation.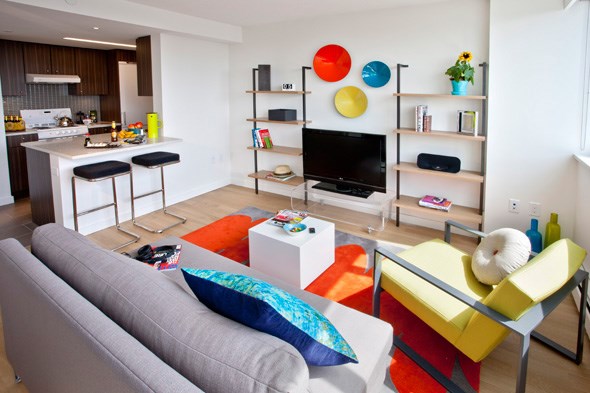 PaPa's walls are painted with a low-VOC paint in a neutral soft white
4. Location, Location, Location
Location is everything in a home but we usually say goodbye to all the things we love about downtown living to get on the property ladder. But Papa places you in the middle of everything. Located at the corner of Robson and Jervis, you can have it all: coffee shops, restaurants, great shopping, galleries, cinemas and easy access to transportation. And when that's all too much? Head round the corner to Stanley Park.

There's even Zipcars parked in PaPa's garage
5. A Vibrant Community
PaPa is dispelling the myth that buying gives us more access to community than renting. Fostering a vibrant community at Pacific Palisades was key to the owner and developer, Austeville Properties, which is why The Commons features a spacious ground-floor laundry room, state-of-the-art fitness centre and yoga space, four meeting rooms and free WiFi. Tenants are bonding: they've already formed a book club and games night, and rumour has it that two have fallen in love after meeting in the laundry room!
There's still time to rent a brand-new suite at PaPa. Our Info Centre is open Monday to Saturday, 10 AM to 6 PM and Sunday 11 AM to 5 PM at 1289 Robson St.
604-251-7272
info@pacificpalisades.ca