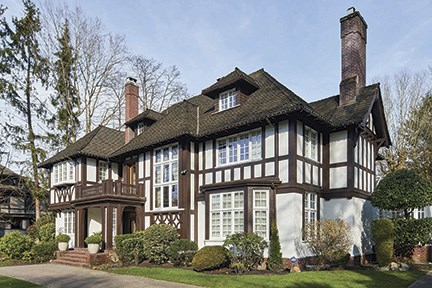 Did you know that Goldie Hawn and Kurt Russell used to live in First Shaughnessy?
Or that Vancouver was home to a "self-styled" French Baron? Vancouver is a relatively young city but it still has many unique and fascinating stories to tell. Vancouver Heritage Foundation's Heritage House Tour offers the chance to learn about some of the city's significant heritage residences and the people who lived in them.
The impressive former home of Kurt and Goldie will be open on the tour, as well as the Baron's charming residence, which was built by the same contractor as the beloved "Hobbit House". If you've ever been to the West End and marveled at the spectacular Kensington Place apartments, you'll definitely want to join us as we open two separate apartments in this storied building, which has drawn the city's business elite, creative minds and architecture lovers for 105 years.
Classic car lovers will also have something to swoon over with several vintage vehicles on display during the day, including a 1910 REO Model R Touring Car and a 1927 Auburn first owned by a nearby resident of one of the tour homes.
2018 Heritage House Tour
Sunday, June 3rd 10am - 5pm
$40 or $30 with valid student ID
Tickets available at vancouverheritagefoundation.org
All proceeds support VHF's educational programming and grants.