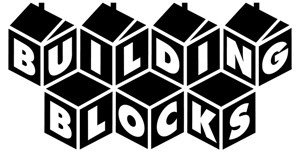 V.I.A.'s Building Blocks sponsored features offer intimate looks at real estate projects in and around Greater Vancouver, bringing you stories about the developers, the neighbourhoods and the homes themselves.
At the edge of SFU, on top of Burnaby Mountain, there's a cool, little known and growing community of young families and couples, academics, students and professionals who value living on nature's doorstep. Currently home to 3,500 residents, UniverCity – as it's called – is also on the verge of a major transformation as more residents move in (10,000 are expected to live here within the next decade) and more homes go up. There are already shops, restaurants and cafes, an award-winning, sustainably designed daycare and elementary school, as well as over 23 kilometres of hiking and biking trails through lush forest.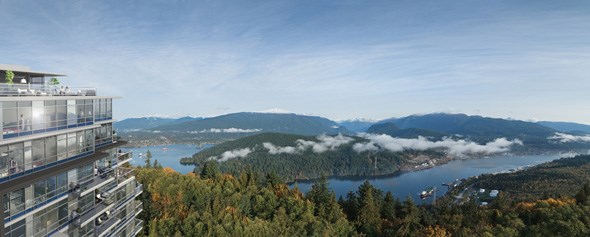 In the heart of this new community is Hungerford Properties' two-tower development called Altitude. The first tower will be complete by the end of the year when residents begin to move in. And this week, they launch the second tower. When built, the towers will be the tallest in Metro Vancouver offering spectacular views of the North Shore Mountains, Burrard Inlet and downtown. Altitude Tower Two will be 14-storeys and offers 1, 2 and 3 bedroom homes starting at $239,900.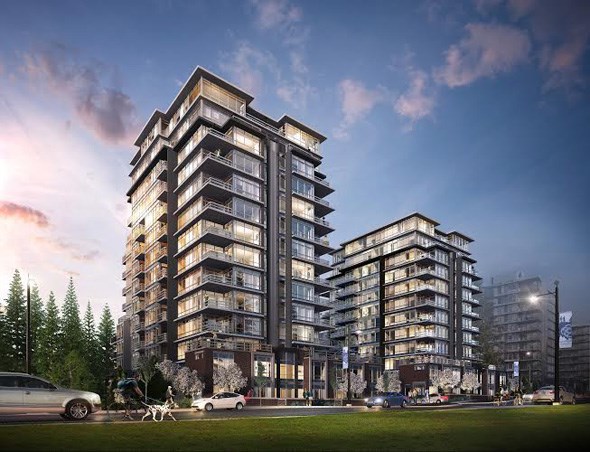 Here's five reasons why it will be an awesome place to live:
1. It's a smart investment. When Altitude's first tower was launched two years ago, there was A STUDY on the benefits of buying in UniverCity compared to other areas of Burnaby and other universities like UBC. For the cost per square feet and for the current rental rates, UniverCity is one of the highest cash flow investments in the city.
2. It's beautiful. Not just the views, but the fresh air, the forest trails and the wildlife. From salmon streams to eagle and deer sightings, life is never boring in the wilderness. And you don't have to walk the trails. You can bike – LIKE THIS GUY.
3. The community is cool and diverse. Residents report a 93 per cent satisfaction rate with their neighborhood. They say that the outdoor recreational opportunities, access to public transit, nearby shops and services and the community's sustainability focus are just a few of the reasons why they love living on Burnaby Mountain.
4. If you have kids, the school is awesome. Check out THIS CUTE KID on his first day.
5. It's easy to get around without a car. With easy access to public transit, 25% of residents - double the Metro Vancouver average – rely on transit as their primary mode of transportation.
Altitude offers a rare combination of views, recreation, award-winning learning and quality construction and finishing," says Michael Hungerford, partner in Hungerford Properties. "Residents will be part of an incredible community at prices that people can afford."
The grand opening for Altitude Tower Two is on April 12. Please visit the sales centre at 8955 University High Street in Burnaby, call them at: 604-456-8883 or click here to register: www.hungerfordproperties.com/altitude
Also, follow Hungerford on Twitter at @HungerfordProp and Like on Facebook at fb.com/HungerfordProperties