Vancouver Heritage Foundation is a registered charity supporting the conservation of heritage buildings and structures in recognition of their contribution to the city's economy, sustainability and culture.
Sometimes we're so busy with our daily grind that we don't get the chance to really look at the built environment around us and appreciate the history of where we are. Every street you walk down has a story to tell and buildings that have stood witness to history. West Hastings Street has a number of heritage buildings (many of them on the heritage register) that continue to be used today much as they were over 100 years ago; as the skyscrapers of their time, grand office buildings, members' only clubs, temple banks, department stores, small local businesses and more.
The hustle and bustle of Hastings Street has not been lost today. While trolley and observation cars no longer run along the corridor, tourist buses do, much as they did when the Vancouver Tourist Association began in 1902.  The centre of downtown shifted westward during the 70s-80s, but recently there has been a move back to this heritage district with the redevelopment of key landmarks, new builds and new development proposals along the waterfront.
On West Hastings Street, 100 year old merchant banks and department stores are being used by educational institutions such as SFU's Morris J. Wosk Centre for Dialogue and the Harbour Centre campus. The Marine Building continues to be an office and commercial building with great new local food options at JJ Bean Coffee Roasters and Tractor Foods. The Winch Building, the Federal Building, the Customs Building and former Post-Office were combined in 1986 to create the Sinclair Centre. The Canadian Bank of Commerce from 1908 was converted to retail space by Birks Inc. in 1994, bringing with it the original clock that once stood across the street at Trorey's Jewellers. Newcomers to Hastings Street, but longtime local companies,  Murchie's Tea and Coffee, and Ingledew's Shoes have relocated here from Pender and Granville Streets. As the street evolves you can't help but wonder what the next 100 years will bring!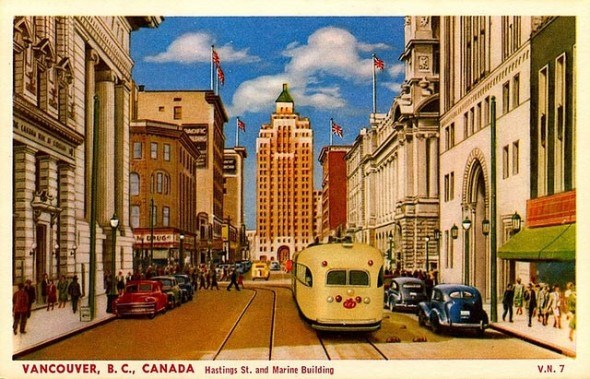 If you'd like to learn more join us in celebrating 5 new Places That Matter plaques marking West Hastings Street history. All are welcome to attend the plaque unveiling this Friday June 26th at 12pm, in the park-like setting of Lot 19 at the foot of Hastings and Hornby. There will be free tea, coffee and treats and a free one-hour walking tour with civic historian John Atkin which will stop by all 5 plaques. The event begins at 12pm, the walk will begin at 12:30pm. Click here for more details, and like us on facebook to follow the Places That Matter project.