Did you know that back in 1989, Vancouver City Council adopted 27 View Cones "to protect views to the North Shore mountains, the Downtown skyline and surrounding water bodies"? It's true, and it's a part of what insures the awesomeness of our city. I wrote about them in THIS PIECE about Tap & Barrel In The Village on False Creek but wanted to post this on it's own in case you missed that part of the story.
Essentially what the View Cones do is limit height of buildings in certain areas so that developers can't simply fill our skyline and block out one of the things that keeps a lot of us here; the reminder of how close we are to nature. I'm a somewhat vocal advocate for added density in Vancouver but these View Cones are equally as important for the future of a vibrant and healthy city. I "use" these view cones every single day, and I bet you do too.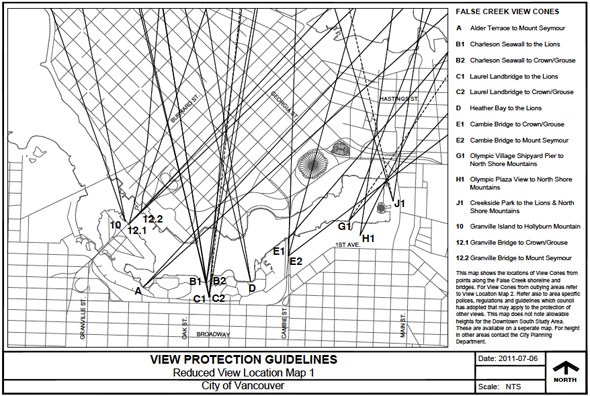 You can thank the City for preserving the views from Tap & Barrel's aforementioned patios (protected by sections G1, H1 and J1 in the diagram above), and many, many more. These views truly enrich our daily lives as Vancouverites and will hopefully be everlasting. Learn more about them HERE!