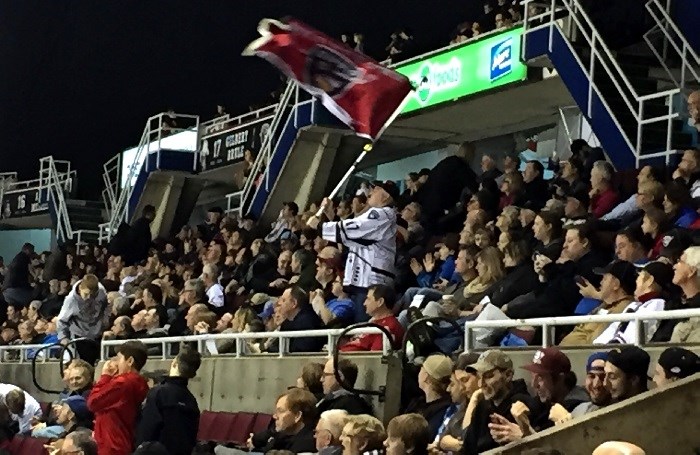 # 1: It's One of the Best Deals Around
We paid 20 bucks to sit about 8 rows back just over the goalie's right shoulder and saw every single big play right up close and personal. With every check, we heard (and practically felt) the crunch against the boards and saw the sweat spray across the glass. There isn't a single bad seat in the house.
#2: Proof that Vancouver is Awesome
We took two friends from Korea because they had never seen a hockey game before and we figured the Giants would be the perfect introduction to our national obsession. Walking through the stands and the concessions, we identified at least 8 different languages being spoken. This is Vancouver (and Canada) in all its crazy cosmopolitan, polyglot glory...at a hockey game no less. Makes us feel proud.
# 3: It's a Family Affair
Mums, dads, and kids sit and cheer together. Between plays and periods, local minor association teams roam the stands trying to sell you raffle tickets to raise money for equipment for their kids' teams. You feel like you are part of a community because everyone is so nice. Even though we were surrounded by cow bells, banners, and Giants jerseys the whole time, the crowd seemed to be rooting for all the players in general.
It's so 'family', Ryan from the front office called me a few days after the game to tell me that next time I could buy tickets direct from the team even cheaper! When did the Canucks last call you?
#4: SNACKS!
There is beer (even microbrews), wine, pizza, popcorn, ice-cream AND a White Spot. The makings of a feast with two intermissions and short lines!
#5: ENTERTAINMENT
Between plays and between periods, there are more than just raffle tickets and snacks to choose from. If you don't feel like walking around, you can stay in your seat and try to get free t-shirts, watch tributes to local players, pray that the flying Gretzky mini-blimp(!) drops coupons on you, watch yourselves on the big screen and watch and participate in all kinds of contests. Non-stop entertainment.
#6: The Hockey
It's not the NHL, but the Giants had everyone on their feet more than a few times during the game. Great goals, hard checking and stunning goaltending had us cheering and left us hoarse the next morning. The Giants are part of the Western Hockey League which is itself part of the Canadian Hockey League (CHL). Some of those faces might just turn up in the NHL in a few years and you can say you saw them way back when.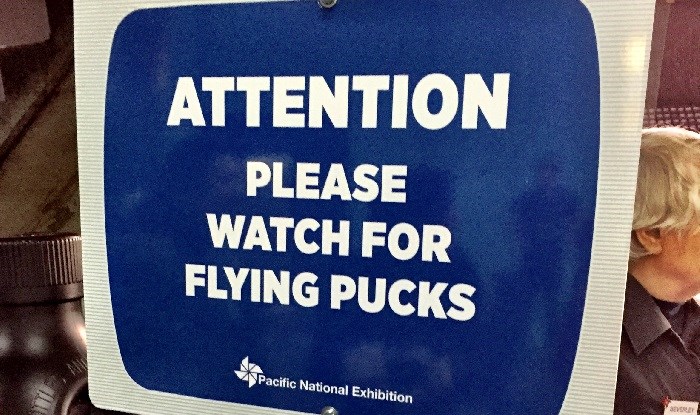 GO! You can't help but cheer the players on. It's a bunch of really talented 15-20 year olds tearing up the ice and playing their hearts out. If you haven't been to a hockey game for a long time and you're on a budget or if you just want something to do one night, check out a Giants Game at the PNE. You'll feel good after.