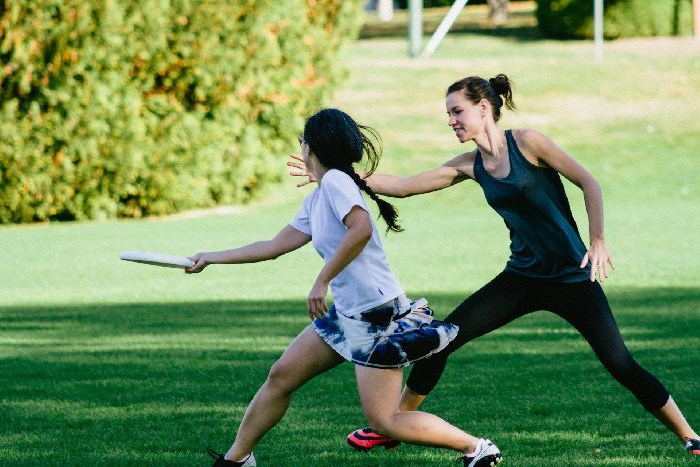 The sun is shining and you're running outside on a beautiful Summer day, but with a purpose. You are trying to get open enough for someone to throw to you. You're executing a move that your teammate just gave you a tip to try. You see the disc fly in the direction you are running to. You realize this pass is meant for you and you'll need to kick into a higher gear. So you run harder than you thought you could. The disc is now hovering several yards in front of you and it's starting to drop…..Further…. Faster…..
You run as hard as you can and extend your right arm at the last possible moment. Ungracefully, almost tripping over your own feet, you grab the disc and tumble to the ground. You revel in the excitement that you still have the disc in your hand, and suddenly remember that you should get up to throw it to someone else. But at the same moment you clue into your teammates cheering. You realize that you're in the endzone! You've scored your first point ever and you can't stop smiling….. You're playing ultimate.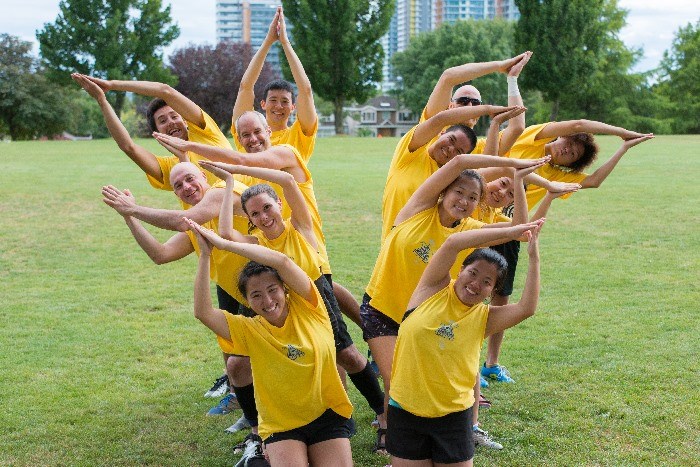 This is a regular occurrence every May- August in parks all around Vancouver. With more than 240 teams in its' Adult Summer League, The Vancouver Ultimate League (VUL) is the largest ultimate league in the entire world!
So why is the sport so popular here?
There are a few obvious reasons – climate, an active population, plenty of parks big enough to accommodate the demand. But from the perspective of the players, it's fun, great exercise, entirely co-ed, a fantastic way to meet new people, and is easy to get started. Oh, and there aren't any refs.
No refs? No refs. Although some say there are in fact 14 refs. Every player on the field is accountable to what happens during a game. Call your own fouls, determine if you landed in or out when catching a pass, assess if you made the infraction someone else thinks you did. It's all about honesty, integrity and sportsmanship.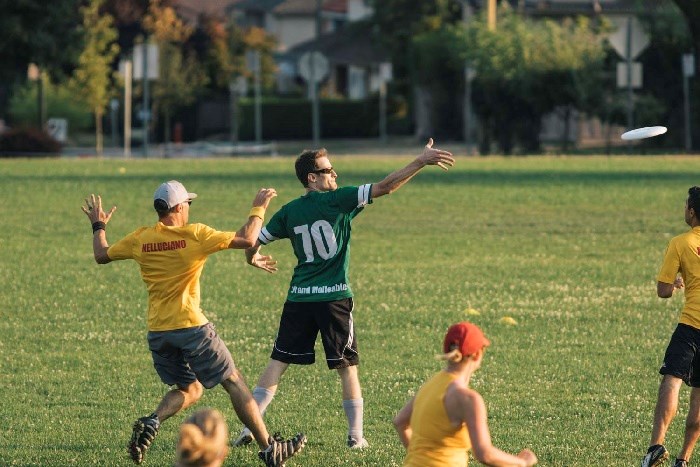 Run hard, do your best, have fun, be objective, learn and improve. If this piques your interest, no matter your age or athletic background, you should give ultimate a try. It may not be for you, but it could also be the best decision you've made in a long time. It's what a lot of new players say as they get hooked and find themselves travelling all over the province to play weekend tournaments.
For anyone interested in trying the sport out. You can learn more about Intro Sessions and how to start playing ultimate this Summer on the Vancouver Ultimate League website.