Did you see our recent piece about coming on board as a sponsor for the East Van Baseball League? We're stoked to promote more amateur sport in Vancouver moving forward, and I wanted to pass along word that the North SHore Indoor Soccer League is looking for people to play in its league.
Their spring season starts March 11th and they play in this facility below, known as "The Bubble". Much like the original BC Place dome but on a much smaller scale, this air-supported facility stays inflated (and keeps players dry!) thanks to a series of fans. It's got 30,000 sq ft of field space which is outfitted with the latest artificial turf technology.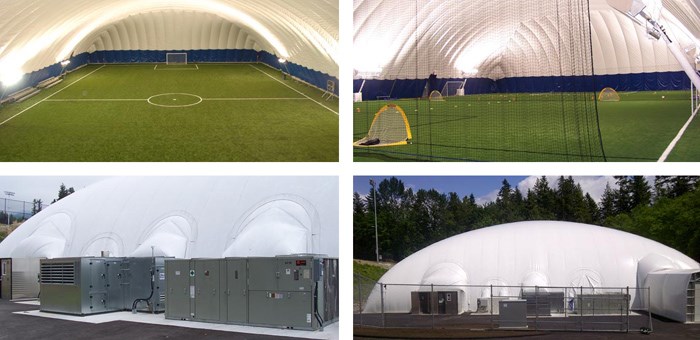 The NSISL is an adult league (17+) with three different types of leagues: men's, women's, and coed. In each of these are multiple divisions for different skill levels, and all games take place on Friday, Saturday and Sunday nights. Check out this page on their site if you're looking for a team to join; it's like a classifieds page. If you want to register a team of your own you can do so right now on this page the spring season is now open.
Learn more at nssoccer.com!