Despite the season they are currently having, the Canucks will always be measured against what they were like in the early to mid 90's. Gino Odjick was a huge part of this era. For their 30th anniversary, the sports writers of this city chose the 30 greatest Canucks of all time, Gino was on the list, ten years later, he's still on it. Probably one of the biggest fan favourites ever, he also holds an unbreakable record for all time penalty minutes in a Canucks jersey. For most hockey fans though, this record isn't reflective of how many times the team was short handed, but instead a reminder of what Gino was willing to do to protect his teammates, and how entertaining he made the game.
Gino could go crazy. As a fan you loved it, you knew the Canucks would not be pushed around, he represented that friend that always has your back, no matter what. On a regular basis, if things weren't going right, Gino would get that look, 'here it comes!' And while you were at home rubbing your hands together in glee, you'd see the opposing team scatter. It's pretty hard to remember him playing, and not smile.
There's alot more to Gino though than hockey fights, in fact during our interview, it didn't come up. Like alot of Vancouverites, Gino was not born here, but he quickly fell in love with the city. The scenery, and a strong First Nations community made it a pretty easy decision for him to live in Vancouver permanently. Though he's retired, he hasn't stopped giving back to the city that welcomed him, right down to taking the time to tell us, why he thinks Vancouver is Awesome. Here's....Gino!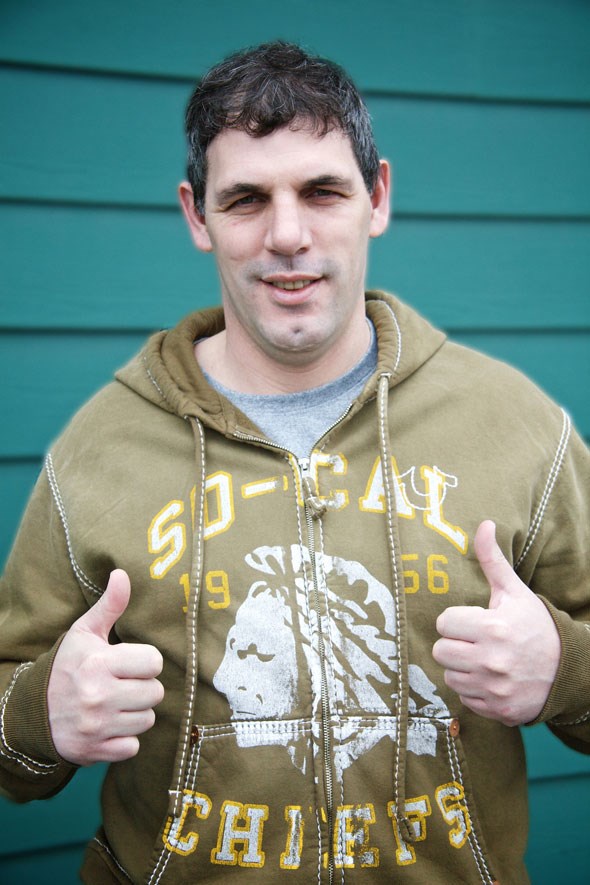 Why is Vancouver so awesome?
I think it's the people. Everyone for the most part is nice, and relaxed.  Back east, things are moving a hundred miles an hour, and everyone is trying to run over each other.  It seems like here, everyone does their thing without getting into anyone else's business.
What year did you move to Vancouver?
1990, I was drafted by the Vancouver Canucks.  The draft was here in Vancouver that year, at B.C. place, and I was drafted in the 5th round.  I ended up making the team out of training camp in November, and I've been here ever since.
What were your first thoughts when you first got drafted by Vancouver, knowing there was a good chance you'd be spending some time here?
I was happy.  I knew it was a beautiful city with lots of mountains. Having reserves nearby was really important to me too, with all of Vancouver's First Nations people, I knew it would be a perfect place for me in Canada.
Where were some of the places that really stand out in your memory, when you first came here?
The Slocan Restaurant on Hastings.  John Koulouris had a restaurant there that we all used to eat at.  They were really nice people there, him, his wife, and children.  They really made me feel at home.  I was living at a hotel at the time, so I was eating there three times a day.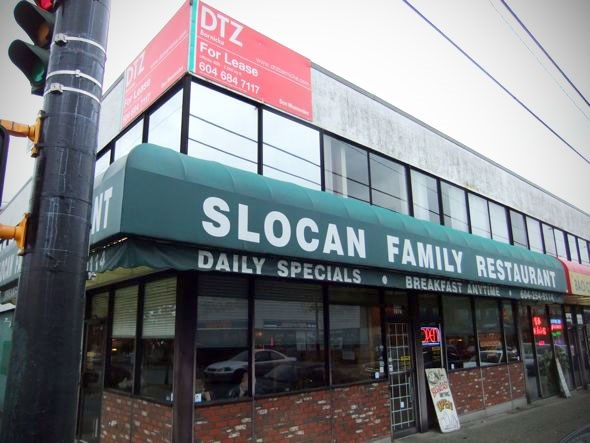 So I guess for awhile you spent a lot of time in that Hastings-Sunrise area?
Yeah, I did, at first when I got there I didn't have a car, so I did spend a lot of time hanging around there.  I was staying at, I guess it's the Holiday Inn now on Hastings.
I'm sure Vancouver was pretty different from where you were born, was it difficult?
Well, I really missed the reserve, and First Nations people, when I first got here. So I was really happy meeting people like Wayne Sparrow.  After that, I started hanging around Musqueam, and it didn't take too long before I moved here, because it felt like home.
Were there any particular guys on the team that really helped you when you were just a rookie?
Stan Smyl and Garth Butcher were both really helpful in my first year.  I remember Garth going out and buying me a few suits, and Stan coming to pick me up from the airport and driving me around when I was living at the hotel.  The first real close friend I made though was with Pavel the next year, he got here in '91.
Why do you think you had a connection with him?
We were both young, and he was from Russia, which is out of country, and me coming from my First Nations community back in Quebec, which is quite different too, there was definitely some culture shock for both of us being in a new environment.  So we had that in common.  We were also both single at the time, so we had lots of free time do things away from the rink.
What kind of things did you guys do?
We liked to try lots of new restaurants.  It was a lot of fun going down on Commercial being more of a European environment.  We went to a lot of different places, that restaurant up at Grouse Mountain, The Cannery, Hy's.
Which guys do you keep in touch the most with now?
Mostly Pavel, we talk a couple times a week.  I run into Kirk Mclean once in awhile, he lives here, Trevor too, although I haven't seen him too much recently.
What's Pavel up to?
He's living in Florida. He has business in Russia too.  He just passed the bar exam in political law in Moscow recently, so he's keeping busy.
http://www.youtube.com/watch?v=enN_nN-KTqI
What about you business wise?   What are you up to now?  You manage the Musqueam Golf  Academy don't you?  What can you tell me about that?
Last year it was voted the most female friendly course in Canada. At Musqueam, we have a woman general manager, she hired an assistant general manager, and we also have a woman head pro, and the band also has a woman representing them.  So not only do we win awards like I mentioned, but having these women around has been the secret of my success.  Women not only give life, but they've brought life into this business.  I've learned to just stay out of the way and let them do their thing.
http://www.youtube.com/watch?v=4Jpo3ILRh3k
How did you end up getting into golf?
It's something I always enjoyed as a player, and the golf course is a place where you see a lot of smiling faces, people there with their friends and families. It's the whole atmosphere.  Being part of the golf industry is such a fun industry to be a part of.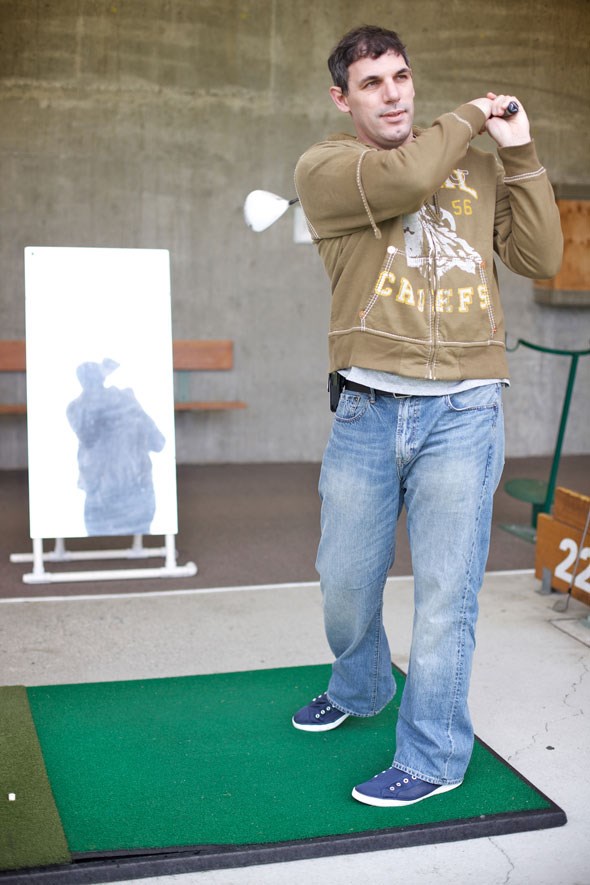 Do you have any other business ventures that you're working on?
I'm also working with the Aquilinis, we're doing a development of condos and houses for the Tsawwassen First Nation.  We're going to build six hundred homes out there.  I'm really happy to be a part of it, it's going to create a lot of jobs and careers for the people there.  We're also doing an electronic recycling project with Sumas First Nations which should be a lot of fun too.
When, and if you ever have a day off, what is your most favourite thing to do in Vancouver?
Oh, enjoy a nice meal at a good restaurant.  I really like Don Francesco on Burrard and Olympia Pizza on Broadway.  When I want Greek, it's Olympia, when I want Italian, it's Don Francesco.  I also like Kobe steakhouse a lot too.
Who do you think is Vancouver's most awesome?
Rick Hansen really impressed me a lot.  I really like what the Aquilini family has done too.  Them purchasing the Canucks, their business model, and their philosophy.  They hire good people, and trust those who they have in place.  Whether it's people like David Negrin in business development, to John Negrin in Aquilini Energy, to someone like Mike Gillis with the Canucks, they hire the best people.  For quite awhile I always wondered why Gillis was not a general manager in the NHL. Finally, the Aquilini family saw the potential in him, and we're seeing the results right now.
How do you think the Canucks will do this year?
I really like the trades they made at the deadline.  I like Maxim Lapierre who they picked up for the fourth line, I hope he gets enough ice time to keep him interested.  It was certainly something they really needed in a legitimate fourth line center.  Chris Higgins too, is another player who I really like.  In some ways they've both underachieved this season, but hopefully in this environment with such a good team, we can see their full potential here.  I think if the Canucks can stay injury free, and if Roberto can hit his peak going into the playoffs, they'll be a really hard team to beat.
Who is your favourite guy on the team now?
I really like the communication which the Sedins have, I've never seen anything like it.  My one favourite player though is Mason Raymond.
Oh yeah?  That's good because he's taken some heat this year.
I think if shot more, he could put up a lot of goals in the NHL.  Even if the puck doesn't go in, you can still get an assist if someone bangs in a rebound.  I'd just like him to get in that mindset where he'd just shoot from everywhere.  He's still young though so he has time.
As part of this interview, I'm going to post a youtube clip, can you think your favourite one?
Probably me versus the St. Louis Blues in the playoffs.
If you were in Vancouver and I handed you a hundred bucks, where would you spend it?
I'd spend it on a Canucks ticket.
http://www.youtube.com/watch?v=pLIDCLKfTq8
'Odjick's goin' nuts!'
http://www.youtube.com/watch?v=khyeREQ1IXg
'I think he could run for election in B.C.!'