Looking for a last-minute vacation somewhere south of the border but don't want to catch a flight?
The Amtrak Cascades passenger train offers service from Vancouver across the Canada-U.S. border to numerous cities across Washington and Oregon.
One of the most popular routes takes passengers from Vancouver Pacific Central Station to King Street Station in Seattle, Washington. Guests may also decide to disembark the journey at other destinations along the 18-stop Pacific Northwest itinerary, including in Bellingham, Washington, and Portland and Eugene in Oregon.
The total journey from Vancouver to its terminus in Eugene takes 10 hours and 25 minutes and there are multiple trips daily.
Amtrak also offers a food and beverage service, including beer, wine, and spirits.
In 2026, guests will be able to enjoy riding the popular route on a new fleet of Amtrak trains.
The regular Amtrak service offers trips to destinations across the United States, including places in California, New York, Florida, and more.
Daily round-trip service on the Amtrak Cascades route includes:
Four daily round-trip trains between Portland and Seattle - eight trains
Two daily round-trip trains between Seattle and Vancouver, BC, Canada - four trains
Two daily round-trip trains between Eugene and Portland - four trains
Several connecting buses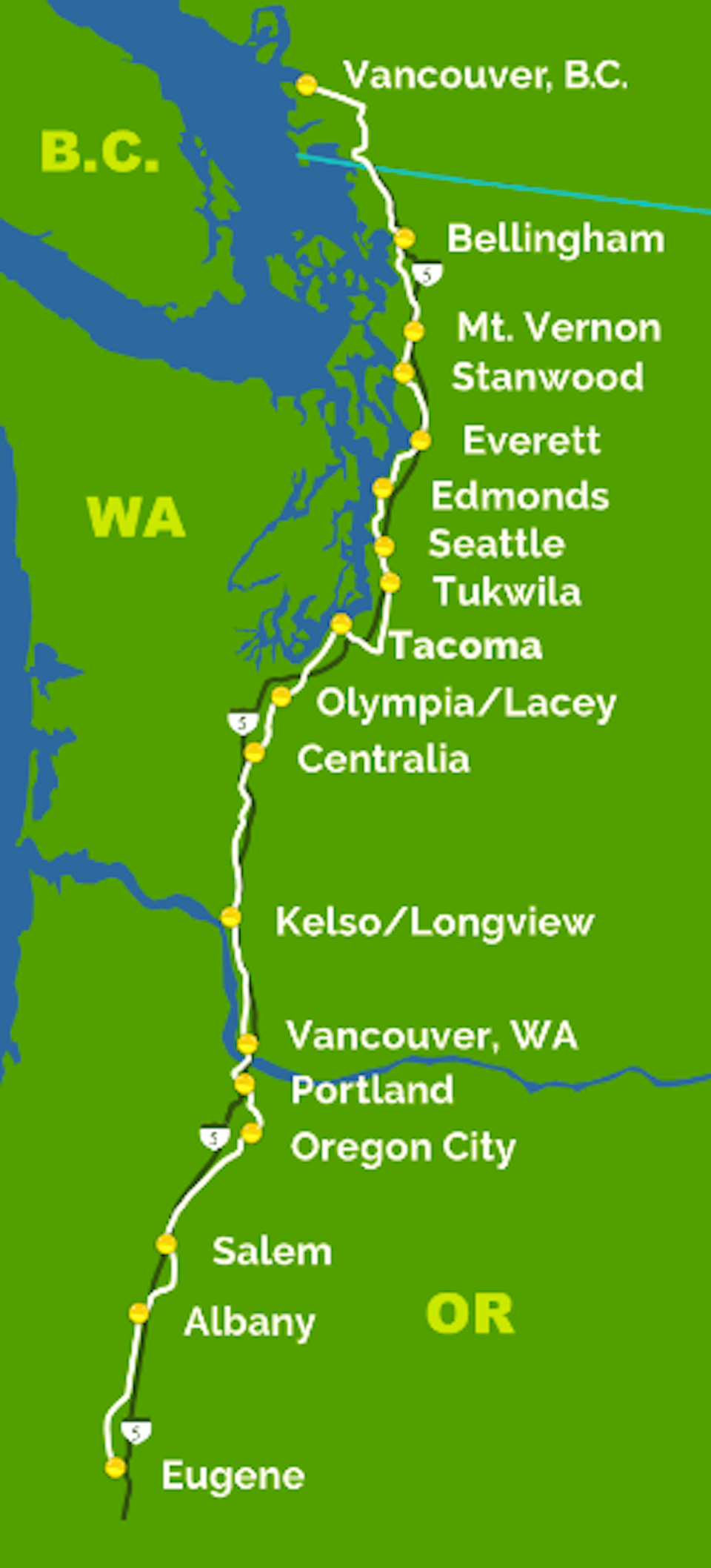 View the full Amtrak Cascades schedule online.
Travel deals from Vancouver with Amtrak
Amtrak tickets generally cost less when you book them well in advance of travel. As space fills up closer to your departure date, there will be less availability for the cheaper tickets. Once you have your travel plans inked out, book your ticket immediately.
Weekend trips tend to cost more than midweek ones, which means you'll generally pay more on Friday and Sunday evenings. Holiday travel is also popular, so you should try to book tickets for travel over them as soon as you are confident of your plans. If you can adjust your schedule, travelling midweek or early in the morning can save you money.
The company also offers discounts to seniors (10 per cent off), children two to 12 (50 per cent off), AAA members, and military personnel. Students can also get 15 per cent off on purchases made one day in advance of travel.
While it won't apply to trips out of Vancouver, you can get deals on most routes with Amtrak if you are travelling with groups of three or more people, with discounts increasing based on the size of your group. Groups of three can get 17 per cent off all tickets, while groups of eight can get 60 per cent discounts on them. If you take a ride while you are at your destination, you could save money on those tickets with a group of friends or your family.
Amtrak offers BOGO discounts twice a year, which offer significant savings on popular routes. You can sign up to receive notifications about upcoming offers.
Travellers visiting Vancouver can also get a discount on stays with the Sandman Hotel Group. If you are keen on enjoying a hotel stay before you head back to your abode, you can show tickets at check-in to receive 15 per cent off the "Best Available Rate."