Sometimes it's fun to do something a little bit different.
Luxury hotels are great, no one can deny that but sometimes you end up paying a hefty price tag just to have a cookie-cutter experience. Camping allows you the freedom of mobility and you can explore lesser-known places and paths less travelled but with the added inconvenience of setting up and tearing down a campsite.
Glamping provides a middle ground.
Often you can have an experience that you wouldn't find anywhere with glamping accommodation because it is such a unique and singular offering in the world of travel. Most of the time it's enterprising and creative people who have turned their remote private properties into an oasis for adventurers.
These 10 sites in B.C. are just that. Ranging from bell tents to micro cabins they are sure to surprise and delight with their proximity to nature and creative solutions to outback problems.
This bell tent perched atop a hillside is a cozy boho lounge complete with a queen-size bed, rugs, throw blankets and pillows everywhere. There's even a little outdoor seating area with lots of pillows. It's located on the edge of the Browne Lake ecological reserve 18 kilometres outside of Kelowna. There are homey touches everywhere and each tent also comes with a single burner stove, a cooler, and other kitchen items for basic meal preparation. There are also shared toilet and shower facilities nearby.
This remote camp in the Johnson Strait just off the coast of Vancouver Island is only accessible by water taxi and functions like a kind of seasonal resort.
A series of roofed platforms featuring big tents with thick sleeping mats, pillows, and blankets face the water directly across from Robson Bight, which according to the listing is considered one of the best killer whale observation areas. "In fact, the whale researchers in this area live at the other end of the bay," it reads. A shared wood-fired hot tub overlooking the ocean is also on-site with an on-demand hot water shower and an outdoor kitchen that the guides use to prepare guests' food. There are also kayaking excursions that take place each day with professional guides that take care of the glampers.
For starters, this cozy tent sits on a raised platform overlooking the water but it's also equipped with air-conditioning, heating, and Wi-Fi. The ambient lighting provided by a chandelier and string lights make the tent particularly inviting in the evening and a private deck with tables and chairs and steps down to the water is the perfect place to enjoy the day. There's a private outdoor kitchen with basic amenities and a shared BBQ for cooking plus an outdoor shower with hot water.
This tiny cabin is located in the South Chilcotin Mountains steps away from Gun Lake. The town of Gold Bridge is north of Pemberton and west of Lillooet. The accommodation is pretty rustic but there is a loft bedroom with a queen-size bed and a bathroom with a hot water shower. There is also a wood-burning stove to set the mountain mood and a full kitchen. The hosts recommend arriving by float plane to avoid the drive and offer pre-delivered groceries and liquor for those who pre-order. This cabin truly is in the middle of nowhere - but that's the fun with uninterrupted alpine and lake views.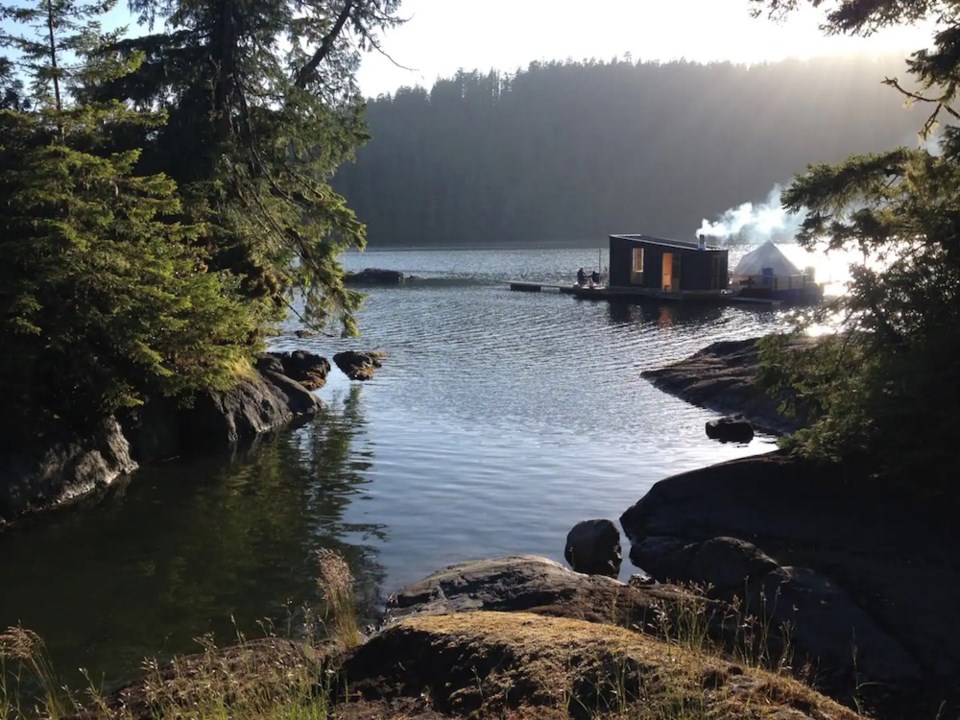 A short boat ride from Tofino you can find a remote floating campsite complete with a 14-foot canvas bell tent, wood-fired sauna, and fully equipped kitchen and bath. Plus plenty of deck space to lounge on and some amazing other amenities like a propane heater and a rowboat with life jackets. The floating camp is moored in a remote bay with calm waters and an old-growth forest on all sides. There is cellular data and a marine radio in case of emergencies. The price of the accommodation includes transportation to and from the camp with Tofino Boating.
This space is small at only 125 square feet but the high ceilings and big windows let in a lot of natural light giving it an airy feel. The ocean is just two minutes away as is the picturesque town of Robert's Creek which is home to some quaint cafes and a Hobbit village. The bathroom is an indoor fully tiled wet bath like that on a boat and the kitchen has the basic amenities like a mini fridge, a two-burner cooktop, a french-press coffee maker, and a toaster. What the cabin lacks in indoor space it also more than makes up for in outdoor space with an expansive yard and a cheery blue picnic table right out front of the cabin door.
This homestead-style cabin is on Vancouver Island as close to the border as you can get without being in the U.S. It has two bedrooms and comfortably sleeps four guests so it's great for a group trip. There's a spacious yard with a fire pit and lots of little seating areas surrounded by tall cedars, including a hammock. It's rustic with an outhouse and an outdoor shower but there is a kitchen indoors. The beach is a five-minute walk down an intermediate trail and there's an indoor woodburning stove fireplace to warm up by after a dip in the ocean.
This hut looks like something out of Architectural Digest and is completely off the grid with no electricity, heat, or running water. It's made of reclaimed wood and features a Queen size bed overlooking a picture window with views of the Okanagan valley. The draw is that herds of deer and big-horned mountain sheep often walk by. And there is the main house on the property with a bathroom.
It's hard to believe that this modern Scandinavian tiny home is hidden off of a hiking trail in the Fraser Valley. It's only accessible by a short 5-minute downhill "hike" and there are all the modern comforts like a shower, toilet, kitchen, hot water, heat, a queen-size bed, and a TV, plus a communal firepit. There's also free parking on-site at the trailhead. This is a great option for people who want what feels like a remote getaway off the beaten path without actually leaving the lower mainland.
Also in Jordan River, this tiny home offers a more luxurious modern version of the same landscape. Overlooking the Jaun de Fuca Strait this 200 square-foot cabin is newly built with a loft bedroom, spacious deck, BBQ, firepit, and a large outdoor shower and outhouse. Inside there's a fireplace, full kitchen and fold-out dining space. The views are stunning and the location is within driving distance of the water and hiking trails.