If you want to see a smorgasbord of destinations on your next holiday, there's no better way to knock out several exciting stops with relative ease than on a cruise.
And there are a couple of longer, exciting voyages departing from Vancouver this fall and winter including one that takes guests on a breathtaking journey through the Panama Canal.
The cruise departs Vancouver on Sunday, Oct. 2 and makes a couple of nights at sea before stopping in San Francisco on Oct. 5. After that it spends a day at sea before stopping in Catalina Island and then in San Diego.
Following a couple more days at sea, the cruise stops in Puerto Vallarta on Oct. 11 and then spends a day at sea before making several stops in Mexico. Cruisers will enjoy spending days in popular cities including Huatulco, Puerto Chipas, Puerto Quetzel, and Corinto.
The cruise also stops in Costa Rica's Puerto Caldera, a residential area surrounded by lush tropical forests. After making this stop, the ship will make a full transit through the awe-inspiring Panama Canal — a marvel of engineering and a favourite voyage of cruise enthusiasts.
The canal allows ships to pass through Central America rather than sailing around the horn of South America, which saves about 8,000 nautical miles (15,000 km) on journeys between the west and east coasts of the United States, according to the Encyclopedia Britannica.
Due to its narrow size, however, not all cruise ships — particularly some of the massive "mega-ships" of today's modern vessels — can sail through the canal.
After sailing through the canal, the cruise stops in Aruba and the Bahamas before guests disembark in Fort Lauderdale in Florida.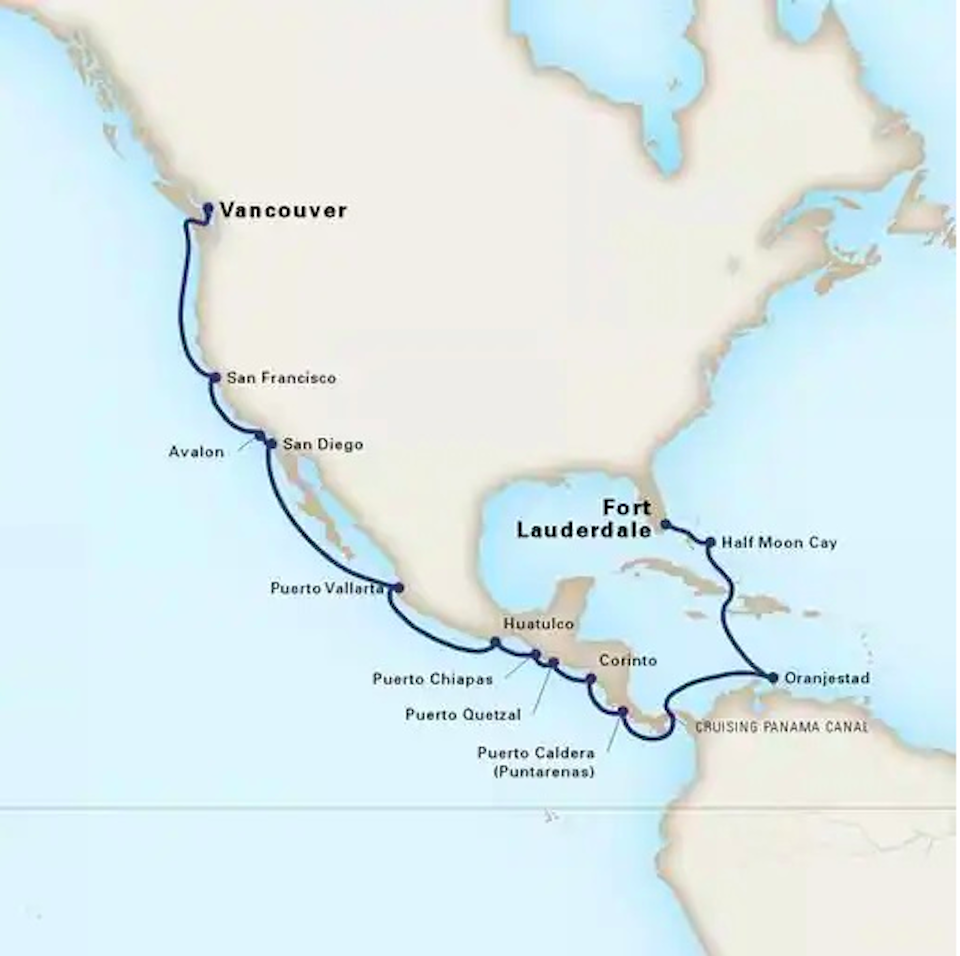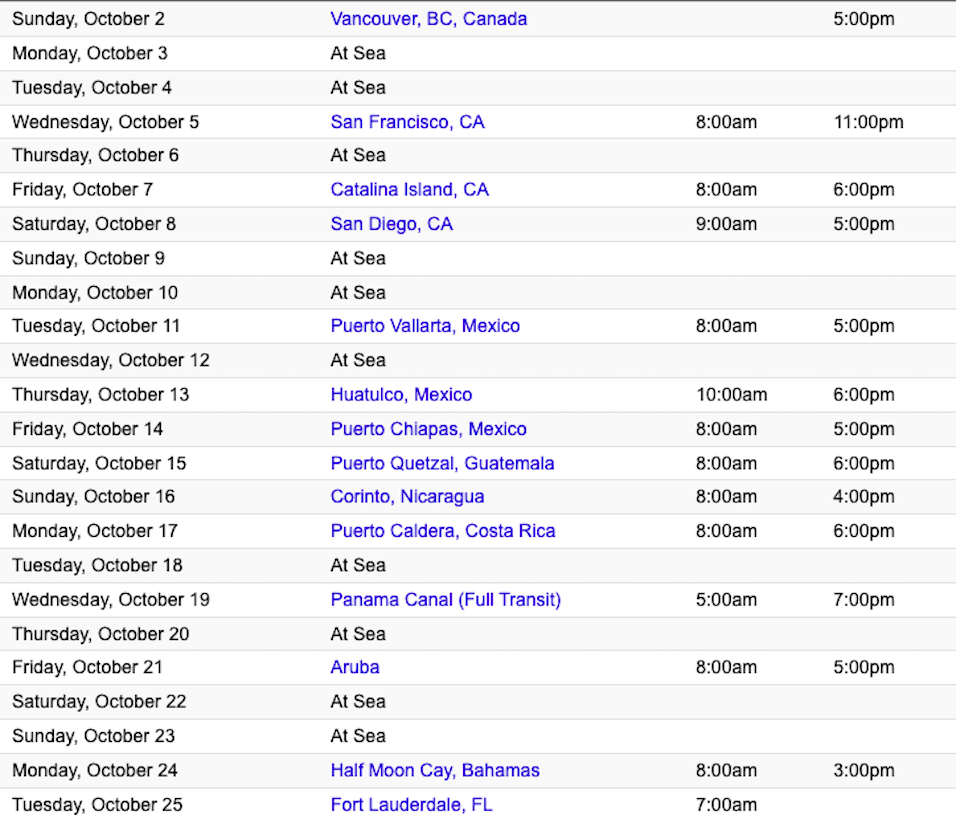 Panama Canal cruise: Sailing Holland America Line
Holland America Line is known for its mid-size vessels that can navigate this trim terrain. Fans of the cruise line typically enjoy sailing on ships they can become well-acquainted with during the voyage and relish opportunities to speak with the captain and cruise director.
For this sailing, the cruise line is currently offering a couple of packages that allow customers to get a better bang for their buck.
Holland America's "Have it all" package has several inclusions, such as a $100 USD on-board credit, a 50 per cent reduced deposit, three shore excursions, a full drink package including tax, a specialty dining experience, and a wifi package.
Cruisers can, however, take advantage of the cruise line's lowest price with a couple of inclusions. This price is fully non-refundable and must be paid in full.
For a limited time, guests will receive a $100 USD on-board credit and a 50 per cent reduced deposit.
As of this writing, the lowest price available is for an interior stateroom for $5,366 USD for two passengers, which works out to $2,638 USD per person.
This price breaks down to roughly $116.65 USD per day. Not only does that cost include your transportation on a beautiful five-star vessel, but it also includes meals, entertainment, snacks, and lodging. The only thing it doesn't factor in is alcohol, but you may opt to purchase a drink package that can reduce the cost of your spending.
The ship is the five-star Nieuw Amsterdam, which offers 11 bars and lounges, three swimming pools, a basketball court, a tennis court, hot tubs, a movie theatre, renowned spa treatments, a showroom, a jogging track and much more.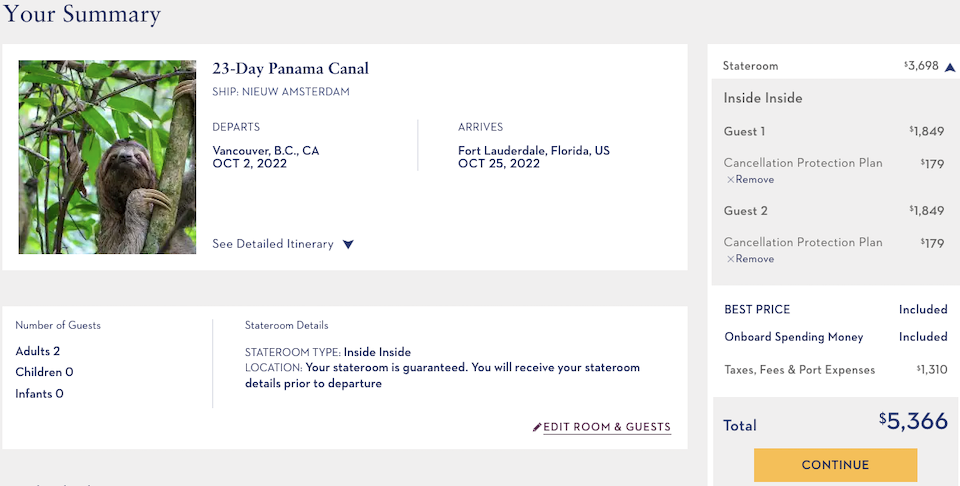 Book your cruise with Holland America Line online.
Cruise from Vancouver: What to know about travel right now
Canada dropped its coronavirus testing requirement to enter the country and some vaccine requirements but many health restrictions remain in place following the federal government's announcement, particularly for cruising.