Locals looking to explore cruising for the first time have a low-cost option that sails into Vancouver this fall.
If you are looking for a fun weekend trip, Holland America Line (HAL) is offering a one-night voyage from Seattle that allows you to dip your toes into the cruising world without committing to a longer itinerary (or breaking the bank).
Popular for its medium-sized vessels, HAL's ships are markedly easier to navigate than many of the mega-ships at sea, which are able to accommodate over 5,000 passengers. As such, you'll have the opportunity to get acquainted with the ship.
The cruise departs Seattle on Saturday, Oct. 8 at 4 p.m. and disembarks in Vancouver at Canada Place cruise ship terminal at 7 a.m. the following day. Since you won't be able to drive down, there are a couple of options to get down to Seattle. You can take a flight, which starts at $189 CAD with Air Canada.
Alternatively, a recently-launched North American bus service called Flixbus offers trips out of Downtown Vancouver for as little as $24.99 CAD that weekend. As of this writing, the cheaper fares are sold out that would line up with the cruise, so the prices start at $59.99. However, if you want to make spend more time in Seattle you can bus down the day before and spend one night in a hotel.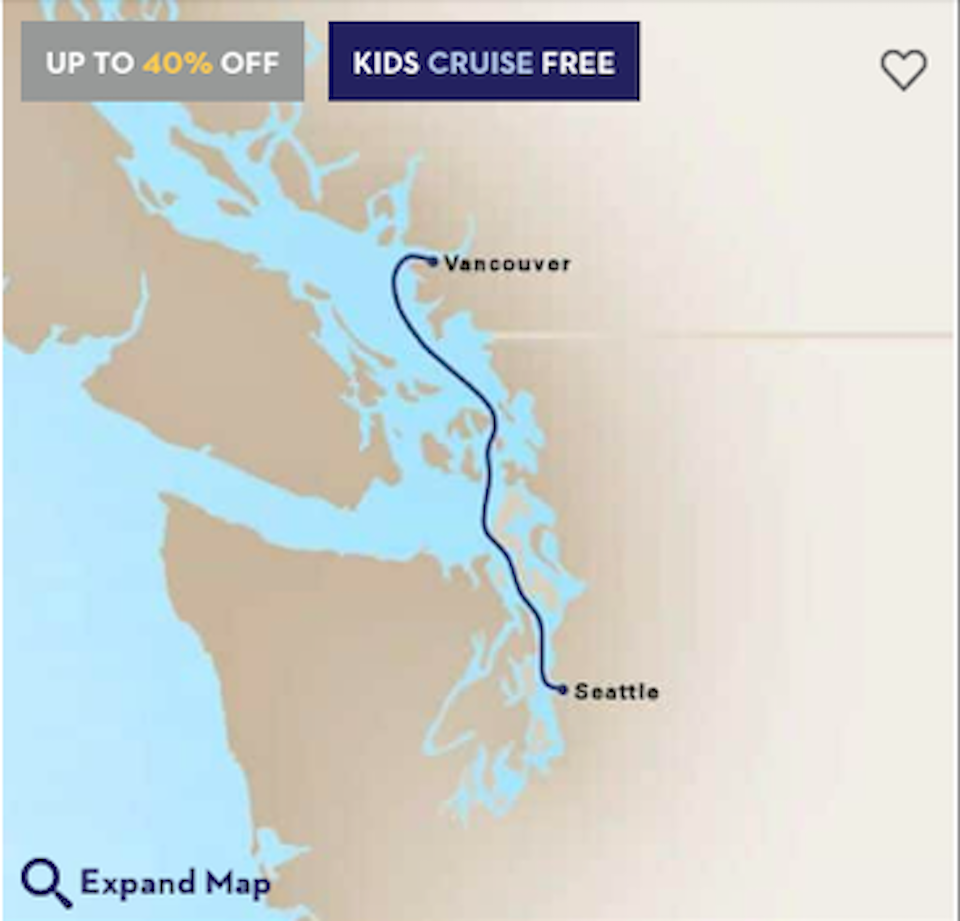 Cruise Vancouver and Seattle with Holland America Line in fall 2022
The total cost of an interior stateroom for two people including all taxes and fees works out to $446.76 CAD including all taxes and fees (or $233.38 CAD per person).
The cruise ship for this voyage is the Eurodam, which is Holland's first Signature-class ship. It has a tennis court, a basketball court, 12 bars and lounges, a disco, a movie theatre, two pools, a spa, an arcade, and much more.
Not only does that cost include your transportation on a beautiful five-star vessel, but it also includes meals, entertainment, snacks, and lodging. The only thing it doesn't factor in is alcohol and beverages, but you may opt to purchase a drink package that can reduce the cost of your spending.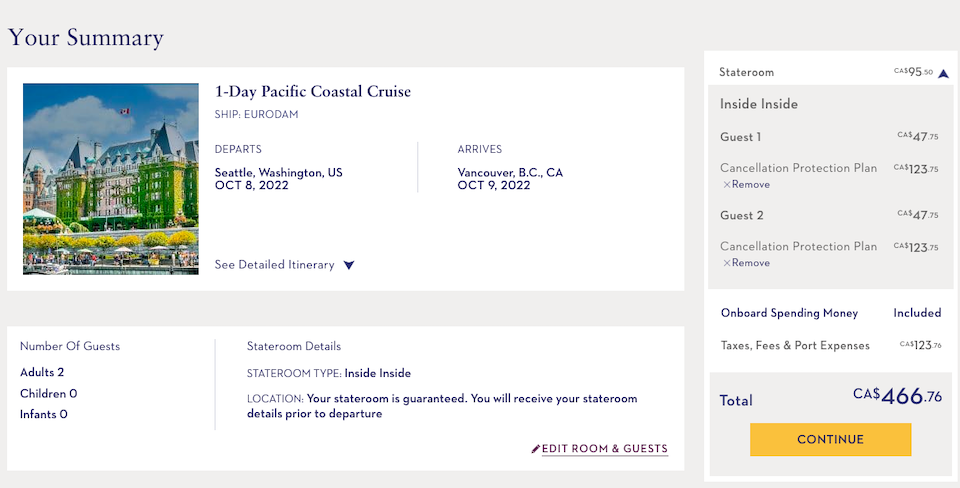 Famous for its live entertainment, jazz and blues fans will enjoy inspired performances in its BB King's Blues Club. In addition to the main dining room, there is a casual option on the Lido Deck and a couple of fine dining options: the Pinnacle Grill and the Canaletto Restaurant. For burgers or hot dogs at lunch, the Dive-In offers mouthwatering eats for hungry cruisers until 6 p.m.
Book your cruise with Holland America Line online.
Early this year, I sailed on Holland America Line's first voyage to Vancouver. It was the first cruise to return to Canada since the start of the pandemic. Read my experience sailing from San Diego in April.
All cruise passengers must enter their travel and personal information into the ArriveCAN app prior to disembarkation in Vancouver. Find out more information about the process with V.I.A.'s tutorial.