Locals looking to take a bite out of the big apple on a cheap, direct flight have a few options later this summer — but they'll have to act quickly.
JetBlue, a New York-based, budget airline, launched its new daily service between Vancouver International Airport (YVR) and John F. Kennedy (JFK) on Thursday (June 9).
For a limited time only, the American carrier will offer reduced special $119 (USD) one-way fares for flights between the two airports. Additionally, the lower fare classes are still available on many return tickets later this year since the airline officially just launched. Once those sell out, the price will begin to increase.
While most of the tickets for tickets in July and August start at $500 CAD right now, there are a couple of tickets in August that cost around $420 CAD including all taxes and fees.
Keep in mind, however, that these low-cost fares, called Basic Blue, are non-refundable and cannot be changed; they also do not include any bags. If you want more flexibility or peace of mind, JetBlue's Blue Fare offers free changes and is fully refundable. You also get a free checked bag and a carry-on bag as well as a free seat selection.
If you're looking to snag a great deal and avoid decidedly muggle weather in the big apple, JetBlue has several low-cost fares available in mid to late September. The final days of summer and early fall in the city are typically still sunny and somewhat less crowded, although it is difficult to avoid throngs of tourists in this popular destination.
One of the low-cost options departs Vancouver on a red-eye flight on Sept. 8 and returns from New York a week later on Sept. 15. The total cost of the ticket is $318.05 USD including all taxes and fees. This price works out to approximately $405.97 CAD (this conversion may fluctuate).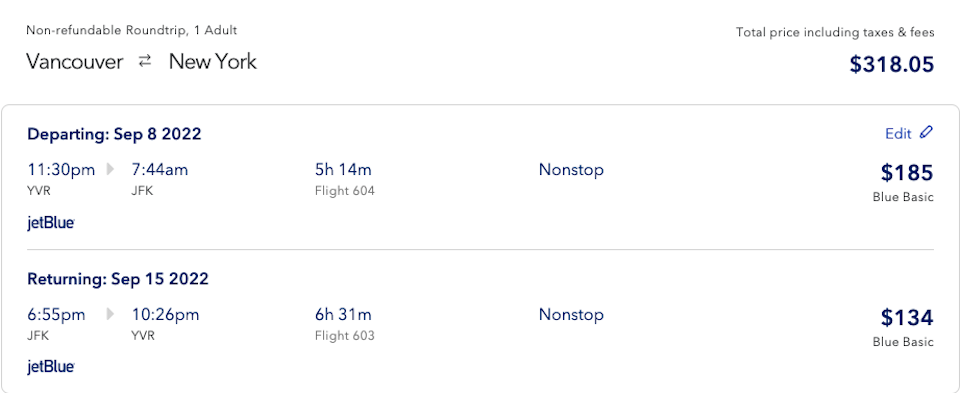 Jet Blue Vancouver: Discover the magic of New York
New York City is often called the "city that doesn't sleep" — and for good reason; there are endless things to see and do in the iconic destination.
Whether it's a unique shopping experience in Soho, a massive slice of foldable pizza in Brooklyn, or simply getting lost in the vibrant lights of Times Square — New York has something for everyone.
The United States is also dropping its mandatory pre-testing requirement on Sunday (June 12), easing one of the last remaining government mandates meant to contain the spread of the coronavirus.
The Vancouver service will operate using Airbus A320 aircraft, which offers generous legroom (32 to 33 inches in Economy Class), free Fly-Fi broadband internet, complimentary and unlimited name-brand snacks and soft drinks, and a TV on the back of every chair.
Find out everything you need to know about the JetBlue experience.
Metro Vancouver residents: What to know about travel right now
Canada dropped its COVID-19 testing requirement to enter the country but many health restrictions remain in place.
With a file from The Associated Press