If you're looking for a lavish adventure across the Pacific ocean, a cruise departing Vancouver has just what the travel doctor ordered.
If you associate ocean cruises with huge crowds, boisterous guests, and massive ships, this cruise line may sound like a luxurious breath of fresh air. Not only is the guest capacity significantly lower — try 388 passengers rather than 1,500 to 6,000 on medium and large ocean liners — but the guest-to-crew ratio is much higher.
For those 388 passengers, there are roughly 302 crew members on board. This means guests are afforded the highest, most attentive level of service, with the crew anticipating their every need.
The cruise departs Vancouver on Sept. 8 and stops in Ketchikan, Alaska on Sept.10 before heading to Juneau, AK on Sept. 11. From there, the cruise stops in Skagway, AK on Sept.12 and then in Sitka, AK on Sept. 13. It then spends a day at sea before stopping in Kodiak, AK on Sept. 15 and then in Dutch Harbour, AK on Sept. 17.
After this, cruisers will spend a week crossing the mighty pacific before making the first stop in Japan on Sept. 24 in Kushiro. The following day guests will enjoy a day in Aomori. After one more day of sailing the cruise disembarks in Tokyo on Sept. 27.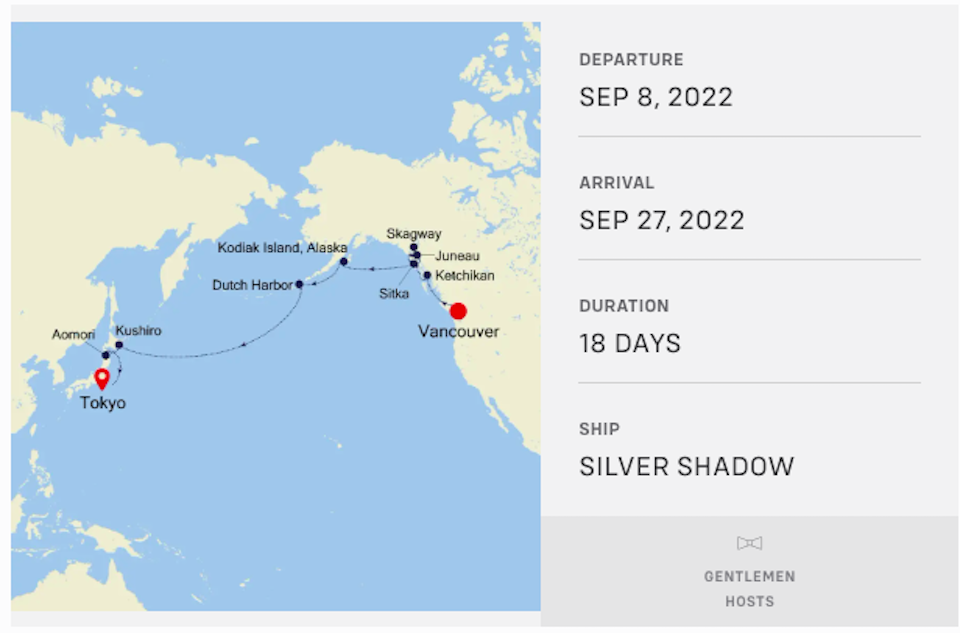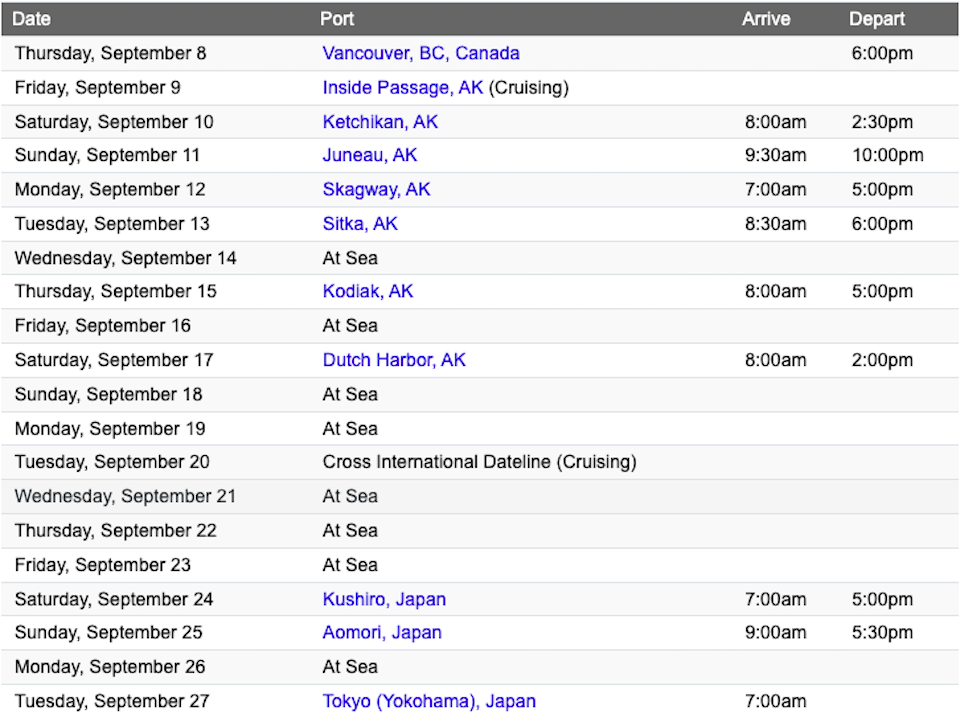 Vancouver cruise: Silversea Cruises experience
Headquartered in Monaco, Silversea Cruises offers all-inclusive luxury cruising experiences. Guests enjoy 24-hour room service, open dining at a wide choice of restaurants, and beverages in their cabin and throughout the ship. This includes champagne, selected wines, and premium spirits, too.
To complete the pampered cruising experience, guests each have their own butler on board, too.
In addition to a high guest-to-crew ratio, the ship for this itinerary, the Silver Shadow, also offers one of the highest space-to-guest ratios in the industry. There is a jogging track, fitness centre, swimming pool, showroom, dancing area, casino, and seven bars/lounges.
The cruise line adds: "Our cruisers' favourite ship! Silver Shadow is a firm favourite in the Silversea fleet."
The cruise starts at $7,500 CAD per person for the 18-night sailing, which works out to $416 CAD per diem. Keep in mind, however, that this includes all of your meals and premium alcohol, entertainment, luxury accommodation, transportation, and butler service for the entirety of your cruise.
For comparison's sake, a one-night stay at a five-star hotel generally costs more -- and that's without any food, entertainment, butler service, or alcohol.

Book your holiday with Silversea Cruises.
Travel Canada: What Metro Vancouver residents need to know right now
Canada dropped its coronavirus testing requirement to enter the country and some vaccine requirements but many health restrictions remain in place following the federal government's announcement, particularly for cruising.