Can you imagine cruising on a luxury vessel out of the "City of Angels," past your hometown, and then taking in the awe-inspiring grandeur of Alaska before crossing the mighty Pacific en route to a spellbinding adventure through Japan, China, and Southeast Asia?
While a voyage like this might not be one you've ever conjured up in your imagination, it is the stuff dreams are made of.
Cruising through scenic passageways and conquering numerous bucket-list cities on its epic itinerary, the "Glories of Alaska & Asia" provides a generous helping of adventure from the comfort of an ultra-luxury vessel.
Travellers will spend 53 days aboard Oceania Cruises' flagship vessel, the breathtaking Regatta, which harkens back to old-school glamour with entertainment options like Gatsby's — a nod to the classic novel The Great Gatsby and its posh 1920s party scene.
If you associate ocean cruises with huge crowds, boisterous guests, and massive ships, this cruise line may sound like a luxurious breath of fresh air.
Not only is the guest capacity significantly lower — try 656 passengers rather than 1,500 to 6,000 on medium and large ocean liners — but the guest-to-crew ratio is much higher.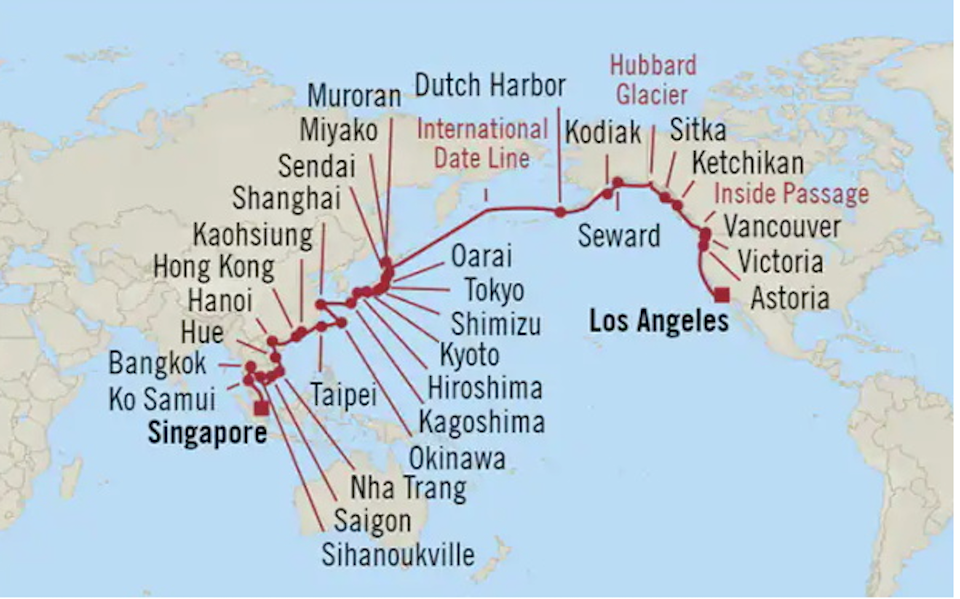 The cruise departs from Los Angeles' San Pedro cruise terminal on Oct. 4 and spends a couple of days at sea before making stops in Astoria in Oregon, followed by a couple of B.C. towns you may have heard of: Victoria and Vancouver.
If you aren't keen on departing out of L.A., you will likely be able to board the cruise at Canada Place cruise terminal when it sails into the port on Oct. 6. If you would prefer this option, call Oceania before you book to see if it is a possibility.
Cruisers will then sail up the breathtaking Inside Passage en route to Alaska before making stops in "The Last Frontier's" usual suspects: Ketchikan, Sitka, Anchorage, and Kodiak.
After making a stop in Dutch Harbour in the Aleutian Islands, the voyage will make its way across the Pacific Ocean, crossing the International Dateline and spending several days at sea before visiting the "Land of the Rising Sun."
In Japan, passengers can enjoy stops in an impressive nine cities with an overnight stop in Kobe. After this, the cruise will spend a day at sea heading to Shanghai before returning to make its final stop in Japan.
The voyage makes a couple of stops in Taiwan before visiting Hong Kong and then heads to Southeast Asia.
Cruisers will enjoy a couple of days cruising through Vietnam's awe-inspiring Halong Bay before visiting three other Vietnamese cities. After making one stop in Cambodia, the cruise makes a couple of stops in Thailand before spending a day at sea and then making its final stop in Singapore on Nov. 27.
Date
Port
Arrive
Depart
Wednesday, October 4
Los Angeles (San Pedro), CA
9:00pm
Thursday, October 5
At Sea
Friday, October 6
At Sea
Saturday, October 7
Astoria, OR
7:00am
5:00pm
Sunday, October 8
Victoria, BC, Canada
9:00am
10:00pm
Monday, October 9
Vancouver, BC, Canada
8:00am
7:00pm
Tuesday, October 10
Inside Passage, AK (Cruising)
Wednesday, October 11
Ketchikan, AK
7:00am
5:00pm
Thursday, October 12
Sitka, AK
8:00am
5:00pm
Friday, October 13
Hubbard Glacier, AK (Cruising)
Saturday, October 14
Anchorage (Seward), AK
8:00am
6:00pm
Sunday, October 15
Kodiak, AK
8:00am
5:00pm
Monday, October 16
At Sea
Tuesday, October 17
Dutch Harbor, AK
8:00am
5:00pm
Wednesday, October 18
At Sea
Thursday, October 19
Crossing International Dateline (Cruising)
Friday, October 20
Crossing International Dateline (Cruising)
Saturday, October 21
At Sea
Sunday, October 22
At Sea
Monday, October 23
At Sea
Tuesday, October 24
At Sea
Wednesday, October 25
Muroran, Japan
10:00am
7:00pm
Thursday, October 26
Miyako, Japan
8:00am
5:00pm
Friday, October 27
Sendai, Japan
8:00am
5:00pm
Saturday, October 28
Oarai, Japan
7:00am
4:00pm
Sunday, October 29
Tokyo (Yokohama), Japan
8:00am
7:00pm
Monday, October 30
Shimizu, Japan
7:00am
5:00pm
Tuesday, October 31
Kobe, Japan
Noon
Wednesday, November 1
Kobe, Japan
6:00pm
Thursday, November 2
Hiroshima, Japan
8:00am
4:00pm
Friday, November 3
Kagoshima, Japan
11:00am
7:00pm
Saturday, November 4
At Sea
Sunday, November 5
Shanghai, China
11:00am
Monday, November 6
Shanghai, China
4:00pm
Tuesday, November 7
At Sea
Wednesday, November 8
Okinawa (Naha), Japan
7:00am
1:00pm
Thursday, November 9
Taipei (Keelung), Taiwan
8:00am
5:00pm
Friday, November 10
Kao-hsiung, Taiwan
9:00am
4:00pm
Saturday, November 11
Hong Kong
2:00pm
Sunday, November 12
Hong Kong
7:00pm
Monday, November 13
At Sea
Tuesday, November 14
Halong Bay, Vietnam
7:00am
Wednesday, November 15
Halong Bay, Vietnam
5:00pm
Thursday, November 16
Chan May, Vietnam
Noon
Friday, November 17
Chan May, Vietnam
2:00pm
Saturday, November 18
Nha Trang, Vietnam
9:00am
5:00pm
Sunday, November 19
Ho Chi Minh City (Saigon), Vietnam
11:00am
Monday, November 20
Ho Chi Minh City (Saigon), Vietnam
4:00pm
Tuesday, November 21
At Sea
Wednesday, November 22
Sihanoukville, Cambodia
6:00am
5:00pm
Thursday, November 23
Laem Chabang, Thailand
Noon
Friday, November 24
Laem Chabang, Thailand
3:00pm
Saturday, November 25
Ko Samui, Thailand
8:00am
4:00pm
Sunday, November 26
At Sea
Monday, November 27
Singapore
8:00am
Vancouver cruise with Oceania through Alaska and Asia
While there are numerous cabin categories to choose from on the Regatta, the transoceanic sailing is selling out quickly. Right now, the lowest cabin category available is the Deluxe Ocean View. However, it offers a tremendous per diem value, particularly since the cruise line is offering a limited-time inclusive package.
Currently, Oceania customers can enjoy two-for-one cruise fares, round-trip airfare, and airport transports as well as one of the following three "perks": 24 shore excursions, a beverage package, or US$2,400 in shipboard credit.
While the Deluxe Ocean View typically costs C$49,598 per person, the promotional price works out to a per-person total of C$24,799. The total of a stateroom for two people works out to the price you'd regularly pay for only one person. Since the cruise is 54 days long, the per diem value for each guest works out to $459.24.
The cruise fare includes gourmet meals, live entertainment, luxury accommodation, transportation, and butler service for the entirety of your cruise.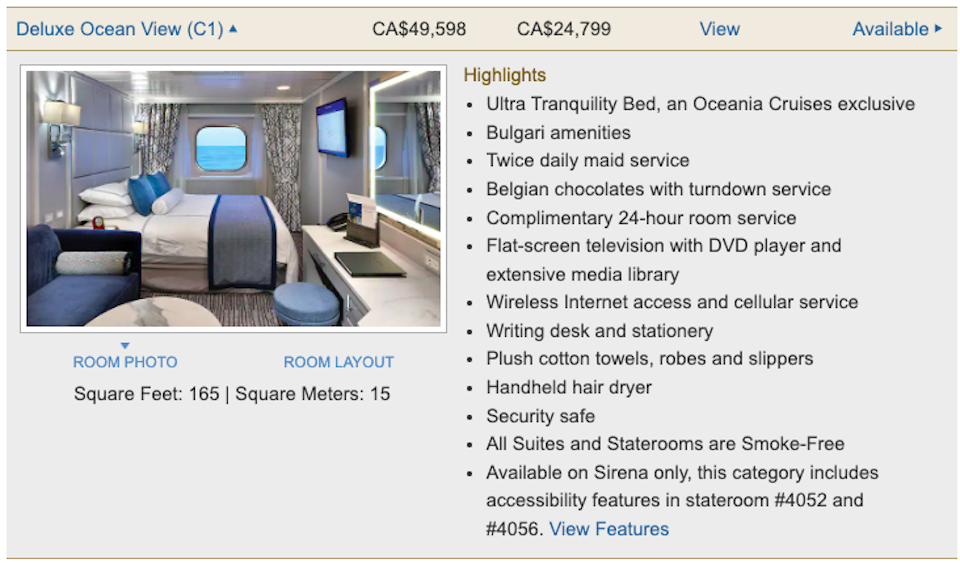 Book your sailing with Oceania Cruises online.