It's one of the most popular cities in Canada, and for good reason.
Montreal is known for its expansive range of restaurants and boutiques to suit every taste and budget, as well as some of the best nightlife in Canada. There are several festivals held throughout the year, offering endless things to do. Of course, many people simply love it for its European charm.
But if you're looking to visit the "city of saints" on the cheap before the new year, your options are limited.
While there are several dates at the end of November and the first week of December offering $87 deals with Flair Airlines for one-way, direct flights, most tickets have climbed over the $100 mark.
If you don't need to leave right away, however, tickets to Canada's most romantic city drop down to the staggeringly low fare of $57 including all taxes and fees. And the dates aren't exactly slim pickings, either.
Starting around Jan. 13, 2022, nearly every day of the month has the cheap flight option, which carries into dates in February, too.
Simply use Flair's price calendar to scan ahead to a cheaper date that works with your schedule from Vancouver International Airport (YVR) to Pierre Elliot Trudeau (YUL).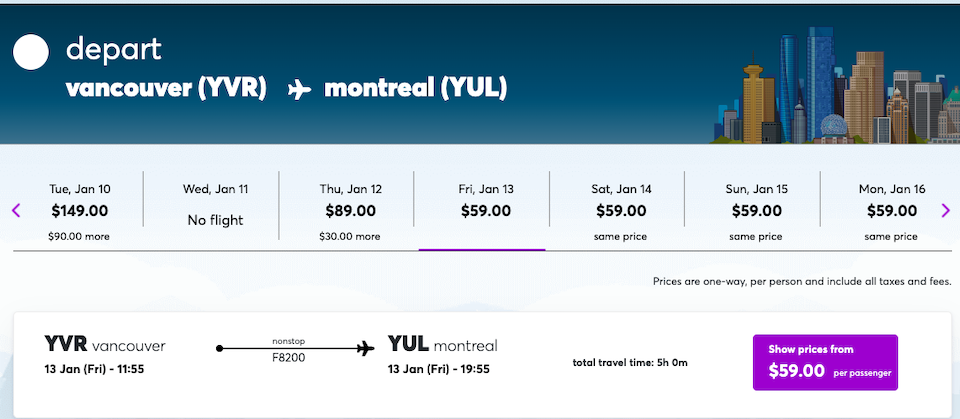 Earlier this October, Flair Airlines announced that it was offering 100,000 seats for $49 or less for a limited time. The seat sale applies to numerous routes for cities across the country.
The Canadian discount carrier has not sold out of its jaw-dropping selection of cheap flights across the country, with flights out of Vancouver International Airport (YVR) starting at just $13.
Keep in mind, however, that you must pay extra for bags with Flair Airlines. You can take a personal item but any extra baggage will cost you.
You may also want to consider that numerous people have had flights cancelled by the low-cost carrier in 2022. While last-minute flight cancellations have improved, this is still a risk.
Find out more information about the sale with Flair Airlines.