If you are looking for a cheap flight out of town, there are several ultra-low-cost options available right now.
Swoop is offering 30 per cent off base fares on all flights to the U.S., Mexico, and the Caribbean for fall and winter travel. You simply use the promotional code SAVENOW by 10:59 p.m. on Friday, Sept. 9 to take advantage of the deal.
Some popular deals out of the Lower Mainland include one-way fares to Mazatlan for $219 CAD, Puerto Vallarta for $239 CAD, and Los Cabos for $239 CAD.
And while the deals down south are hot (pardon the pun), there are several cheap flights across Canada to take advantage of right now as part of the airline's "everyday deals." The deals start as low as $39 CAD from Abbotsford to Edmonton but also include jaw-dropping offers on flights back east to Toronto starting at $59 CAD.
Note: While the low-cost carrier is an extremely affordable alternative, it is worthwhile to note that there are several additional costs. For one, even a piece of carry-on luggage will cost extra, and the price varies based on the length of your journey. Seat selection will also cost extra, and the price also varies based on the length of your flight.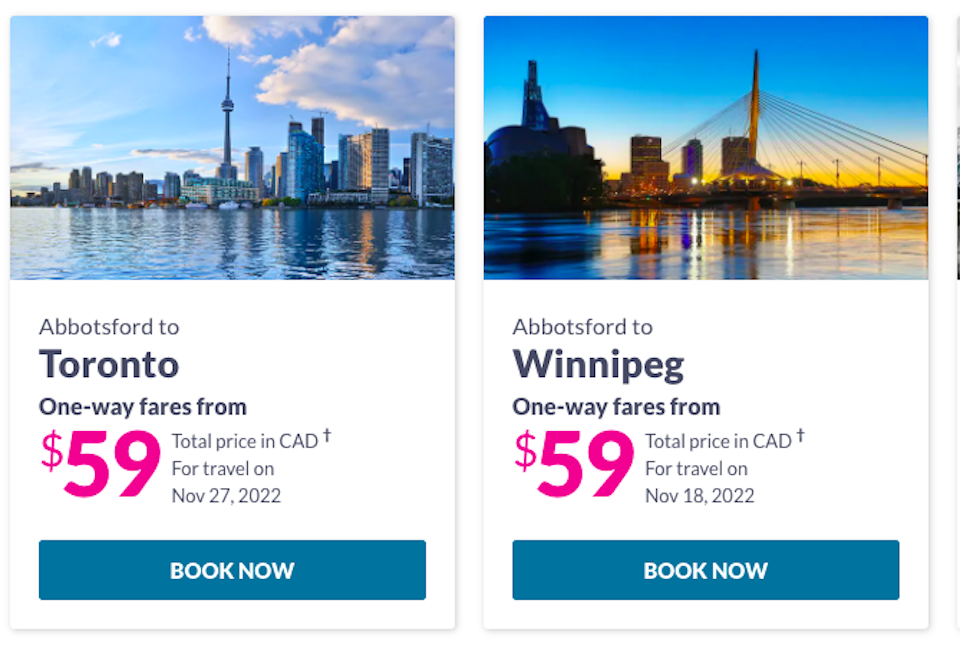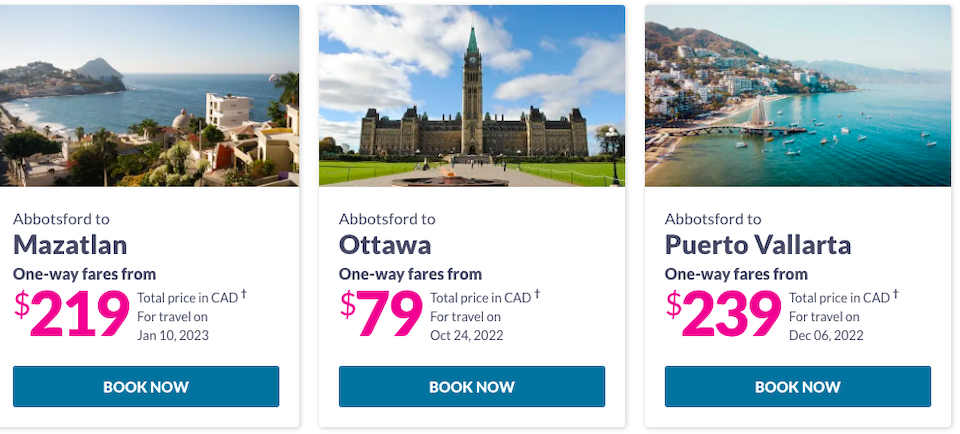 Flair Airlines offering cheap flights to Vancouver
While Swoop is already offering a low-cost option to Toronto out of Abbotsford, you can shave $10 off via Flair Airlines this November. The total cost of a one-way ticket is only $49 CAD including all taxes and fees.
If you live in the city, Flair Airlines also offers flights directly out of Vancouver International Airport (YVR). One of the budget airline's most popular low-cost options is the Montreal route, which starts for as little as $59 CAD right now.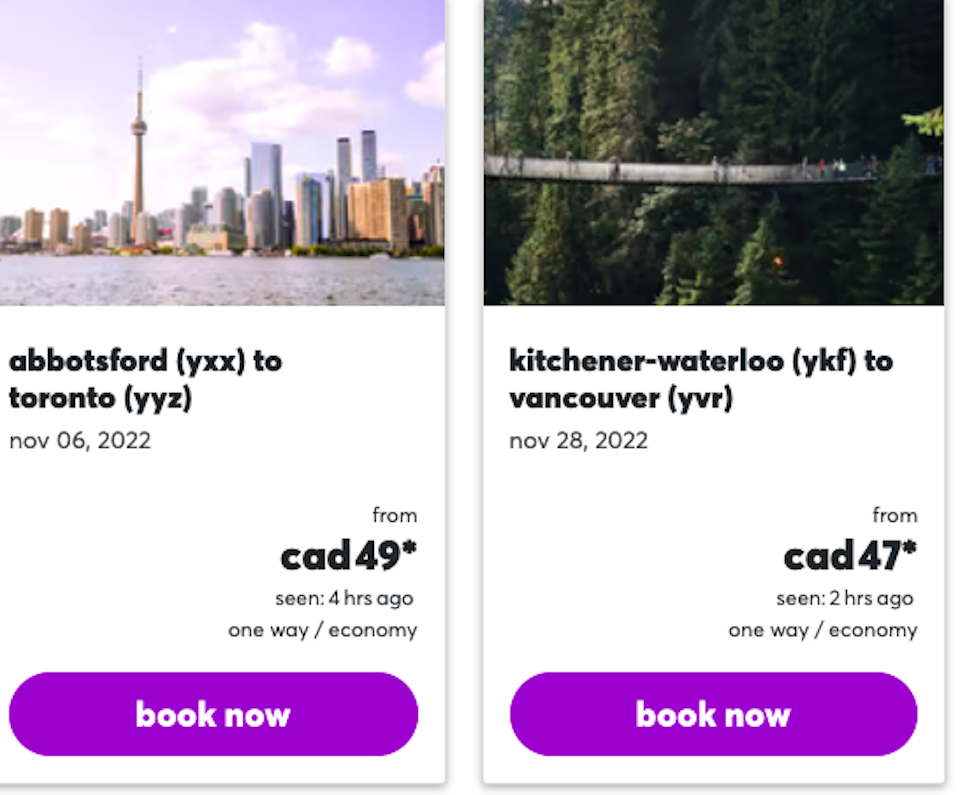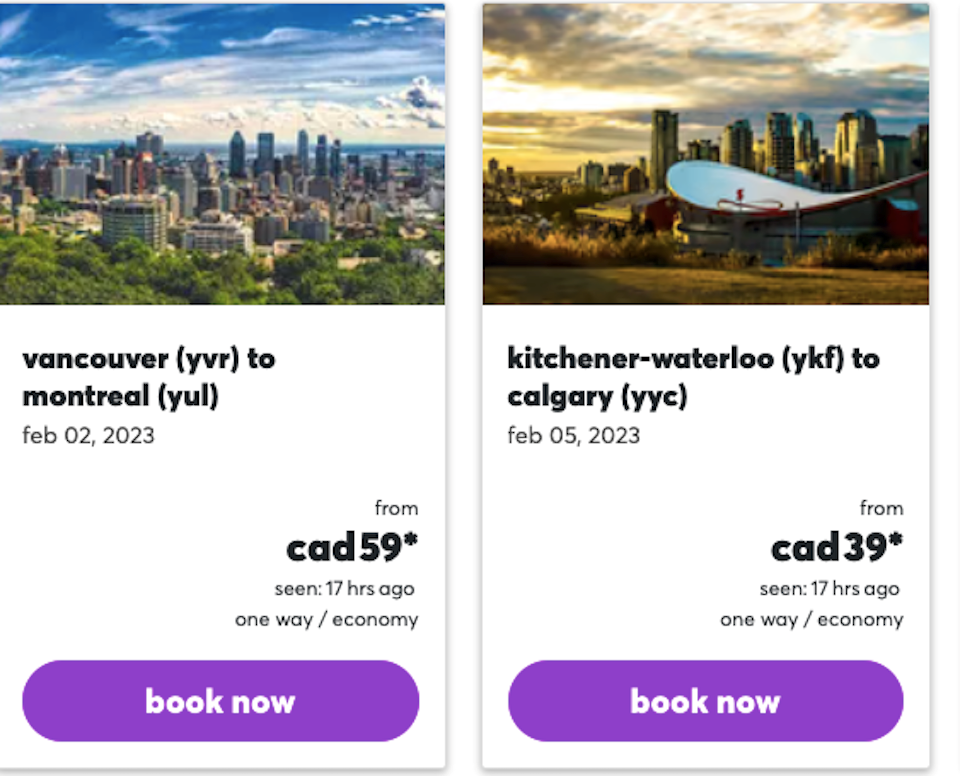 Flair has also launched several low-cost options to cities south of the border that start at $89 CAD including all taxes and fees.

Check out Swoop's current deals and browse through Flair's recent ones.
What Metro Vancouver residents need to know about travel to Canada from Mexico
While travellers need to keep several things in mind right now travelling anywhere in the world, they need to exercise increased caution when travelling to most Mexican states right now. The U.S. Department of State warns travellers about increased levels of violence in Mexico and has recently updated its advisory.
Canadian air passengers also need to keep a few things in mind when returning to the Lower Mainland.
Discover a tutorial on how to use the ArriveCAN app.
Find out the best way to get a refund on your flight and not get taken advantage of by the airline with V.I.A.'s air passenger guide.
Find a guide on how to pack your bag and track it as airports around the world experience signifcant luggage issues.