Travellers can visit Miami for a steal from Metro Vancouver this spring thanks to an itinerary that visits New York on the way.
While tickets under $500 to the popular Floridan destination typically involve a couple of stops, a low-cost carrier based in New York offers a much a one-stop option with short layovers that won't break the bank.
JetBlue launched its nonstop, daily service to John F. Kennedy Airport (JFK) from Vancouver International Airport (YVR) in June 2022, providing the only direct service to the NYC airport.
The new route offers a convenient and competitively priced option for locals looking to visit the big apple -- but it also provides options for flights to other popular U.S. destinations on the cheap via the carrier's hub city.
Air passengers headed to Miami International Airport (MIA) can stop in JFK en route from YVR for nearly the price of an ultra-low-cost flight to New York. For example, a flight that departs on April 23 from Vancouver and returns from Miami on May 3 costs a total of US$328.30 including all taxes and fees. Based on the current conversion rate, that total works out to roughly C$446.83.
The layovers are both reasonable, with the stopover in JFK for just over three hours on the outbound and an hour in JFK on the return.
Keep in mind, however, that these low-cost fares, called Basic Blue, are non-refundable and cannot be changed; they also do not include any bags. If you want more flexibility or peace of mind, JetBlue's Blue Fare offers free changes and is fully refundable. You also get a free checked bag and a carry-on bag as well as a free seat selection.
Using the Google Flights price calendar, you can browse options from YVR to MIA to find the cheapest dates that work with your availability.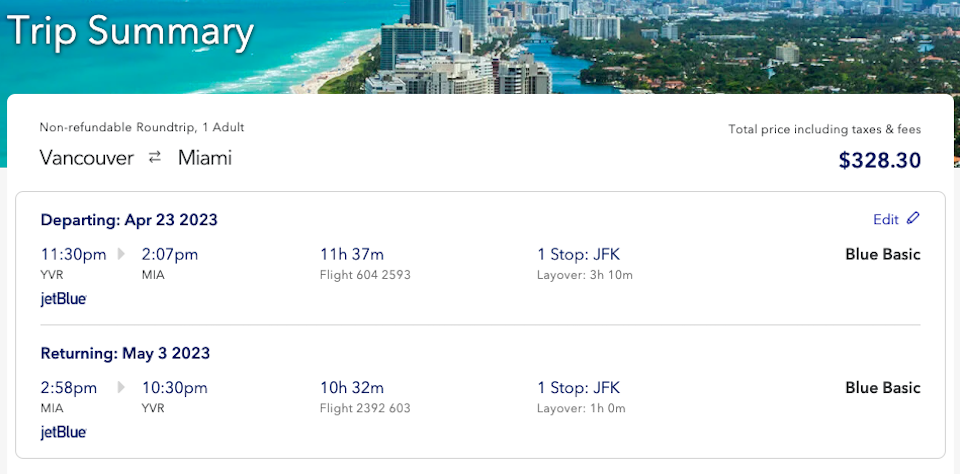 Welcome to Miami
Will Smith named a song after it — and once you stroll along South Beach, you'll understand why.
Miami is an exciting city with endless things to see and do. It is home to renowned restaurants, breathtaking beaches, exciting nightlife, and world-class shopping.
But if you are looking to spend more time on the beach, you may want to stay in a hotel directly in South Beach. While this area is easily accessible from the city, you will have to drive. So, if you were dreaming of staying a short stroll from the glistening white sand beach with awe-inspiring turquoise waters, you will want to book accommodation right in South Beach.
There are many expensive, ultra-glamorous accommodations in South Beach but several Art Deco hotels are more economical, particularly if you book them a couple of months in advance.