Coveted for its romantic, old-world charm, throngs of tourists flock to Quebec City each year to wander its cobblestone streets and explore its historic sites.
Often touted as the "cradle of French America," the historic city was ranked the top urban center in Canada by Travel + Leisure Magazine in 2021. It was praised for "its cafés, bistros, and cobblestoned streets" and the walled portion of the city, which is a protected UNESCO World Heritage site. Fans also loved the views, culture, and cuisine.
Place Royale is where Samuel de Champlain founded the City of Québec in 1608.
Travellers hoping to visit Quebec's capital city over the holiday season might find prices rather steep, however. Return airfare from Vancouver International Airport (YVR) to Québec City Jean Lesage International Airport (YQB) costs upwards of $1,000 including taxes and fees.
Heading into the new year, prices drop significantly, with return trips for Vancouver flights starting at roughly $750. These prices remain steady throughout most of the rest of the winter and into the spring. That said, there are a few deals on select dates — and they are even available when the weather warms up.
For example, an Air Transat flight departing Vancouver on May 11 that returns from Quebec City on May 17 costs $448.95 including taxes and fees. There is one stop in each direction in Montreal but neither of them is over two hours.
This price is $127 cheaper than usual, with similar trips to Québec City starting at the lowest between $495 and $740, according to Google Flights.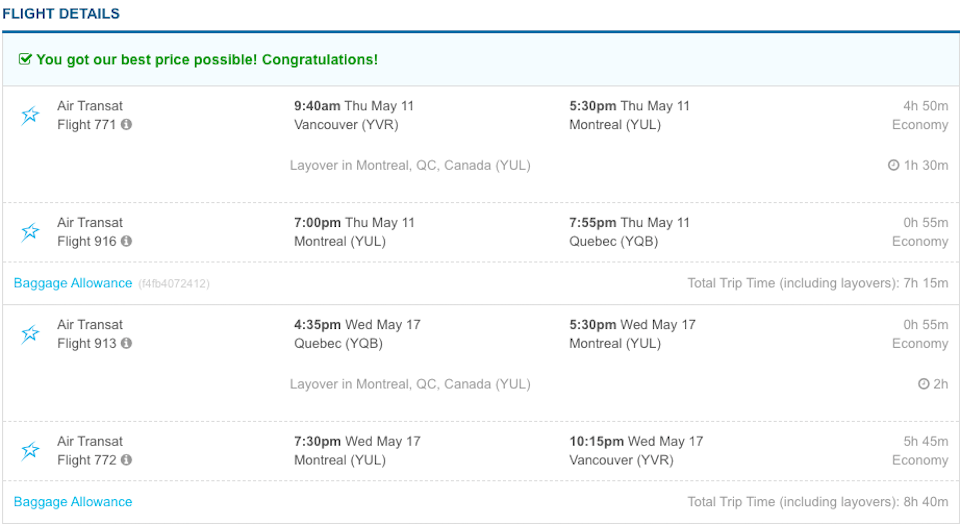 Find out more information with FlightHub.