Locals looking to take advantage of an ultra-low-cost flight deal to paradise have another opportunity right now.
Nadi is a town on Fiji's largest island, Viti Levu. The capital and largest city, Suva, is also located on the big island. But with 333 remote tropical islands, visitors will discover plenty of crystal-clear waters, white sand beaches, plenty of sunshine, and an array of activities.
Fiji Airways commenced its direct flights from Vancouver International Airport (YVR) to Nadi International Airport (NAN) in November 2022, offering locals an affordable and convenient option to the bucket-list destination in the South Pacific.
While tickets to the popular destination from Vancouver typically cost between $1,800 and $2,350, the country's flagship carrier is offering them for less than half that price, with numerous tickets for under $900 including all taxes and fees, according to Google Flights.
You can use the Google Flights price calendar to find low-cost options to Nadi from Vancouver but you'll want to be wary of the third party you book your ticket from when you browse the cheapest options. After you find an option that works for your travel dates, you should hop on to Skyscanner and Kayak to check the same dates to see if a cheaper option or one through a more trustworthy third-party supplier is available.
And while flights departing through the summer might cost you well over $1,000 round-trip, a couple of options departing this fall still offer an incredible bang for your buck.
For example, a flight departing from Vancouver on Monday, Nov. 13, and returning from Fiji a couple of weeks on Friday, Dec. 1 costs $865.64 including all taxes and fees when booked through Gotogate.com. This one can be booked directly through Google Flights.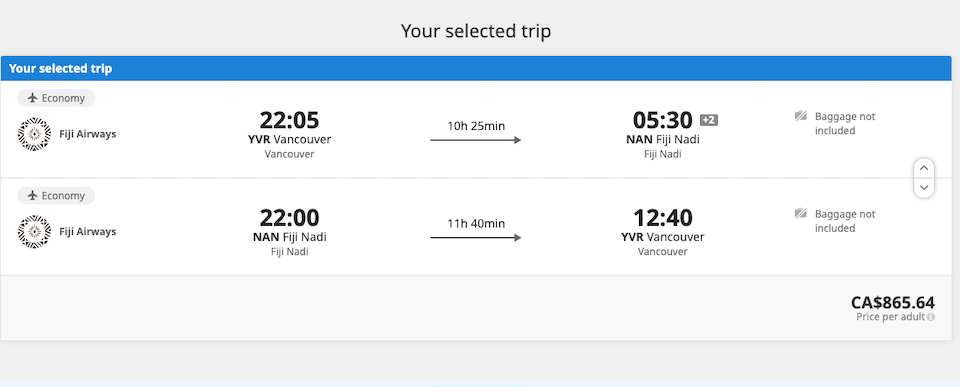 What travellers from Vancouver can experience in Fiji
Since it's an island destination, many of Fiji's most popular activities include swimming, snorkeling, surfing, sailing, scuba diving, stand-up paddle boarding, river rafting, and ocean kayaking. In fact, the county is also known as the the "Soft Coral Capital of the World," which makes underwater exploration a diver's dream.
But visitors will also find a wealth of fascinating places to explore on land. For one, Fiji has a rich history that dates back thousands of years, with "archaeological digs uncovering pottery shards dating back over 2,600 years," according to the Culture Trip.
Find out everything you need to know about this exciting destination and what the best things to do while you are there.