If you're looking to visit Hawaii this year but want to skip airport lines, Holland America Line has just what the travel doctor ordered.
Hawaii offers a range of natural gems to explore on each of the islands as well as a plethora of places to dine, shop, and catch live shows. From the Mauna Kea Summit to the massive, approachable populations of manta rays, the rich history of Lahaina to the stunning Waikiki Beach, the islands ooze tropical beauty.
Known for its traditional, elegant style, Holland America Line will sail guests out of Vancouver on a return trip visiting the Hawaiian Islands in October 2022.
The cruise spends a few days at sea before first stopping in Lahaina on Oct. 14 and then Hilo on Oct. 15. From Oct. 16 to Oct. 17, the ship overnights in Honolulu. After a stop in Nawiliwili on Oct. 18, the cruise will disembark in Vancouver on Oct. 24.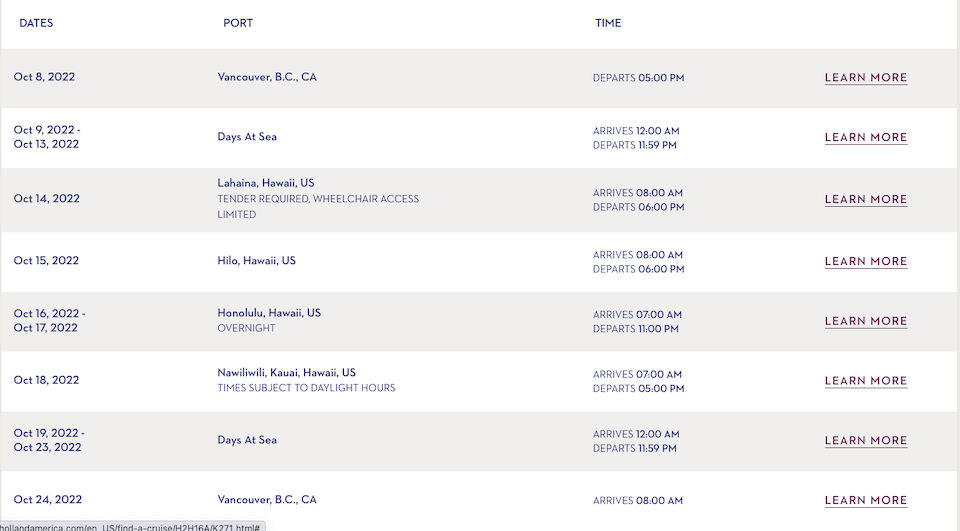 Cruise from Vancouver to the Hawaiian Islands
The ship is the five-star Koningsdam, which offers two swimming pools, a live theatre, a tennis court, renowned spa treatments, movies under the stars, a basketball court, a video arcade, a casino and much more. The "Pinnacle" class ship also allows guests to create their own wine blend from a selection of single vineyard red wines.
The total cost for two people for the 16-day sailing comes to $4,235.02 CAD including all taxes and fees for an interior stateroom cabin. The price breaks down to $2117.51 CAD per person.
Not only does that cost include your transportation on a beautiful five-star vessel, but it also includes meals, entertainment, snacks, and lodging. The only thing it doesn't factor in is alcohol, but you may opt to purchase a drink package that can reduce the cost of your spending.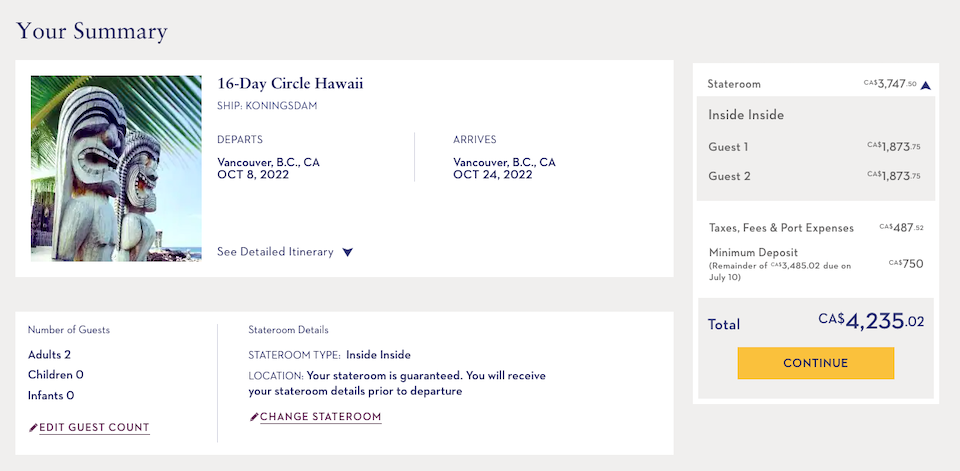 I recently sailed on the Koningsdam's first voyage to Vancouver. Read my experience sailing from San Diego in April.
Book your trip with Holland America Line.
Metro Vancouver residents: What to know about travel right now
Canada dropped its coronavirus testing requirement to enter the country but many health restrictions remain in place following the federal government's announcement.