Flights from Vancouver to San Francisco are some of the most affordable trips locals can take from the Lower Mainland -- but it might cost a pretty penny to book a last-minute ticket.
Prices for return trips connecting Vancouver International (YVR) with San Francisco International Airport (SFO) typically cost between $750 and $1000 if they are booked within five days of the departure date. After that window, they may drop down below $500 to $600 and then between $400 and $500 a few days later.
Prices drop down below $300 with most major airlines on select dates when you book tickets in advance. Thankfully, you don't have to book a trip six months in advance to get this low-cost option -- a couple of weeks should suffice. However, you may have to give yourself more wiggle room for peak travel times, such as over the holidays or during the summer months.
Flair Airlines continues to offer the best prices on routes from YVR to SFO, as well as the lowest price on the hugely popular one connecting Vancouver to Los Angeles.
For example, a flight that departs from YVR to SFO on Monday, Oct. 23 costs $94.18 for a one-way ticket. A one-way flight back from SFO costs even less, with a jaw-dropping price of just $79.37 on Oct. 29.
Altogether, a round-trip ticket on the aforementioned dates works out to a total of $173.55 including all taxes and fees.


Travel tip: Flair Airlines baggage policy
Canada's ultra-low-cost carrier may appear to have the cheapest option -- but you might want to have a look at the final price after you add up the cost of luggage.
While most carriers offer a free carry-on bag, Flair Airlines will charge you for one. You can purchase a basic bundle that includes a carry-on bag and a checked bag, but it will slap $72.45 on the cost of your trip. Most people likely need at least carry-on luggage when they travel unless they are going for a one-day conference.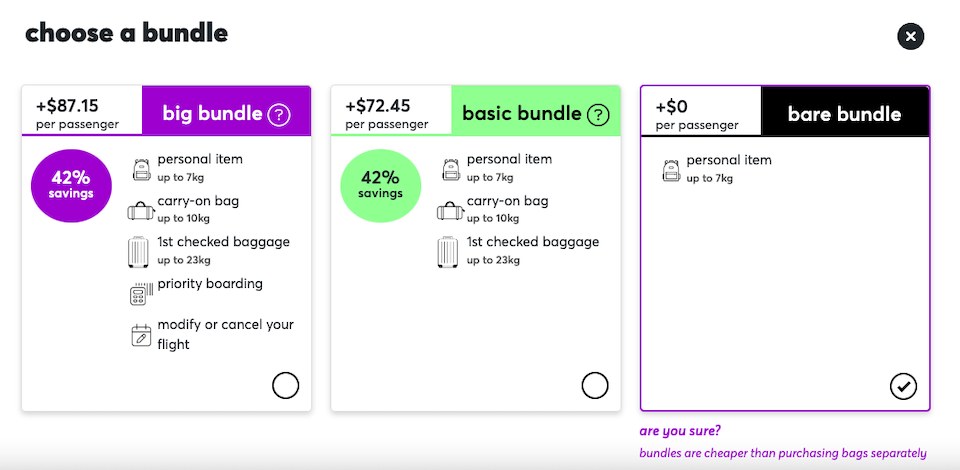 Vancouver to San Francisco flight options
Several other airlines offer the route for a steal and they will include the cost of a carry-on bag. For example, Air Canada also offers a round-trip, non-stop option on the same dates for $234 and they include one. If you need to check luggage, however, the airline will charge for that. So, if you need to check a bag, Flair is your best option in terms of pricing.
Other low-cost options include WestJet and United Airlines, which both offer the return trip from YVR for $301. You can use the Google Flights price calender to compare flights and navigate off the platform to book tickets.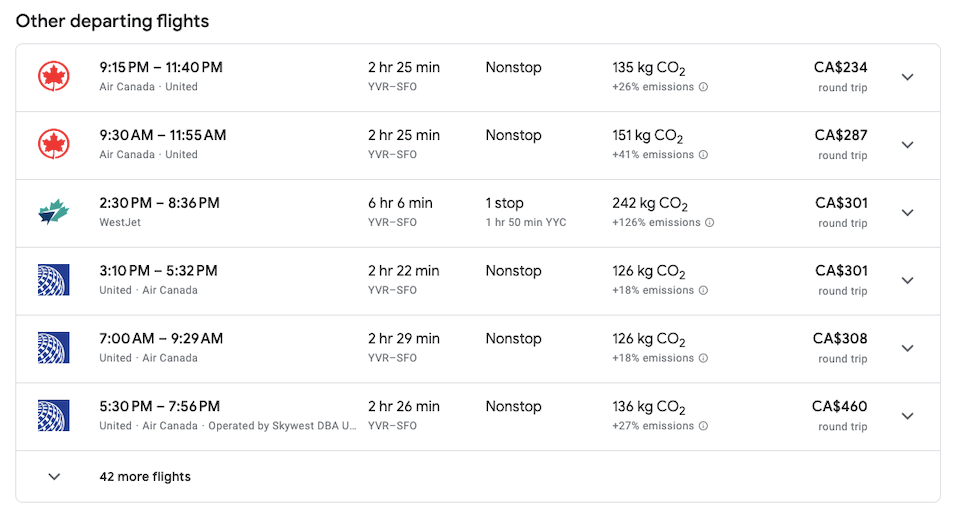 Looking for other ways to save money on your next trip? Find out the cheapest way to get to and park at YVR.