If you're looking to spend some time in Europe during the off-season, this new deal offers a round-trip ticket for a fraction of the regular price.
Amsterdam, the capital city of the Netherlands, is situated between and above Germany and Belgium and makes an ideal place to explore much of western Europe.
While the country's main international airport, Amsterdam Airport Schiphol (AMS), still has some substantial flight delays and cancellations, there have been fewer at the Dutch Hub since the summer.
You can find several return options on FlightHub from Vancouver International Airport (YVR) for under $500 CAD including all taxes and fees right now. The prices are lower than they were the last time prices dropped in September. At that time, the best deals cost just under $570 CAD.
For instance, one flight that is available on FlightHub costs a total of $493.26 CAD including all taxes and fees. The flight departs Vancouver on Feb. 20 and stops in Calgary for just shy of three hours before arriving in Amsterdam. On the return trip, a flight departs out of Amsterdam on March 2 and makes one stop in Calgary for just shy of two hours before making its final stop in Vancouver.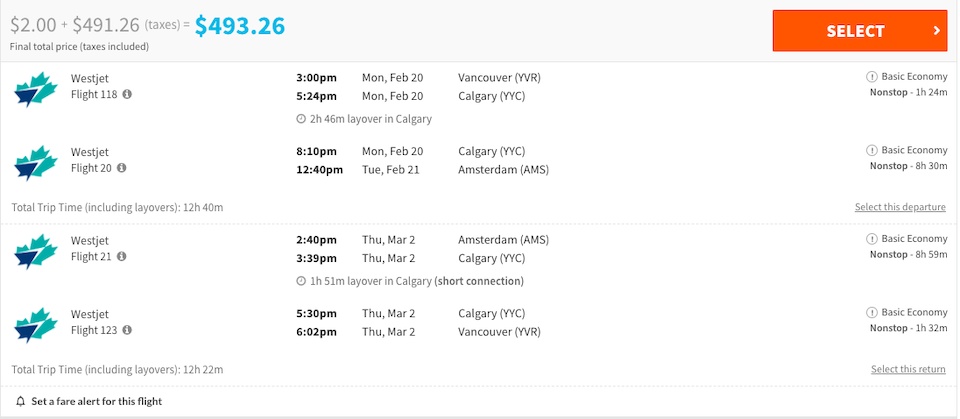 Browse WestJet flights to Vancouver through Google Flights
Prices for the popular route are $761 CAD cheaper than usual, according to Google Flights. The least expensive flights for similar trips to Amsterdam usually cost between $990 CAD to $1,700 CAD.
The best prices are around $100 CAD less than the September deal but they often involve an extra stop. For example, in the flight below, the outbound journey involves two stops: one in Kelowna and one in Calgary. There is only one stop in Calgary on the return trip, however.
The total cost for the flight, including all taxes and fees, works out to $473 CAD.

You can book your flight with FlightHub or browse the Google Flights price calendar.