Moses Li, Thomas Bradbury, Kyle Hansen and Eleanor Osman.
They don't know each other but share a common experience in discussing what life was like for them in the early days of the pandemic.
Each of them appeared in Glacier Media stories within six weeks of the World Health Organization declaring the COVID-19 outbreak a pandemic.
The declaration was made March 11, 2020.
Li, a father of a 21-month-old son at the time, was on his way in early April to begin his shift as an emergency room nurse at St. Paul's Hospital.
Bradbury had just crossed the Canada-U.S. border at Sumas in late April after hauling a trailer full of meat to a warehouse in Kent, Wash.
Hansen, whose Grade 12 year at Burnaby Central high school was suddenly upended, sat masked up in mid-March with a friend at English Bay.
Osman, a retired bank employee-turned-caregiver, was in Strathcona that same March morning and about to visit a seniors' care home.
At the time, all four were uncertain about the power of the virus and what its transmission rate would mean for their lives and the people around them.
One year later, that uncertainty is not as pronounced, alleviated somewhat by the vaccine rollout and a mountain of scientific research available on the virus.
Still, the pandemic occupies their daily thoughts.
How can it not?
In separate interviews this month, Glacier Media caught up with Li, Bradbury, Hansen and Osman as they reflected on the past year while contemplating the days and months ahead.
*****************
Strange, turbulent and tiring.
That's how Li described his past year on the job at St. Paul's, where COVID-19 patients continue to come through the doors.
So do victims of drug overdoses.
The hospital on Burrard Street is a go-to centre for both of B.C.'s public health emergencies, with medical staff increasingly strained by the relentlessness of the illnesses.
"You keep hitting a new routine, a new normal and hit some equilibrium, but then it gets disrupted again," said Li by telephone from the hospital last Friday morning.
"You've been asking people to go at 110 per cent for the better part of the year, in terms of COVID, and the better part of five years with the drug toxicity crisis. I work with a very resilient and very compassionate group of people. But the well runs dry eventually — or it gets drier."
Asked what relief looks like, Li said:
"That's the big question that we're grappling with right now. Our eyes are turned on, 'How can we build better capacity amongst ourselves?' People just want to go and recharge, go on a vacation, see their friends or worship in their spaces of religious gathering. Yet, we can't do that right now."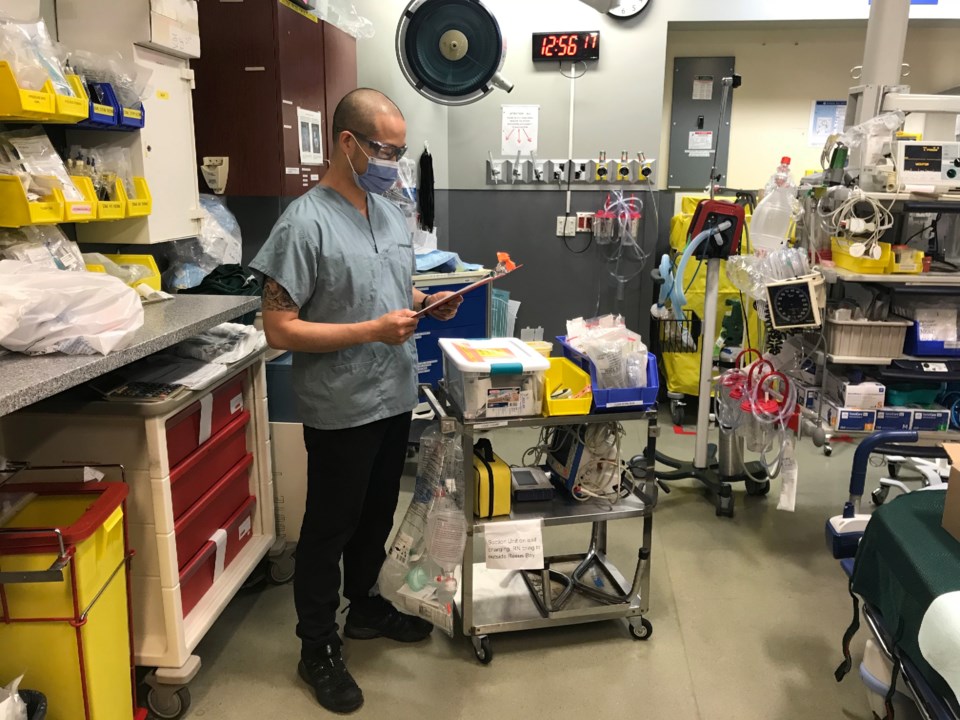 Moses Li inside St. Paul's Hospital. Photo courtesty Providence Health Care
When Li spoke to Glacier Media in April 2020, the number of COVID-19 deaths in B.C. had reached 50 while people who died from drug overdoses totalled 268 in the first three months of the year.
As of Tuesday, 1,597 people had succumbed to COVID-19 in B.C. More than 1,700 people died of a drug overdose last year and another 498 lives were lost in the first three months of this year.
Vancouver alone saw 408 overdose deaths in 2020.
Such tragedy is in addition to the 27,067 overdose calls paramedics responded to in B.C. last year, including 8,144 in Vancouver.
Over a recent seven-day period — from April 27 to May 3 — paramedics responded to 181 overdose calls in Vancouver.
While many overdose victims end up at St. Paul's, others are transported to Vancouver General Hospital, where Li's wife works as a nurse in the intensive care unit.
Sharing the same profession has allowed the couple to support each other through these turbulent times, Li said, noting his wife is now on maternity leave after giving birth to a baby girl in February; their son is almost three years old.
'Disaster medicine'
The couple has experience working in high stress situations, having worked with a humanitarian organization at a field hospital in northern Iraq during the liberation of Mosul.
They also travelled to Bangladesh to provide medical support to Rohingya refugees — experiences Li referred to in describing the couple's working life in Vancouver.
"Not a lot of people signed up to work in the North American hospital setting to practise disaster medicine," he said.
"I may have borrowed that from another article I read, but I think it definitely rings true. When you go to a disaster zone, you expect to practise disaster medicine. But then you bring that back home and you're like, 'I never thought we'd be here.'"
Part of Li's role in the emergency room is to assist with training of new staff, which can be challenging with ever-changing protocols around COVID-19.
"You're bringing on board a lot of new people into a very kind of unstable environment," he said.
"So there's all kinds of nuances to training new staff in this context. You're constantly having these conversations that go like, 'This is normally how you would do it, but because of COVID, we do it this way.'"
As of Tuesday, the number of COVID-19 patients in B.C. hospitals was 486, with 173 in intensive care. Of those, 24 were in St. Paul's, with 10 in intensive care.
The pandemic's effect on the increases in homelessness and overdose deaths has been widely reported over the last year, including frequent coverage by Glacier Media.
Li sees the public health emergencies as intertwined, with many gains the province's health system made in reducing overdose deaths compromised in the time of COVID-19.
BC Coroners Service statistics support his observation, with a five-year low of 985 overdose deaths reported in B.C. in 2019, before spiking to 1,723 in 2020; the 498 deaths in the first three months of this year put the province on a pace for the deadliest year on record.
Reflecting on the past year, and considering the unpredictability of what is to come in the months ahead, Li said being an unavoidable witness to so much tragedy and sadness has not changed his passion for nursing.
"My view on the work I do is that it's not just clock in, clock out and make a paycheque," he said. "I think I speak for many people that this is a calling. People see it as more than a job. It's something they're wanting to do and pour themselves into and make an impact, make a difference."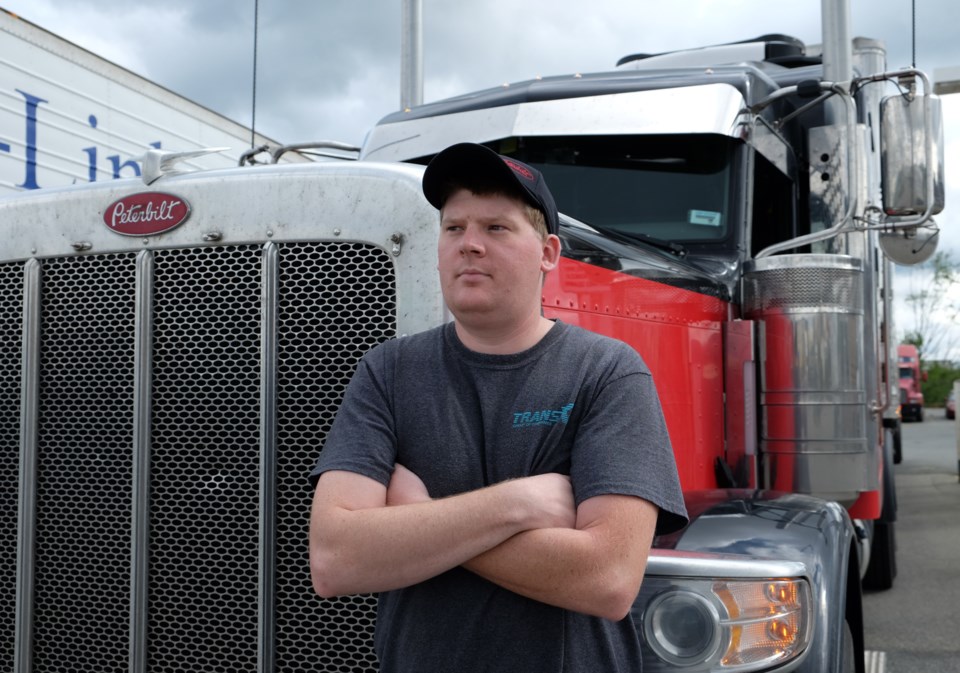 Thomas Bradbury in Abbotsford in April 2020 when he first spoke to Glacier Media. Photo Mike Howell
Thomas Bradbury was rolling along Interstate 76 in Pennsylvania last Friday afternoon in his Peterbilt tractor-trailer unit when he answered this reporter's call.
The 27-year-old Calgary native had a load of seed potatoes on board from Sturgeon County, Alta. and was heading for a farm in New Jersey.
He had been on the road for four days.
"It's been OK, and a lot better this year," said Bradbury, when asked how his year had gone.
Better in the sense that his wife, who contracted COVID-19 six months ago, is clear of the virus; she showed no symptoms and didn't have to be hospitalized.
His two young children are fine, too.
Bradbury is fully aware how hard Alberta has been hit by COVID-19, with news Sunday showing the province had the highest number of cases per capita in North America.
More than 4,100 cases were reported over the weekend.
Bradbury believes the Trudeau government should have acted sooner to prevent the spread of the virus, noting the contradictions of restrictions imposed across provinces while airports continue to operate.
He has yet to be vaccinated and is hesitant about getting the jab, mainly because of the speed with which Health Canada has approved the vaccines.
"They test for years and years before they give out a shot for other diseases," he said, pointing to the decades-long development of a polio vaccine.
Besides, he said as he recounted a story he told last April, he was in hospital in Saskatchewan in December 2019 with all the symptoms of COVID-19.
He's sure he contracted the virus.
"I had no taste or smell for about a week," he said.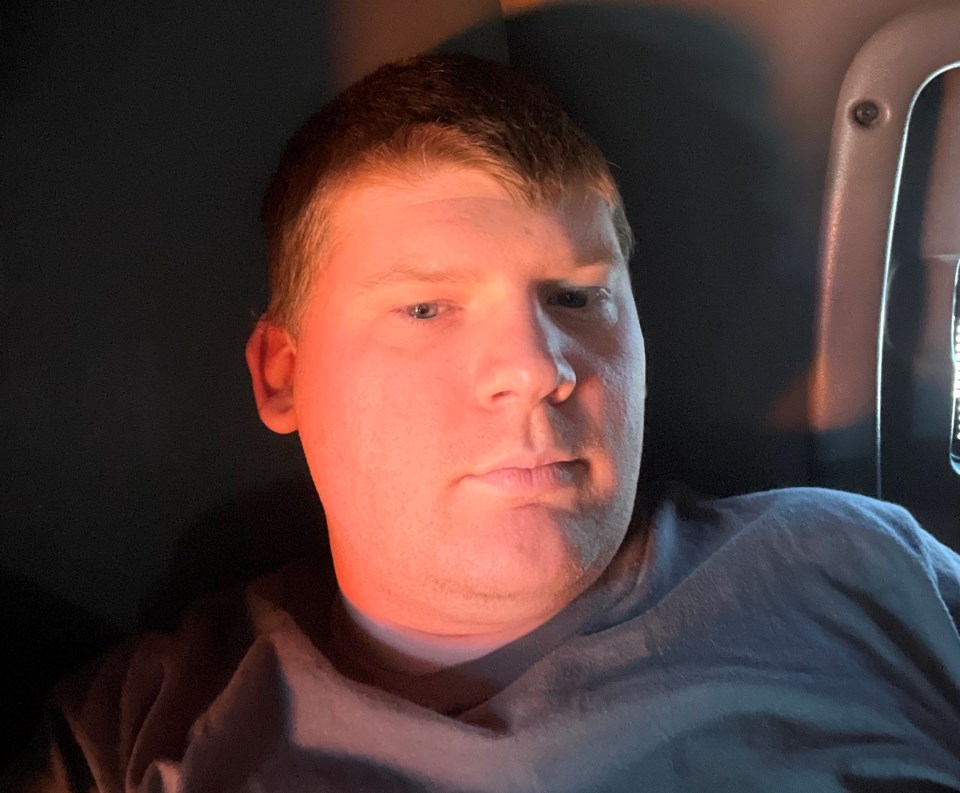 Trucker Thomas Bradbury during a break last week from hauling goods in the United States. Photo Thomas Bradbury
'No mask required'
Though many Canadians have lost their jobs over the last year, Bradbury said he's grateful to be collecting a paycheque and has worked for two trucking companies, including his current employer, Hardline Transport Solutions out of Moose Jaw, Sask.
His travels in America have given him a good glimpse at what life soon might resemble in Canada as more residents get vaccinated, with Disneyland opening up on the day he spoke to Glacier Media.
"It's night and day," he said, when comparing the two countries. "You go into Texas — no mask required, can go walk into any restaurant and go and have a nice sit-down meal. You can't get that in Alberta."
From where Bradbury sits, the economy also appears to be on the rebound, with the open space he had on the highways in April 2020 no longer there.
And, as he predicted in April 2020, the public gratitude for truck drivers early on in the pandemic — with roadside food pop-ups and #thankatrucker social media campaigns — has all but evaporated.
That said, Bradbury mentioned a recent encounter that occurred in Fort Wayne, Ind. when he obliged a passing motorist who made a fist pump gesture to activate the truck's horn.
In return…
"I got flashed by a hot woman in a Corvette," he said, laughing.
In the months ahead, he's hopeful the Canada-U.S. border will open to all residents in North America, allowing him and his family to take a trip to Great Falls, Mont. He also wants to get out to Vancouver.
"I'll be very happy when everything can kind of go back to normal, and we don't have to wear face masks anymore or worry about stores being closed — or worried about not being able to buy your groceries," he said.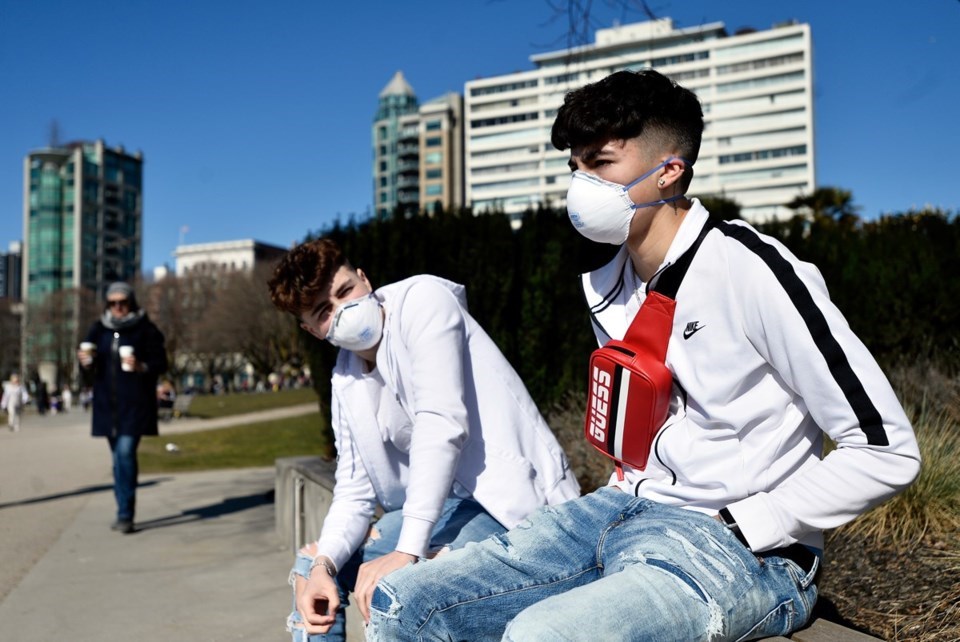 Kyle Hansen with friend Callum Orchison at English Bay March 18, 2020. Photo Jennifer Gauthier
'Graduation day'
It is without a doubt that Kyle Hansen graduated from Grade 12 at Burnaby Central high school in June 2020.
His diploma says that.
But Hansen's so-called graduation was far from the type of event that he and his friends anticipated in closing out their high school years.
No prom, no boat cruise.
"It was kind of like a 15-second walk [to pick up my diploma] and school was over basically," he said.
When Glacier Media spoke to Hansen and friend Callum Orchison on March 18, 2020 at English Bay, the pair was puzzled by the pandemic's effect on their lives.
They wondered about graduation, about their jobs as food runners at Rogers Arena (which they lost) and what the summer would bring.
The friends had just returned from a drive to Squamish, where they travelled out of boredom. They were among the few people wearing masks at the beach.
"Everything seems normal when you look at all the people here, but it's not," Orchison said at the time. "I've been bipolar with emotions. It's a nice day but then I think about what's happening with the world. It's tripping me out."
Months later, Hansen's family was directly affected by the pandemic, with Kyle's sister Kaela contracting the virus in Kansas, where she is a member of the University of Kansas soccer team.
"She's really fit, so we knew she was going to be OK, we knew she was going to be fine," said Hansen, who receives regular reports from his sister about the COVID-19 situation in the Midwest state. "She said it's getting better there now; nobody cared about it in the beginning."
Kaela got vaccinated in the U.S., his dad got the jab locally and his mom is still waiting for an appointment; at 18, Kyle has to wait at least a month or longer to get the shot, the timeline depending on direction from government.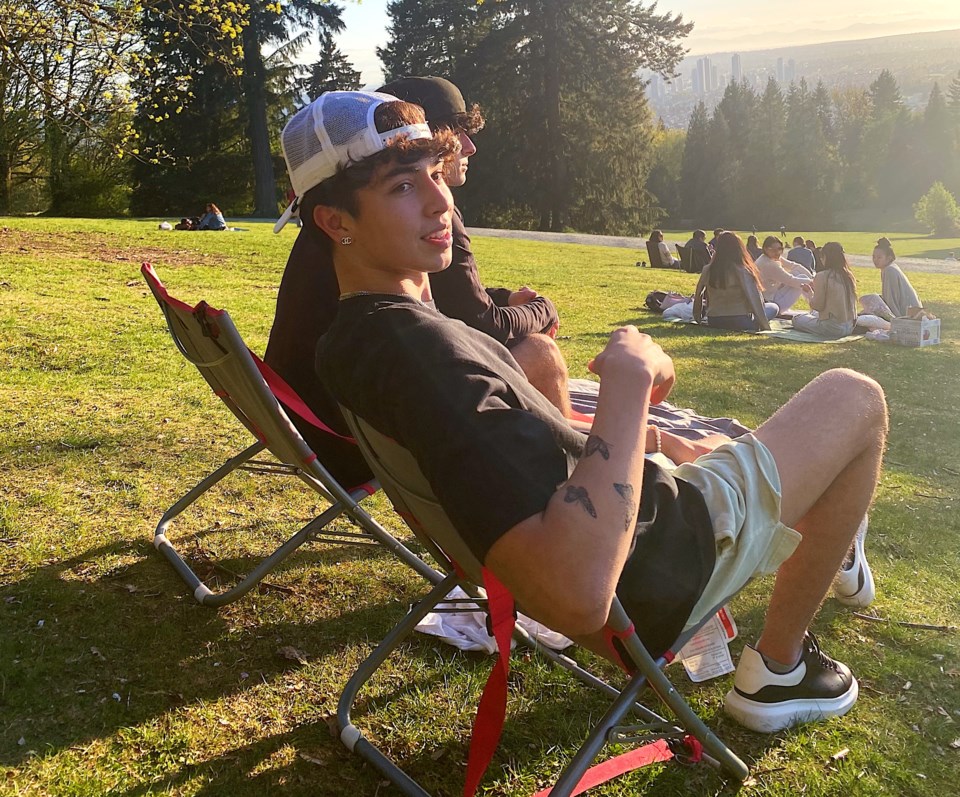 Kyle Hansen has become a social media influencer during the pandemic. Photo courtesy Kyle Hansen
Hansen was playing soccer, too, but has given that up to pursue his interest as a social media influencer, using TikTok and Instagram to promote clothing, shoes and apps.
His Instagram profile says he has 1.3 million followers.
"When quarantine hit, that's how it started," he said, noting he earns money from the work. "I'm doing basically lifestyle stuff, nothing crazy."
He also has an interest in music and wants to pursue making beats. A post secondary education may come later, he said, noting he wants to see how far his current interests take him.
For now, it's his life.
"Hopefully, COVID gets better — fingers crossed — but right now just taking it day by day," he said. "It's hard to know what's going to happen. Things start opening up, then it gets worse again. So we'll see."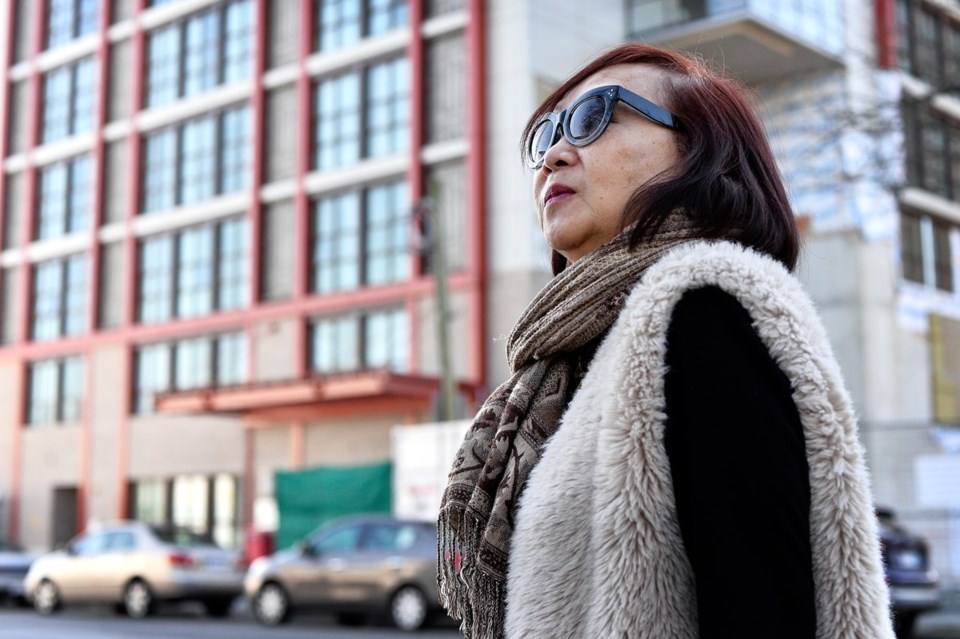 Eleanor Osman outside Villa Cathay long-term care home in March 2020. File photo Jennifer Gauthier
'I'm a positive person'
Eleanor Osman had just returned from an afternoon stroll along a waterfront path near her home in New Westminster when she considered the question: How has her year gone?
She first wanted to talk about all the flowers she saw while getting her exercise.
"They are so beautiful, that's why I moved here," said the 72-year-old retired bank employee, who had lived in another part of the city until finding her new home last August.
Her year?
In between the daily strolls and regular hikes with friends at Robert Burnaby Park, where she has marvelled at the sculptures of mythical creatures made mostly from twigs, branches and leaves, Osman hasn't stopped moving forward.
She misses karaoke nights and line dancing at the community centre. She wants to go for a nice dinner with friends at a restaurant. But she hasn't let the pandemic get her down.
"Like I told you before, I'm a positive person — I always look at the bright side and try to help people because it feels good," she said, picking up from her thoughts made in March 2020 while outside the Villa Cathay long-term care home in Strathcona.
At the time, Osman was about to enter the facility for Chinese seniors, some of whom got infected with the virus over the last year, including at least one resident who died.
Osman continues to visit the building once a week (she used to go five days a week until restrictions were put in place), where she spends time with a 97-year-old tenant living with Alzheimer's.
She wears a mask, a face shield, gloves and a gown when she's inside.
Her friend's room has a view of Strathcona Park, where up until last week was home to the city's largest homeless camp. The sight of so many people without a home saddens Osman.
"That's a lot of unfortunate people," said Osman, who keeps packages of cookies in her car to hand out to homeless people requesting spare change at the many intersections in the Lower Mainland; she also makes sandwiches and hands them out in the Downtown Eastside during Christmas and Thanksgiving.
'It's a blessing'
She has been vaccinated. So has her son living in Montreal. Her daughter, who lives in Vancouver, is still waiting to get the jab.
She stays in regular touch with her brother in China and sister in Hong Kong via a video link. They joke a lot, she said, noting her sister also does volunteer work, teaching English to seniors.
The conversation returns to her optimism, when asked what she hopes the rest of the year will bring. She pointed out that COVID-19 cases are decreasing and more people are getting vaccinated.
Plus, she added, what we are all enduring in 2021 needs some perspective
"I really appreciate my life. I was born in 1949. The [Second World] war was already over. So I didn't have to go through these kinds of difficulties like other people. My two kids and my grandson have all grown healthy, and have no bad habits. It's a blessing."
•••••••••••••••••••••••
Meanwhile, Provincial Health Officer Dr. Bonnie Henry and Health Minister Adrian Dix reported 694 new COVID-19 cases Thursday. A total of 6,802 cases are considered active, with more than 125,000 people having recovered after a positive COVID-19 test.
Note: This story has been updated since first posted with comments from Eleanor Osman, whom Glacier Media reached after the first draft of the story appeared on the website.
@Howellings