In the lead up to ROVE the Mount Pleasant art walk coming up on May 26th we are going to introduce to you to some of the artists, galleries and curated spaces that will be taking part!
Today we are excited to share that Wendy D will be showing at ROVE!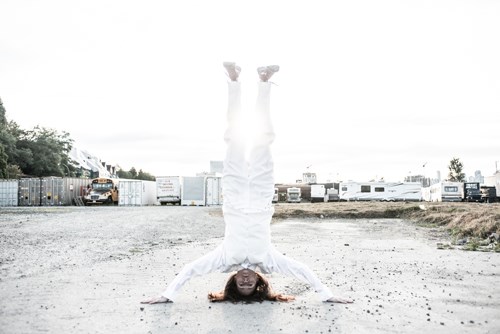 Describe your work in a few sentences?
The work being presented at ROVE is a collaboration between myself Wendy D, Photographer and Tara Cheyenne Friednberg, choreographer/performer.
I am a photographer who has been captivated & motivated by the intimate, physical process of collaborating with movers through the creation of images. My images of performances have been seen around the world working with dance companies such as  the Kidd Pivot, Electric Company Theatre co-production, Betroffenheit, Out Innerspace, Tara Cheyenne Performance, & Ballet BC.
Tara is a choreographer, performer, educator and Artistic Director of Tara Cheyenne Performance. Based in Vancouver, she has been creating and performing her unique brand of hybrid dance-theatre for the past decade and is known for her expert blending of comedy, dynamic physicality and character work.
What can Rovers expect when visiting your location?
We are undertaking a brand new project called "Mind Stories". A collaborative improvisational process between Photographer and Performer, interpreting a real story of a mental breakdown. The resulting imagery will be assembled and shown by projection on the night of ROVE.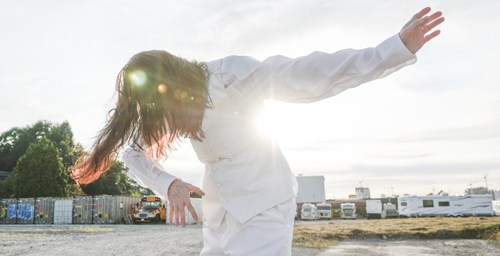 What's the best thing about being an artist?
The best thing for me are the experiences I have while in the process of photographing. The interaction with the people, the connection with performers, the sharing of those images with an audience. Watching the reactions of viewers when they actually take the time to really look at an image. Priceless. Also sharing my passion with others, helping people actually "see" what is around them and how they can say something with what they see.
What's your dream piece of art?
I can't say there is one dream piece of art I would like to own. I am very lucky to be surrounded by many very talented artists in many different disciplines, some of which, one can own and some of which, one experiences. I have amazing pieces from the artists I know, music of musicians I know, emotions created by the dancers I know, all of which, for me, are priceless. I can't wait to see the next project of all of them.
The images are of Tara by Wendy D  for her production "Porno Death Cult"
Where can people find your work online?
View my website here and follow her on Instagram, Twitter and Facebook!
Visit Tara's website here and follow her on Twitter and Facebook.
---
ROVE with us on Friday, May 26th from 6pm to 10pm and then party with us at the ROVE after party at the The Projection Room starting at 10pm until late! RSVP here
Stay connected to ROVE by finding us on Instagram, Facebook and Twitter.