The Vancouver Canucks have had some major roster turnover in the past year. Of the 23 players on their opening night roster last season, nine of them are no longer with the team.
That means the 2021-22 Canucks are going to look significantly different from last year's squad but the final roster is far from set. As the team heads into training camp next week, fans should keep an eye on a few key battles for roster spots.
There will be a battle for a spot in the Canucks' top six and a battle to play on the fourth line alongside Brandon Sutter and Tyler Motte, but the most contentious battle is likely to be on the left side of the defence.
There, the Canucks have two young defencemen vying for a spot in the starting lineup: Olli Juolevi and Jack Rathbone. If that battle wasn't going to be fierce enough, there's one other defenceman that could turn this duel into a truel: veteran Brad Hunt.
Let's take a look at the players and the complications that make this the most compelling battle at Canucks training camp.
Olli Juolevi: the embattled top-ten pick
Juolevi has been with the Canucks the longest of the trio, drafted fifth overall in 2016. Since then, much has gone wrong with his development. Initially projected as a potential top-pairing defenceman, significant injuries and his limited mobility have reduced expectations significantly.
Still, the 23-year-old Juolevi has many of the qualities needed to play in the NHL. He's a smart defenceman, who moves the puck effectively and has the size and strength to battle opponents. He proved last season that he can play at the NHL level, albeit in a heavily sheltered role.
While he had some issues getting beaten wide on the rush and he faced weaker competition than the rest of the Canucks defence, Juolevi still put up solid defensive results. He was on the ice for the third-lowest rate of high-danger chances on the Canucks behind the shutdown pairing of Alex Edler and Nate Schmidt and the second-lowest rate of goals against behind Travis Hamonic.
That shows up in his isolated impact heatmap from HockeyViz. His offensive contributions may have been limited — he managed just 3 points in 23 games — he was relatively effective at protecting the front of the net.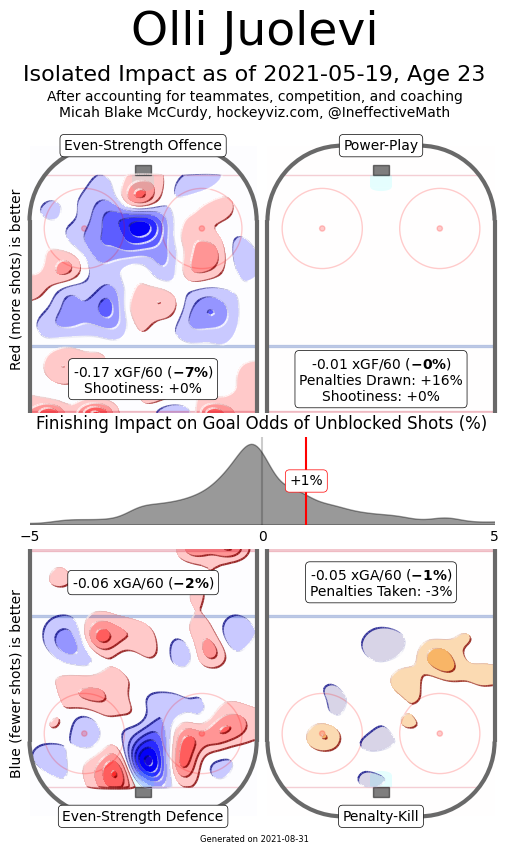 There are still some concerns about his mobility — he has a bad tendency to get burned on the rush — but there are reasons for optimism as well. The hope is that Juolevi can take a step forward after getting into 23 games next season.
While Juolevi was able to hold his own in a limited role, Jack Rathbone might be able to have a more significant impact.
Jack Rathbone: the high-flying hot shot
Rathbone represents the thrill of possibility. The 22-year-old might only be one year younger than Juolevi, but he's far less tested at the professional level. What little pro hockey he's seen has been tremendously encouraging.
At the AHL level, Rathbone dominated, racking up 9 points in just 8 games. An injury brought him to Vancouver for treatment and he never left, getting into 8 games in the NHL with the Canucks. He managed 3 points in those 8 games, including his first career goal, and showed some exciting potential.
Rathbone's analytics in his small sample size of just 8 games are pure chaos and should probably be defenestrated, particularly since they were all played in the Canucks' difficult post-COVID-outbreak schedule.
Still, let's take a look at his isolated impact heatmap.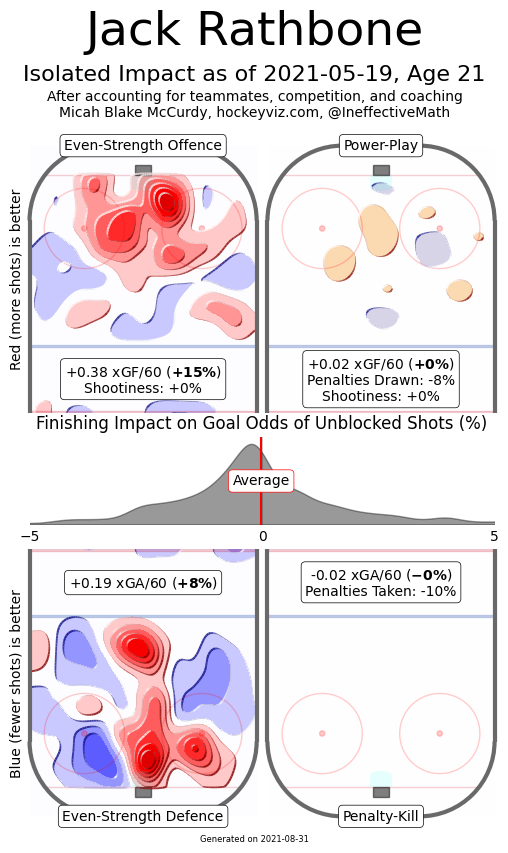 That's a lot of offence created by Rathbone, who is primarily known as an offensive defenceman. Besides his 9 points in the AHL last season, Rathbone racked up 31 points in 28 games for Harvard University in his previous year, good for third in the nation in points-per-game among NCAA defencemen.
That came with some ugly-looking defensive numbers for Rathbone but, again, that's in a small sample size at a tough point in the schedule. What's exciting about Rathbone beyond his offensive upside is his ability to use his skating defensively. His mobility is at the opposite end of the spectrum from Juolevi.
This play in the AHL, courtesy of Cody Severtson at AHL Nucks Harvest, shows that skating wonderfully.
Rathbone generates more speed from a standstill while skating backwards than some defencemen can generate skating forwards. He combines that with an aggressive read in the neutral zone that disrupts the rush, then covers for his forward teammate when he gets beat wide.
Juolevi versus Rathbone would be compelling enough on its own, but Brad Hunt complicates things.
Brad Hunt: the reliable veteran
It's easy to imagine that the veteran Hunt, who was born and raised in Maple Ridge, was signed primarily as AHL depth. But Hunt hasn't played in the AHL since the 2016-17 season, when he piled up 29 points in 23 games, which led the entire league in scoring at the time of his call-up.
Since then, Hunt has played for four different NHL teams, including the Minnesota Wild, where he played the last two-and-a-half seasons. Hunt was a reliable defenceman for the Wild when he was in the lineup — though his style and 5'9" stature have pigeonholed him as an offensive defenceman, Hunt was solid defensively for the Wild.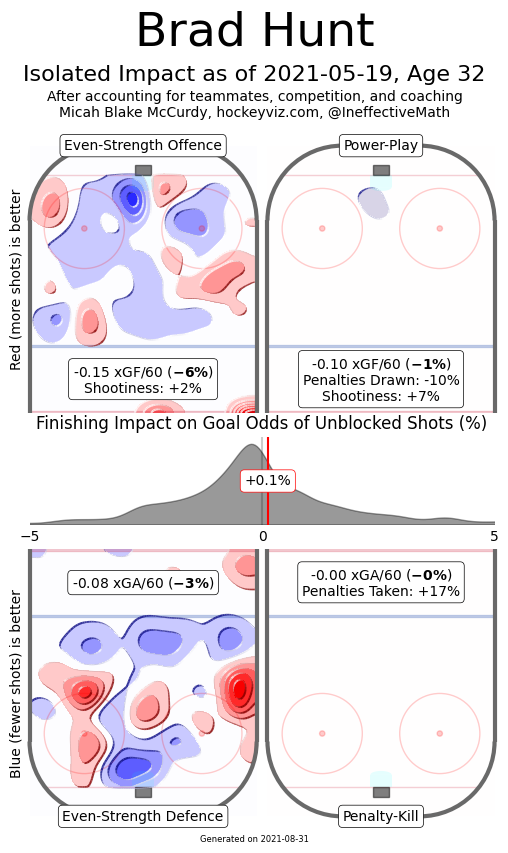 It's easy to draw a parallel with another undersized veteran defenceman from recent Canucks history — Alex Biega. Now signed with the Toronto Maple Leafs, Biega was a valuable defenceman for the Canucks as he would sit in the pressbox without complaint then could be plugged into the lineup and play a reliable, hardworking game.
In fact, Hunt seems ideally suited to be a seventh or eighth defenceman, while the Canucks might not want to use a young defenceman like Juolevi or Rathbone in such a role.
That means, even if Hunt doesn't beat out Juolevi or Rathbone to be in the starting lineup, he could still make the opening night roster, while one of Juolevi or Rathbone gets sent down to the AHL to play big minutes for the Abbotsford Canucks.
There are some other factors that will play a role in the Canucks' decision beyond how well the three defencemen play at camp: their cap hits, waiver eligibility, and the complications of the Canucks' salary cap situation.
Cap hits, waivers, and LTIR: it's complicated
Let's start with their respective cap hits. Juolevi is the cheapest of the three at $750,000 on a one-year contract. That gives Juolevi an advantage if the Canucks need to pinch pennies to fit Elias Pettersson and Quinn Hughes under the cap.
Still, the other two are not much more expensive. Hunt is on a one-year deal worth $800,000, just $50,000 more than Juolevi. Both are on one-way deals, meaning they'll get paid the same amount in the AHL, so there's no financial benefit to sending down one or the other.
Rathbone is the most expensive, but still only has a $925,000 cap hit in the final year of his entry-level contract. Would $175,000 really make that much of a difference if Rathbone outplays Juolevi in training camp? Perhaps not, but what if they play to a draw in camp, with no clear winner?
Rathbone is also the only one of the three who is waiver exempt, meaning he can be sent down to the AHL without having to clear waivers first. Both Juolevi and Hunt would need to go on waivers before getting sent down to the AHL and there is a possibility that they would get claimed. Juolevi still has pedigree as a 6th-overall pick, while Hunt has been claimed off waivers before.
Here's where things get complicated. If Rathbone gets sent down to the AHL, he'll have a higher cap hit if the Canucks want to call him up mid-season. Instead of a $925,000 cap hit, he'd have a $1.49 million cap hit
That may seem odd, but there is an explanation and it has to do with the Canucks using LTIR for Micheal Ferland.
Here's the issue: when a team is using LTIR to call up players and exceed the salary cap, they need to have enough cap relief available to cover not just the salary of a called-up player but also any achievable performance bonuses.
Rathbone has a $925,000 cap hit because of his base salary and signing bonuses, but he also has $850,000 in potential performance bonuses in his contract. That's not unusual for an entry-level contract.
While Rathbone might not actually earn any of his performance bonuses next season, if he gets sent down to the AHL and then gets called up, the Canucks will need to have enough cap space to cover the full average annual value of his contract, including his performance bonuses. That works out to $1,491,667 according to CapFriendly.
That's purely because the Canucks are using LTIR. If the Canucks were under the salary cap without LTIR, they wouldn't have to worry about performance bonuses when calling up a player.
If Rathbone starts the season with the Canucks, however, they don't need to worry about his performance bonuses at all — that rule only applies to players called up after an injured player goes on LTIR.
Even if Rathbone achieves his performance bonuses, which would push the Canucks over the salary cap, they could push those bonuses to the following season, as they have done for Pettersson and Hughes.
Clear as mud? Don't worry about it too much: just know that it's a good reason to keep Rathbone in the NHL to start the season.
The wild card: Quinn Hughes
There's one other wild card possibility: what if all three of Juolevi, Rathbone, and Hunt make the Canucks' opening night roster?
There are a couple of ways that could happen. One is injuries, either to defencemen on the left or right side — Hunt has played on the right side before. If the Canucks suffer a couple of injuries on defence, then none of those three defencemen need to be sent down to the AHL right away.
The other possibility, heaven forbid, is that Quinn Hughes isn't signed yet when the season starts.
Let's keep in mind that holding out is practically the only leverage available to Hughes. He isn't eligible to sign an offer sheet and he couldn't file for salary arbitration. If he isn't happy with any contract offers he gets from the Caanucks, his only option is to not sign them and not play.
That would mean Oliver Ekman-Larsson stepping up to the top pairing on the left side and two of Rathbone, Juolevi, and Hunt on the second and third pairings, with the final player in the press box.
Is that likely to happen? Probably not, but there may be some nervous nights if the Canucks enter training camp without Hughes and Pettersson signed.