The "Motto Line" has lost its namesake.
The NHL trade deadline had a minimal impact on the Vancouver Canucks' roster this season. They didn't move out any of their stars and arguably improved their defence by moving out Travis Hamonic and bringing in Travis Dermott.
The one subtraction from the lineup, however, will have a major impact on head coach Bruce Boudreau's most-used line.
Tyler Motte was traded to the New York Rangers for a fourth-round pick on Monday, the only trade the Canucks made on deadline day. It's clear that the Canucks were unable to negotiate a new deal with Motte that was to their liking, which is understandable — they're not in a position to commit a lot of cap space to a bottom-six forward. Accordingly, they took the best offer they received rather than losing him for nothing in free agency.
That will have an impact on the ice. Motte was a key role player for Boudreau, leading all Canucks forwards in ice time on the penalty kill and averaging the seventh-most ice time at even-strength, right behind the team's top-six forwards.
Most of that even-strength ice time came with Motte's fellow "fourth" liners, Juho Lammikko and Matthew Highmore. Really, their usage was much closer to that of a third line than a fourth line, including occasional use as a match-up line against the top lines of their opponents.
Even as Boudreau shuffled around other lines, the line of Motte, Lammikko, and Highmore stayed intact. The line even earned several nicknames, with one of them — the Motto Line, a nod to the Lotto Line that Boudreau has been oddly reluctant to reunite — even regularly used by play-by-play announcer John Shorthouse on Canucks broadcasts.
The only thing that could break up the Motto Line was evidently removing one of the players entirely from the roster. Now, the question is how Lammikko and Highmore can perform without such an integral part of their line.
Greater than the sum of its parts
The Motto Line was more than the sum of its parts. Apart, the individual players that made up the line were bottom-of-the-lineup utility players. Together, they were a legitimately great line, producing excellent results in both their goalscoring and their underlying results.
Their 5-on-5 numbers together and apart are legitimately stunning.

Looking at their WOWY (With Or Without You) data from Natural Stat Trick, the individual players on the Motto Line struggled as individuals.
Highmore has fared the worst away from Lammikko and Motte by expected goals percentage, a statistic that combines both shot quantity and shot quality, at 32.56%. Shot attempts are 104-to-67 for the opposition when Highmore has been on the ice at 5-on-5 without Lammikko and Motte and he's been outscored 4-to-1.
Lammikko looks slightly better by expected goals but actual goals haven't been as kind, as the Canucks have been outscored 10-to-3 when Lammikko has been on the ice at 5-on-5 without Highmore or Motte.
Motte has the best underlying numbers on his own, which makes sense. Motte was a reasonably effective fourth-line forward for the Canucks, particularly on the penalty kill, before either Highmore or Lammikko arrived in Vancouver. Still, both his corsi and expected goals are under 50%, indicating the Canucks have been out-shot and out-changed when he's been on the ice without Highmore or Lammikko, and he's been out-scored too, 12-to-7.
Together, however, it's night and day. Their corsi numbers together still aren't great, indicating they're getting out-shot, but they've been effective at limiting dangerous scoring chances and crash the crease at the other end of the ice to create a few scoring chances of their own.
Their defensive heat map together from HockeyViz illustrates just how effective that line was at keeping shots to the outside, with a deep well of blue in front of their own net, indicating a below-average number of shots from that area — way, way below average.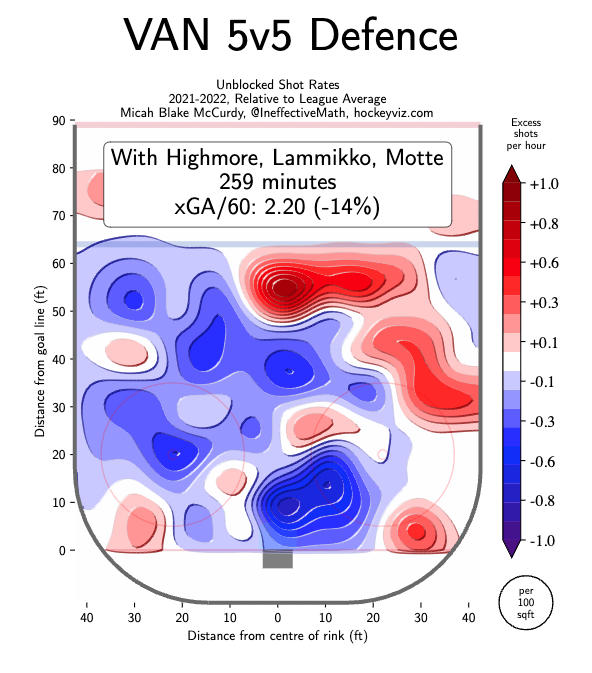 As a result, the Motto Line's expected goals percentage is 52.40%, a legitimately great number for a bottom-six line that frequently sees tough competition and has seen their shifts primarily begin in the defensive zone.
More than that, they've been able to convert their scoring chances into goals, out-scoring their opposition 14-to-4 when all three of them have been on the ice at 5-on-5. Since the coaching change, Lammikko is 7th on the Canucks in scoring, with 7 goals and 13 points in 37 games, with Motte right behind him with 12 points.
The question, however, is whether Highmore and Lammikko can continue to thrive without Motte.
Without Motte, Highmore and Lammikko have struggled
So far this season, in a limited sample size of around 44 minutes, Highmore and Lammikko haven't been quite as good without Motte as they have been with Motte.

While their corsi percentage is actually slightly better, they've had a tougher time preventing high-danger scoring chances against and really struggle to create high-danger scoring chances without Motte's subtle skill. As a result, Highmore and Lammikko's expected goals percentage is a lackluster 45.85%.
That's still better than Highmore and Lammikko on their own. The duo still make each other better, just not to the same extent as the entire Motto Line together.
For the time being, they will be playing with Brad Richardson, who was claimed off waivers prior to the Motte trade. Richardson, with his excellent 58.8% faceoff percentage this season, will line up at centre, pushing Lammikko to the wing.
Can they find chemistry with Richardson similar to what they had with Motte? Richardson has decent speed, even if he's lost a step at 37, and he's got a bit of grit and a solid defensive game.
"I don't know [Lammikko and Highmore] very well, to be honest," said Richardson the day after the trade, "but just talking to them today, they're energetic, they're excited — I know they've had a good year and they've been a good checking line. That's what I've done for my career, so just looking forward to fitting in there and just seeing what happens."
The Canucks also have a young, speedy winger in the AHL who could potentially fill Motte's skates in Will Lockwood, who has 9 goals and 24 points in 45 games for the Abbotsford Canucks this season.