Patrik Allvin has some work to do.
The Vancouver Canucks' general manager has had a relatively quiet first few months on the job. He made a trio of small deals ahead of the trade deadline during the season — trading Tyler Motte to the New York Rangers and upgrading from Travis Hamonic to Travis Dermott in a pair of deals on defence. He's also made a handful of minor signings — Arshdeep Bains, Linus Karlsson, and Nils Åman got entry-level contracts, while Spencer Martin got a two-year deal at near league minimum to be the likely backup for Thatcher Demko.
The next few months will be a lot busier for Allvin, with the NHL Entry Draft one month away, followed by the opening of free agency. This summer represents the first real opportunity for Allvin to put his stamp on the team and for Canucks fans to see exactly what type of team Allvin wants to build.
The Canucks have some free agents of their own, of course, with Brock Boeser the biggest name among them. There has been plenty of speculation about what Boeser's next contract could look like but what about the 16 other free agents on the Canucks' roster?
Let's take a look at all of the Canucks' free agents — restricted and unrestricted — and see what kind of contract they might expect to get. To do so, I'll use Evolving Hockey's contract projections, which use a range of statistics and past contracts to predict future contracts.
Restricted free agents
We'll start with the restricted free agents — players whose rights are held by the Canucks, as long as they give those players a qualifying offer.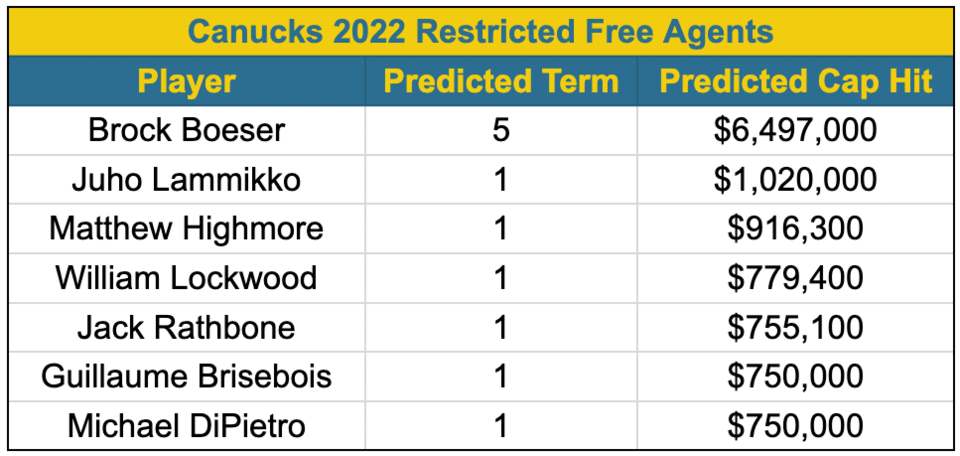 Boeser has the biggest projection of all of the Canucks' free agents at 5 years and nearly $6.5 million per year but his negotiations will also be complicated by the leverage created by his $7.5 million qualifying offer. Boeser might be able to command the same $6.5 million cap hit on a shorter-term deal that walks him to unrestricted free agency and a big payday much faster.
But let's move on to the rest.
Juho Lammikko was a capable fourth-line centre for the Canucks last season and he improved in several areas as the season progressed, particularly on the penalty kill and in the faceoff circle, where he finished above 50% for the first time in his career.
For a little while, his line with Matthew Highmore and Tyler Motte was one of the Canucks' best, injecting energy and popping in quite a few goals. Lammikko and Highmore weren't quite as good without Motte, however, and the Canucks will need to find that Motte-like game from someone cheaper, such as Will Lockwood or new signing Nils Åman.
Evolving Hockey projects a one-year, $1.02 million contract for the 26-year-old centre but their projections also have a two-year deal at $1.17 million as almost equally likely. A two-year deal might be better for the Canucks, who have limited options for bottom-six centres, particularly if they can keep the cap hit below the $1.125 million threshold for burying cap hits in the minors, just in case.
He's not on the Canucks' roster, of course, but for the record, Tyler Motte's projected contract as an unrestricted free agent is four years at $2.92 million per year. If he gets that kind of contract it will just further show that the Canucks were absolutely right to trade him, even for the middling return they got.
Matthew Highmore seems a safe bet to sign at below his projected $916,300 cap hit on a one-year deal. Highmore was on a below league minimum deal last season as he signed his deal before the minimum salary went up. Another league-minimum deal could be in the cards but a modest raise to around $800,000 per year could also make sense.
Next up is a player looking to either play alongside or replace Highmore — Will Lockwood.
Lockwood was mostly fine in spot duty with the Canucks last season and a one-year deal at around league minimum, which is about what is projected, sounds about right. For Lockwood, getting a one-way deal would be significant, as his two-way contract last season paid him just $70,000 per year when he was in the AHL. A one-way deal that pays him the same amount in both leagues would be a significant raise.
Rathbone's projection of a $755,100 cap hit on a one-year deal seems too low. His qualifying offer is going to be $832,500, something the contract projection model likely can't take into account.
That said, that qualifying offer would be a two-way deal. Like with Lockwood, a one-way deal would represent a raise of sorts for Rathbone from his two-way entry-level contract, so perhaps he signs something like that projected contract. It would also make him an attractive option to get into the lineup at such a low cap hit. It might make sense for Rathbone to gamble on himself.
For Guillaume Brisebois and Mikey DiPietro, one-year, two-way deals at league minimum seem about right. Brisebois seems like he's been in the Canucks' system forever but he's still a restricted free agent and is still a depth option on defence — a very deep depth option, but still an option — while DiPietro still has a lot to prove at the AHL level after struggling in net in Abbotsford last season.
Unrestricted free agents
Let's move on to the unrestricted free agents. These projections are based on the assumption that they re-sign with the Canucks, though obviously many of these players will not do so.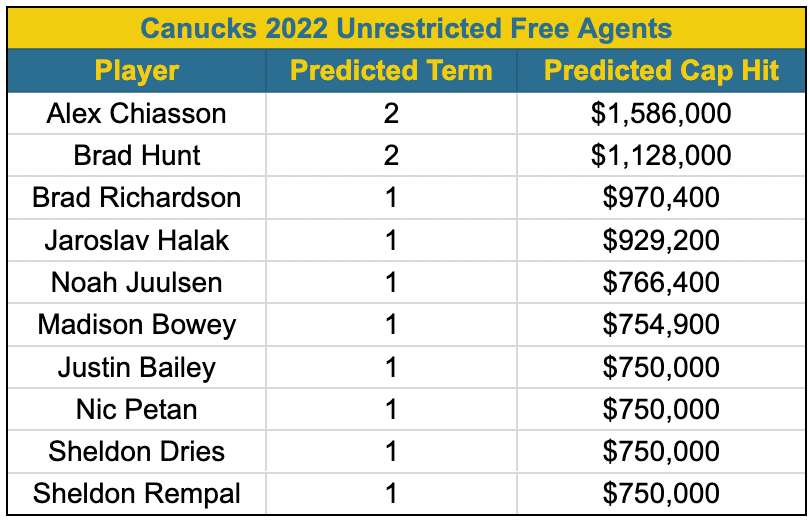 Alex Chiasson was a decent forward for the Canucks, particularly considering his league minimum $750,000 cap hit. He scored 13 goals in 67 games — not too shabby.
Do the Canucks want to re-sign him for twice the cap hit and twice the number of years? Probably not. He's a fine power play specialist but doesn't offer enough at 5-on-5. Unless he's signing for league minimum again, I don't see the Canucks re-signing him.
Brad Hunt, on the other hand, seems like a prime candidate to get re-signed. He's a decent enough option on the third pairing, though he's probably better suited to be a 7th defenceman, and Bruce Boudreau likes him. If he's signing a two-year deal as projected, however, I would want his cap hit under $1 million.
Brad Richardson played well for the Canucks after he was claimed off waivers ahead of the trade deadline. If he was right-handed, he would make perfect sense to return with the Canucks, as they could use a right-handed, faceoff-winning, penalty-killing centre in the bottom six.
As it is, the Canucks will likely look elsewhere. The 37-year-old still has some hockey left in him but he's probably looking at a league minimum $750,000 contract instead of the projected $970,400 contract.
Jaroslav Halak is not coming back. Not at any projected cap hit.
Noah Juulsen and Madison Bower are in the same boat. Both are right-handed defencemen that showed some NHL promise in the past but are now far more likely to become AHL journeymen.
The Canucks need depth on the right side on defence, so one or both could be re-signed. The projected cap hits sound about right, particularly if they're two-way deals that pay them a lot less in the AHL.
Justin Bailey has the speed and size to be a bottom-six winger in the NHL but it just hasn't worked out for him. It would make sense for the Canucks to bring him back on a one-year, league-minimum deal, but it wouldn't be surprising to see Bailey look for another landing spot in free agency.
Nic Petan was rumoured to be talking to a KHL team about signing in Russia but that was apparently erroneous. Petan was fantastic in Abbotsford and serviceable in call-ups to Vancouver, so re-signing him would make sense.
Petan's deal last year was a two-way contract at the league minimum of $750,000, but it paid him $425,000 in the AHL, which is a significant amount for a two-way contract. Petan might see a similar deal this summer.
Finally, there are the Sheldons — Dries and Rempal. The two Sheldons led the Abbotsford Canucks in scoring and it would be a big blow for Abbotsford to lose either of them. Both were on two-way deals last year and could see two-way deals again, albeit with raises at the AHL level.
With Jim Rutherford emphasizing the importance of a competitive team in Abbotsford, it would be surprising to see Petan and the Sheldons leave in free agency.