In hockey, goalscorers get all the glory.
The goalscorer is the player who gets swarmed by his teammates to celebrate and is the first player back to the bench to bump fists with the rest of the team. Goalscorers get their own trophy, the Rocket Richard, and analysis has shown that goals are the second-most important criteria for getting inducted into the Hockey Hall of Fame behind only post-season All-Star Team selections.
Playmakers, on the other hand, don't get enough credit. Most goalscorers are nothing if they don't have anyone getting them the puck but the most they get in a post-goal celebration is a finger-point and there's no trophy for the league's best playmaker.
Okay, maybe that's hyperbole. Most hockey players and fans are well aware of how important playmakers are but ti's tough to give them the credit they deserve. Assists are a useful statistic but not all assists are created equal, with a blind backhand saucer pass for a tap-in goal counting the same as leaving the puck behind the net for a teammate to go end-to-end.
In addition, for every great pass that results in a goal, there are a dozen great passes that don't. Without manually tracking every single pass, it's tough to measure just how good a player is at setting up his teammates.
Until now.
Setting: from volleyball to hockey
Micah Blake McCurdy, the mathematician behind hockey analytics website HockeyViz, has introduced his new expected goals model which includes a new aspect: setting.
"The term "setting" is taken from volleyball, a much more structured sport than hockey, where one of the touches is usually performed by a player (the setter) who is understood to be uniquely skilled at passing the ball in a way which specifically enables a different member of their team to try to score," said McCurdy in his introduction to the concept. "Despite hockey being much more fluid than volleyball, both positionally and territorially, the term 'setting' still closely matches the aspect that I would like to measure: a pass for the purpose of a shot by the player receiving the puck."
McCurdy has also noted that setting isn't just about passing — there's an element of breaking down a defence ahead of the pass that can also create a better shooting opportunity. A player with great speed like Connor McDavid can throw a defence into disarray before he ever passes the puck, increasing the odds that the subsequent pass turns into a goal.
This is an element of the game that is obviously important but it's one that's difficult to capture in data. So, this is an intriguing development from McCurdy's model, even if it does require estimations and averages in order to get there.
Henrik Sedin: unsurprisingly great at setting
For a historical example, we can look at Henrik Sedin. When he won the Art Ross and the Hart Trophy in 2009-10, Henrik's setting statistic was +18%.
What that means is that a pass from Henrik increases the odds of the subsequent shot being a goal by 18% compared to the league average. As you might imagine, that's very, very good. Henrik was one of the premier playmakers of his era and it wasn't just because he was able to find his teammates in great scoring positions but also because his cycle game with his brother broke down defences and his passes were perfect setups to get a great shot off.
Henrik would even reverse the spin of his passes when setting up a right-handed shooter for a one-timer, as even that small amount of spin made it easier to get a great shot. That attention to detail set him apart from even other playmaking centres.
Quinn Hughes is an elite playmaker
So, which current Canucks are the best "setters," creating great scoring chances for their teammates? Let's take a look at the numbers.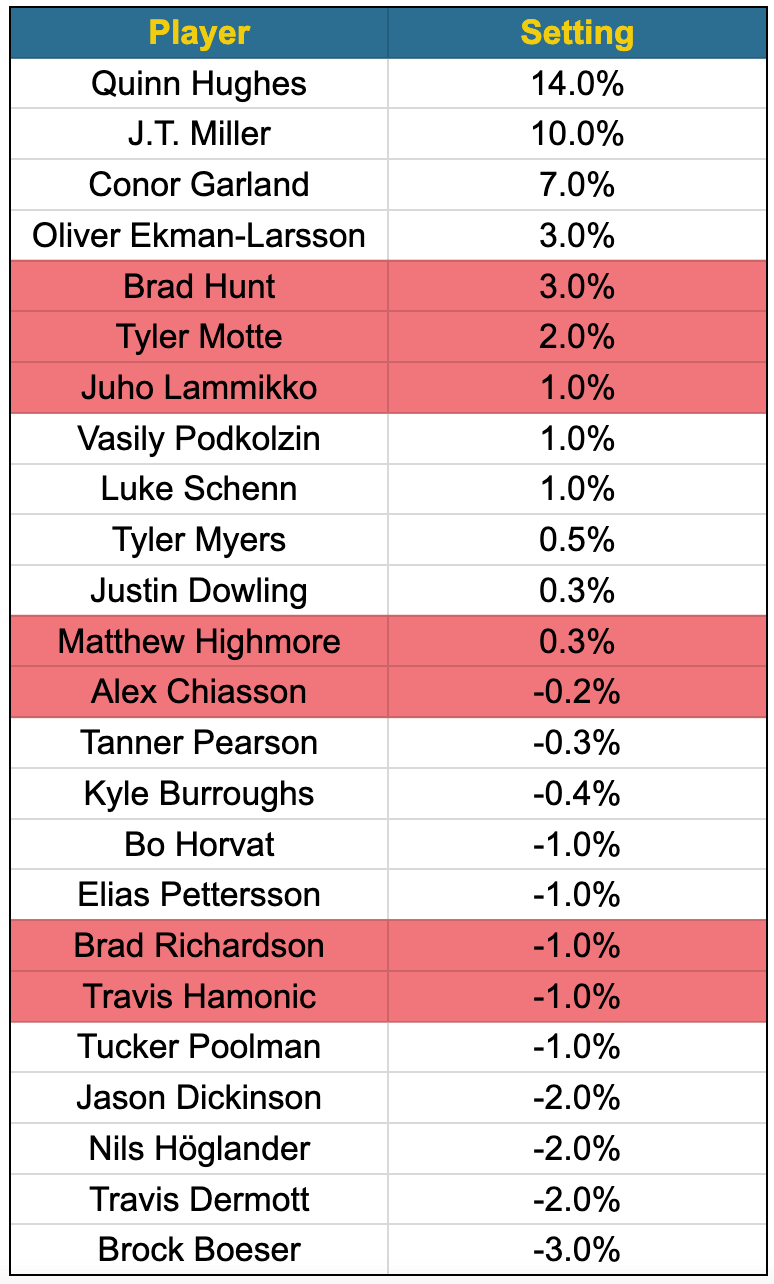 First note: these numbers are meant to be a snapshot of how good these players are at "setting" currently. In a way, they're career estimates, just with the most recent season weighing more heavily.
Let's start with the obvious positive: Quinn Hughes is one of the best defencemen in the entire NHL at setting up his teammates. A pass from Hughes has 14% better odds of becoming a goal compared to a pass from an average player. Only Roman Josi has a higher setting rating among NHL defencemen at +17%.
This past season, Hughes set a franchise record for most assists by a Canucks defenceman with 60. It's a combination of his elite skating, his hockey IQ, and his excellent passing all coming together to make him one of the best players in the NHL at setting up his teammates for scoring chances.
What's exciting about Hughes is that he's still just 22 years old and has the potential to get even better in the coming years.
Top playmaking Canucks forwards: J.T. Miller and Conor Garland
Next up is J.T. Miller, who hit new highs with his playmaking this past season, particularly on the power play, where he became adept at drawing in penalty killers before slipping pass through to Bo Horvat in the bumper for the finish.
Beyond those set play setups, Miller creates opportunities with his aggressive skating, his heads-up awareness, and his sheer unwillingness to give up on an offensive play. He's also a technically adept passer with great vision, such as on this gorgeous saucer pass to Bo Horvat.
My favourite of Miller's assists last season was this diving sling to Horvat for a tap-in goal against the Los Angeles Kings.
Miller's baffled expression and shrug after the goal shows that even he can't believe he just did that.
The last of the standout setters on the Canucks is Conor Garland. A lot of the chances he creates come because he's so incredibly shifty on his skates and able to hold onto the puck and maintain possession until a great scoring chance materializes.
Garland is also fond of the no-look pass, deceiving defences and goaltenders with his eyes and by carrying the puck in his hip pocket, ready to shoot, before pushing a pass across the ice.
Garland loves to carry the puck and his ability to set up his teammates shows that's a good thing.
Canucks don't have enough playmakers
An issue for the Canuck, however, is that they don't have that many skaters who are above average at setting up their teammates. Oliver Ekman-Larsson is nicely above average and his crisp passing in the offensive zone has long been a strength of his game. Vasily Podkolzin was slightly above average in his rookie year and could be expected to improve and Luke Schenn is, perhaps surprisingly, also slightly above average.
After that, things get a bit dire.
The most surprising number belongs to Elias Pettersson. For all of his sniping prowess, Pettersson's playmaking was one of his biggest strengths early in his career and it shows in his setting statistic, which was +7% two seasons ago.
The past couple of seasons, however, Pettersson's playmaking has struggled. Perhaps it's a lack of confidence or maybe the puck is on his stick less often as more of the play has funneled through Miller on the power play or linemates like Garland at even strength.
This is an area where the Canucks need Pettersson to bounce back, particularly if Miller does get traded or doesn't get a contract extension. Miller's ability to set up his teammates might be the aspect of his game that gets missed the most if he gets moved or leaves in free agency.
Pettersson has shown that he can be that playmaking centre in previous seasons — he needs to find that side of his game again.
Finally, there's the worst setter on the team: Brock Boeser.
Here's the thing: even though Boeser is primarily a sniper, he's been a decent playmaker in his career. Just last season, Boeser's setting statistic was +3% and it's been consistently above-average before taking a nose-dive this past season.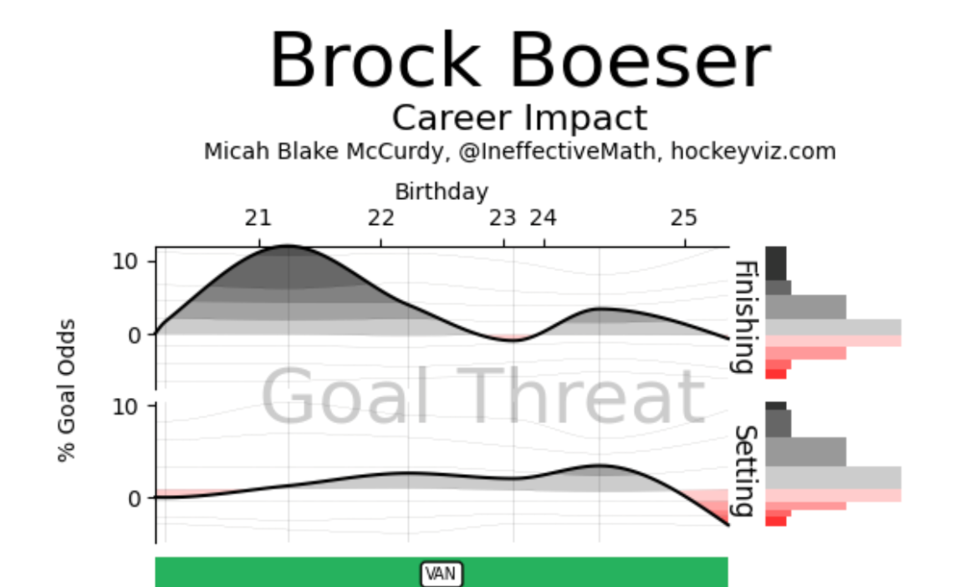 Boeser's 23 assists this past season was a career low despite playing a career-high 71 games. While he'll never be mistaken for an elite playmaker, he has the capability to create more his linemates.
A lot of how next season goes could be dependent on Pettersson and Boeser bouncing back on the playmaking side.