The Vancouver Canucks had just one line that played more than 200 minutes together at 5-on-5 last season.
All three of the members of that line — Tyler Motte, Juho Lammikko, and Matthew Highmore — are no longer with the Canucks. Motte was traded to the New York Rangers at last season's trade deadline and is now an unrestricted free agent. Lammikko and Highmmore were not given qualifying offers by the Canucks; Lammikko signed in Switzerland, while Highmore got a two-way contract from the St. Louis Blues.
The Canucks ended up with a lot of line juggling last season with various wingers sliding up and down the lineup, as well as centres bumping to the wing. As a result, there was limited time to build up chemistry as a full three-forward line.
Playoff teams have at least a few consistent lines
Chemistry can be tough to capture in hockey. Some players that seem like they should work well together simply don't. Sometimes skilled players clash with each other, as both want to carry the puck or one wants to attack off the rush while the other looks to start a cycle. Sometimes an unexpected player can be a fit, like when Alex Burrows joined Daniel and Henrik Sedin.
Once a line spends enough time together, the chemistry can seem effortless, as players know where each of their linemates is going to be on the ice and learn to predict what they're going to do in any given situation. This can apply to a scoring line that can link together passing plays or a checking line that can trust that every player on the line is going to do their job and cover and support each other when something breaks down.
Every team that made the playoffs last season had at least two lines that played over 200 minutes at 5-on-5 together and most of those teams had at least one line that played over 400 minutes together at 5-on-5.
That includes the Calgary Flames' top line of Matthew Tkachuk, Elias Lindholm, and Johnny Gaudreau, who played over 964 minutes together at 5-on-5. They developed some incredible chemistry together, with all three of them scoring 40+ goals.
Now, two-thirds of that line is gone. Although the Flames brought back a lot in the Tkachuk trade, including Jonathan Huberdeau, who put up 115 points last season, there's no guarantee that they can find similar chemistry in a top line again.
"Maybe you catch lightning in a bottle."
Correlation is not causation, of course. In this case, the cause and effect may go the other way: teams that are talented enough to make the playoffs have a lot of skilled players and those skilled players can find chemistry with each other and form lines that stick together. Meanwhile, teams that aren't good enough to make the playoffs don't have enough good players and are left scrambling to find combinations that work.
That often seemed to be the case for the Canucks under both Travis Green and Bruce Boudreau, as both coaches swapped wingers regularly, looking for a combination that worked. Green was notorious for his use of the line blender in games but Boudreau wasn't afraid to break out the blender himself.
"I didn't see us having any chemistry together in some of those lines," said Boudreau after one particularly blendery game. "I can either keep it going and hope they get it or move them around and maybe you catch lightning in a bottle."
Did the Canucks ever catch that lightning or did the bottle stay empty all season? Let's take a look at the Canucks' line combinations from last season to see what worked, what didn't, and what that might suggest for next season.
Breaking down 18 different Canucks forward lines
Let's start by looking at all the Canucks' line combinations that played at least 50 minutes together at 5-on-5 last season. There were 18 different lines that fit that description.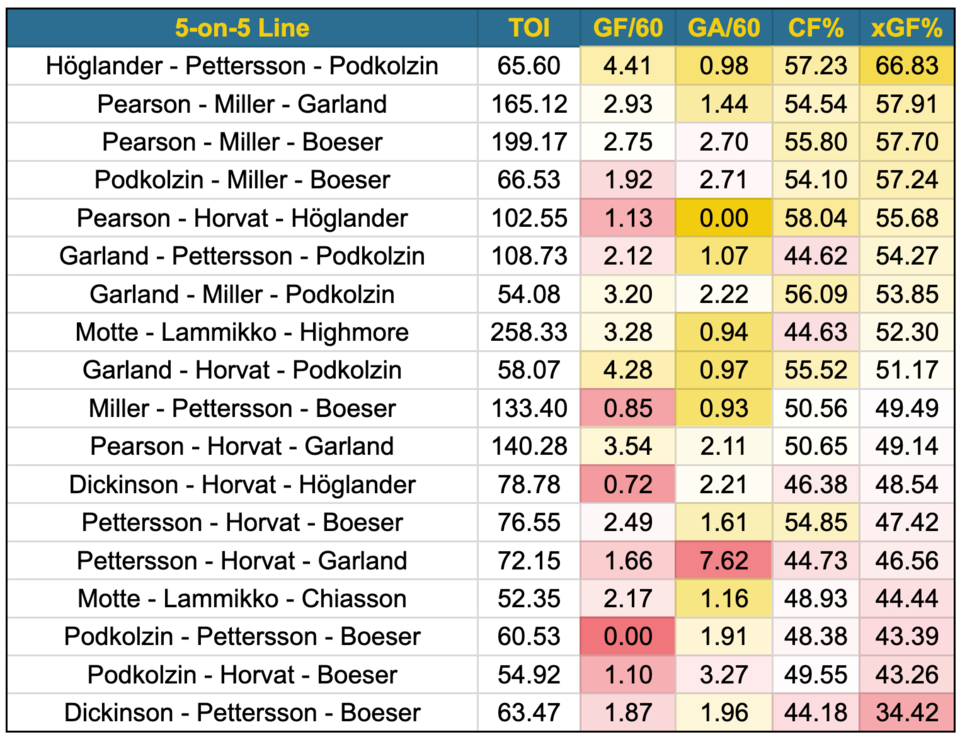 The lines are ranked by Evolving Hockey's expected goals percentage, a statistic that combines both shot quantity and shot quality to estimate how well the line should have out-scored or been out-scored by their competition based on the shots they created and gave up.
I've also included the line's corsi percentage — the ratio of shot attempts for and against at 5-on-5 — as well as their rate of goals scored and goals against. Each column is coloured in comparison to the league average — gold indicates better than average, while red indicates worse than average.
"All three of us think the same."
Let's start right at the top with a line that arguably should have been given a lot more ice time: Nils Höglander, Elias Pettersson, and Vasily Podkolzin.
That trio had some dominant games together, particularly a January game against the Nashville Predators, where all three contributed to the Canucks' opening goal. Among the Canucks lines that played at least 50 minutes, they were clearly the best in xGF%, second best in CF%, the best in the rate of goals scored, and fifth best in goals against.
"All three of us think the same," said Pettersson about the line. "All three of us are young and still think junior hockey, I think. That's what makes us good, we think fast, we're always trying to find an open teammate."
This is a line that could appear next season but there are a couple of caveats — one is that Bruce Boudreau seemed to lose trust in Höglander, particularly defensively, which is likely a big reason why this line didn't stick together. Another is that the Canucks have added Andrei Kuzmenko and Ilya Mikheyev, wingers that are likely to take ice time away from Höglander.
Pettersson and Podkolzin together were reasonably effective with another linemate, Conor Garland, though not to the same degree as with Höglander. Another combination that came just short of 50 minutes was Garland, Pettersson, and Höglander — that trio had an even better xGF% than Huoglander, Pettesson, and Podkolzin but wasn't able to score as much.
Pettersson and Podkolzin seem like a duo to build around. Höglander is a good option to keep in the Canucks' back pocket, while Garland might be a better fit elsewhere — his proclivity for carrying the puck means it spends less time on Pettersson's stick. Mikheyev has the speed and play-driving ability of Höglander, so could be a potential fit with Pettersson and Podkolzin next season.
Who is the best fit with J.T. Miller?
The next three lines for the Canucks all feature J.T. Miller at centre. Tanner Pearson was a strong fit with Miller, whether Garland or Brock Boeser were on the right wing, but Podkolzin, Miller, and Boeser was also an effective line, even if they didn't finish consistently enough.
What's intriguing is that those two combinations were the only lines where Boeser was above 50% in xGF%. To be fair, Boeser had many other things on his mind and should be in line for a bounceback season, but it's hard to ignore that most lines with Boeser on them struggled in some way or another.
That said, the combination of Pettersson and Boeser with Bo Horvat at centre was strong defensively and out-scored their opposition, even if their xGF% wasn't great. That's not necessarily a line that should be a go-to for the Canucks — Pettersson ought to be centring his own line — but it's an option.
The question for those Miller lines is if Pearson will be able to hold onto his top-six spot. It was an effective combination for the Canucks but the addition of Kuzmenko crowds the wings and he could land on Miller's line.
The positive side is that almost everyone who played with Miller worked in some way — his 2021-22 season was just that good. Pearson and Garland appeared to be the best option.
Who works best with Horvat?
Pearson, Horvat, and Höglander is intriguing. Their puck possession numbers are great and they weren't on the ice together for a single goal against in over 100 minutes at 5-on-5. Yes, they struggled to put the puck in the net but if Höglander can earn Boudreau's trust defensively, that's an interesting option for a match-up line.
Pearson, Horvat, and Garland were not quite as good, though certainly not bad. They were definitely much more high event than with Höglander — more goals for and against.
One of the strongest lines with Horvat at centre had Garland and Podkolzin on his wings. That was the second-highest scoring line behind Höglander, Pettersson, and Podkolzin and they were also effective defensively and in puck possession.
In the middle of the pack is the Lotto Line, which was never able to rekindle the chemistry that made them so effective a couple of seasons ago. It seems like Pettersson, Miller, and Boeser might not belong on the same line together any more.
Some Canucks lines didn't work at all
Lastly, let's get into some of the lines that just didn't work. There are only a few of these because, understandably, most lines that aren't working don't stay together very long.
Pettersson and Podkolzin worked great together unless they were with Boeser. Podkolzin and Boeser worked well together with Miller at centre but something just didn't click with Pettersson at centre. It's so strange how that works. It's like the riddle where you have to cross a river with a fox, chicken, and grain.
Podkolzin and Boeser also struggled with Horvat at centre. At this point, probably best to keep Podkolzin and Boeser on separate lines, which shouldn't be too hard since they're both natural right wingers, which is probably part of the problem.
Finally, Jason Dickinson really shouldn't be on a line with Pettersson and Boeser, but that seems like a given.
Where will Kuzmenko and Mikheyev fit in the Canucks' top-nine?
So, what does this mean for next year? It gives us a decent idea of what works and what doesn't, though the addition of Kuzmenko and Mikheyev adds some new variables to the mix.
Putting together a top nine based on what worked last season gives us something like this:
Pearson - Miller - Boeser
Höglander - Pettersson - Podkolzin
Garland - Horvat - ???
While Pearson and Garland were Miller's best wingers, Boeser needed a place to land and simply struggled too much in the combinations with Horvat. Meanwhile, Garland and Horvat were a pretty solid combination.
With Kuzmenko and Mikheyev, that could become something like this:
Kuzmenko - Miller - Boeser
Mikheyev - Pettersson - Podkolzin
Pearson - Horvat - Garland
Höglander
Given the additions and his sophomore slump, Höglander could be the odd man out of the Canucks' top line when next season starts. If all else fails, however, the Canucks can turn back to his chemistry with Pettersson and Podkolzin.