Juno-award winning, multi-platinum selling punk rawk songstress Bif Naked is one of Vancouver's most visibly and audibly awesome residents. She was kind enough to take some time out of her busy schedule for some total girl-chat time at local haunt Elysian Coffee on a sunny summer morning.
Ever the rebel, the openly engaging Bif swigged lemonade while staying real about the the life that she loves - from music to her four-legged fur children and from meeting her husband at a gym to her own personal experience with cancer - in the city we call home.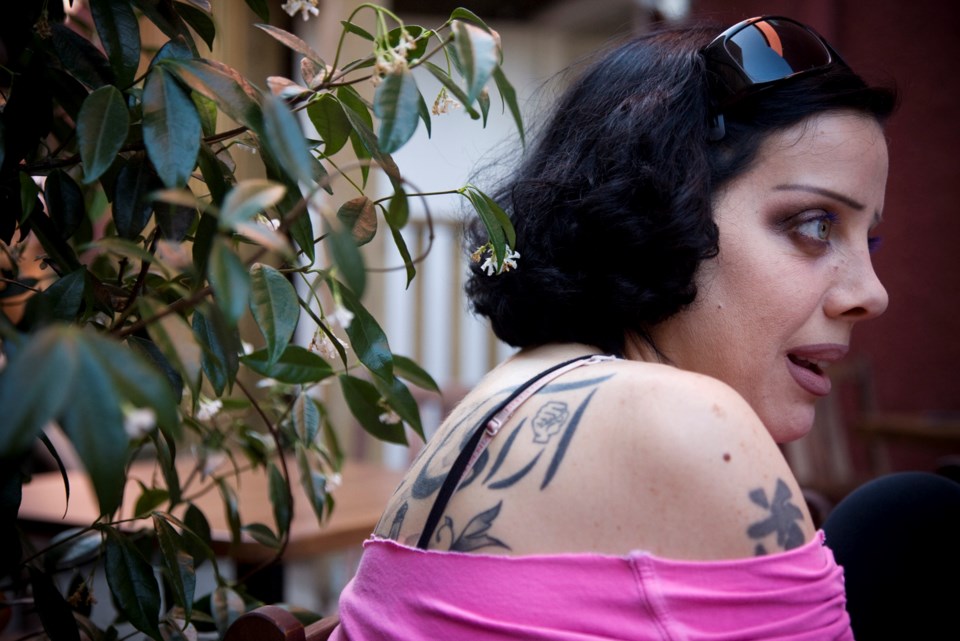 Christine McAvoy photo.
Are you familiar with Vancouver is Awesome?
I am! I really liked the piece on Bob Rennie, the realtor – that was amazing, I didn't know about that. For me it was fascinating.
I think he has the largest art collection in Canada.
I would never have known that. I never would've read that anywhere. It makes me want to go and see it having read that.
I think that people don't realize how artistic and creative Vancouver is. It's a weird city. A lot of people who are artistic people – maybe they've traveled or they have some experience in the arts on some level with other cities so they compare Vancouver. And a lot of people that I know come here to Vancouver and they say, (taking on a haughty tone) "Vancouver has no theatre. Toronto has all the theatre." There always seems to be a comparison. I always think Vancouver is a more creative town. I'm talking big things, Donny Deutsch level things: AdBusters is from here, Hobo magazine (which I was in love with) is from here, Lululemon, TNA, Nicole Bridger, Fluevog ... we're just so many things. I don't think that people really stop and think about how much Vancouver just creatively has contributed.
We don't tend to celebrate enough of the good things.
It's a very funny little society. It's very conservative and as my little sister puts it – it's "skinny."
My sister came here and she looked at me and she said, "Honey, you live here and everyone is scrawny. It's not normal. It's not a normal cross-section of society. I would feel self-conscious to be here." I have had a lot of people say that to me. I guess that's how we feel about L.A. It's the same thing for a lot of other people.
Vancouver demographically is very different than a lot of other cities, but I just can't imagine living anywhere else.
"Comes from the land of the ice and snow...". Bif at Kits beach in 2008.
When did you move here?
In 1991 with my band Gorilla Gorilla from Winnipeg. We flipped a coin and that was it.
What was the first neighbourhood you lived in?
We lived at Rupert and 22nd St. in a big house that we all shared and rented. We would skateboard all the way down to Rupert where we would catch the bus on Broadway to get to work. I worked at the printing shop of the Real Estate Board called RK Printing. That was the last day job I had.
Bif, "Back in the Day."
What other hoods have you called home?
I have lived in a lot of places. I lived at Cotton and 1st in the Commercial Drive area. I lived at 1th and Granville, years ago ...
I thought that was you! I used to live at Birch and Alder, behind the Denny's.
I was there before there was ever a Vij's, before there was ever a Starbucks ...
The old Aristocratic used to be on the corner...
That's where I met one of my best friends!
What neighbourhoods have you liked living in?
Right now I am beside C Restaurant, which is great.
I've never lived in Gastown although I recently looked at property there. If you have a lot of money, you can make anywhere work. Real estate right now is very daunting acquisition. I don't think – even though I'm really fortunate to have been able to basically, through performing, pay my rent all those years – eventually it enabled me to buy a place. In the early part of this decade I bought my first apartment downtown off Robson. I was very lucky to have been able to do that. But I don't think I'll ever be able to have a house. I can't even imagine what I imagine would be something like any of us grew up in is like, what... three million bucks? I am not prepared to do that. It's just not something I'm prepared to spend my money on.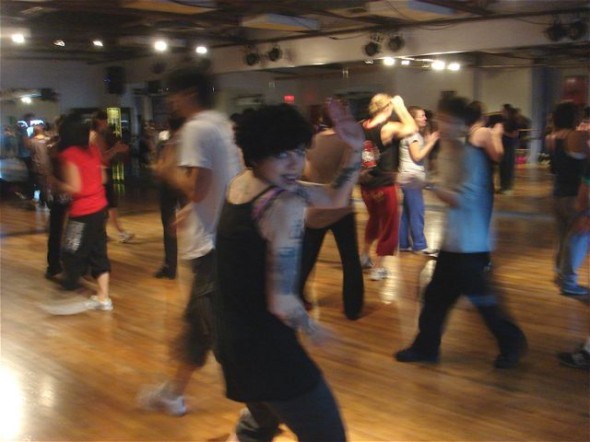 Bif rocking out at Harbour Dance Centre.
So you're not moving out to the suburbs anytime soon?
If I wanted to have a place that had a yard I would have to, because I don't really feel like spending that kind of money on property. It's not a priority for me. I feel like my life is very different sharing it with someone. We have different perspectives. I would be happy to live with a tatami mat on the floor of an Indian ashram, but my husband would like a Maseratti. That's very different. And that will never change. So finding a balance has been very interesting for me, and likely for Mr Walker as well. If we do find a compromise we will eventually find a place that is a little bigger.
You're describing hoods that are all very insular and encourage walking. Do you involve yourself with your neighbourhood?
I love my neighbourhood! Choices, which is family-owned, is local. I shop there for my produce a lot. I go between there and Capers.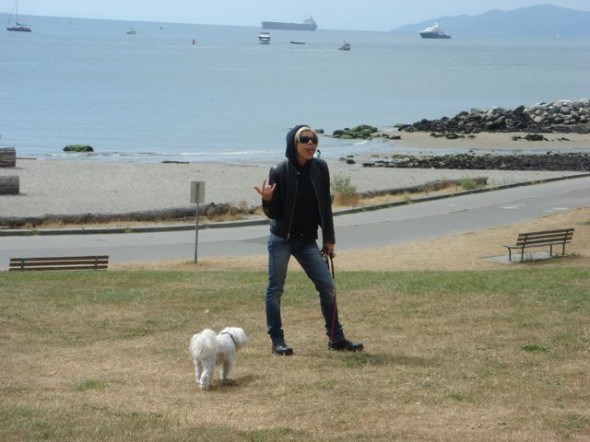 Bif and her fur child in the West End.
Are you a vegan?
I had been, for a very long time. And without ever intending to or knowing it I was a fruitarian for five years, on tour. All that basically means that is when we were stuck in Eastern Europe all that I was willing to eat was bananas, tomatoes and cucumbers which are large all fruits. Thus, the label.
Where do you go out to eat with friends?
Last night I went to The Naam. Which I have to not do all that often because when I go there I overeat. I am quite well known by their staff and when I go there I will have three Naam salads – one as my appetizer and two for my dinner. Like, large. Every time.
The Bif Naked Special.
Yup. Three Naam salads – large. Dressing on the side, or just a lemon.
Wheat and bread gave me a stomach ache so I just stopped eating it in my 20s. I ate a bit of rice but that fell by the wayside from traveling, quite by accident. Suddenly someone pointed out to me, "You're a raw foodist!" and then I went, "OK, I guess I am." It's just how I ate because I got stomach aches. It was all about my stomach, nothing else. I was already straight-edge and just exploring the sociopolitical aspects of that. The diet just seemed like a good fit for me.
You were born in India and lived there for a certain amount of time. Do you feel a connection to that part of yourself?
Because we were raised in a multicultural home – my older sister is East Indian – my parents really kept it alive with Hindi spoken in the home (although us kids can't speak it). My parents, they're nice academic kids from the States from Minnesota and South Dakota. My father speaks Hindi, Japanese, Punjabi. It wasn't like it was the first language -they just happened to speak it. They happened to implement key phrases.
Do you venture into the Indian neighbourhoods?
All the time! The Punjabi market is still my favourite. One of my favourite music stores is over there. Bhangra is still my favourite genre of music. But they're often not... they're ripped off. But I'm still buying them for $8. I guess I could go to HMV.
If you don't really eat out a lot you can't really weigh in, but there's a debate raging on Vancouver is Awesome – All India vs. The Himalaya.
All I can base it on is what other people have told me.
My band has always been meat-eaters. My husband is Bacon Boy, plus he's a body builder. The amount of meat that Ian consumes in a given week could feed a village. I always say that Ian was brought into my world to teach me non-judgment. For years I was on a tour bus with a bunch of guys that were smoking pot and drinking – I never did it. How could I possibly tell them how to live their life and tell them they can't do something around me? It was never a part of me. I could never do that with Ian...
... but I always say All India.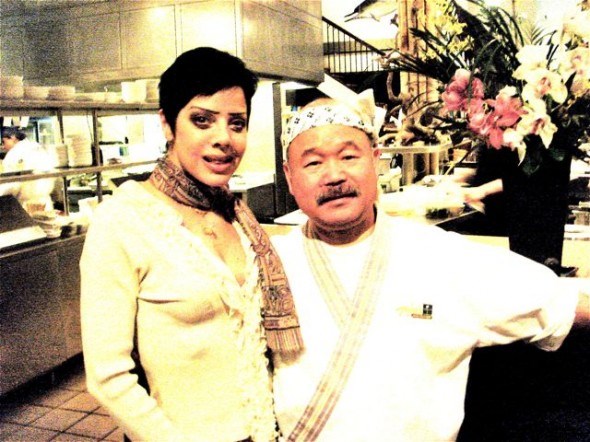 Bif with internationally celebrated Japanese master chef Hidekazu Tojo, of Tojo's.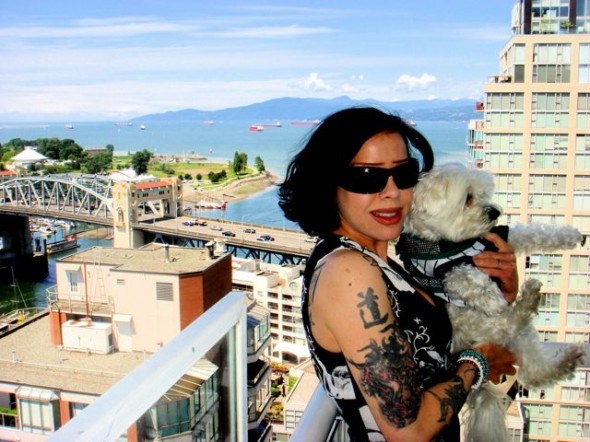 Any Vancouver artists you're currently listening to?
I like the BCF and Delhi 2 Dublin. I like Dan Mangan a lot. He's so warm.
It seems like "branding" and image has changed so much during the span of your career...
It's interesting, isn't it?
I would always look at the US industry because of the proximity and say that to make it in the (American) business you have to be a cartoon character. You can't just "be." Well, sometimes you can. Whether it was Missy Elliott or Amy Lee or Pamela Anderson – everyone had their thing. But there is something very visually identifiable about those people. It was almost exaggerated. People were branding themselves before it became a catchphrase. Before deliberation, per se. Without really knowing it.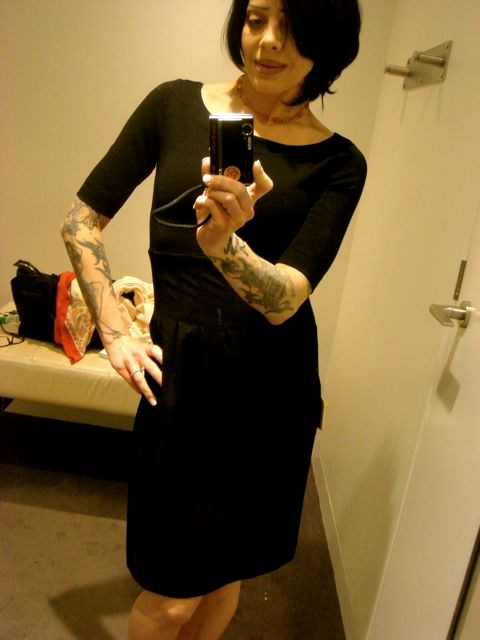 Self-branding.
Maybe it's my age or the fact that I am turning into a bitter female, but as a spectator I can't relate to a lot of the theatricality that passes for musical entertainment in contemporary mainstream pop. I am more impressed by someone who can get up there, do their thing and wow me in a turtleneck. Everything else is a little distracting. If you can slay me onstage in a burqa, I'm your biggest fan. That's my barometer.
It's interesting how music is today. I like a lot of the same stuff I always have. And plus I've always liked Indian music so I didn't listen to a lot of contemporary stuff to begin with.
What are the changes you've seen in Vancouver?
So many changes, besides going up! I think architecturally, Vancouver is really beautiful. I think it's well thought out and very modern....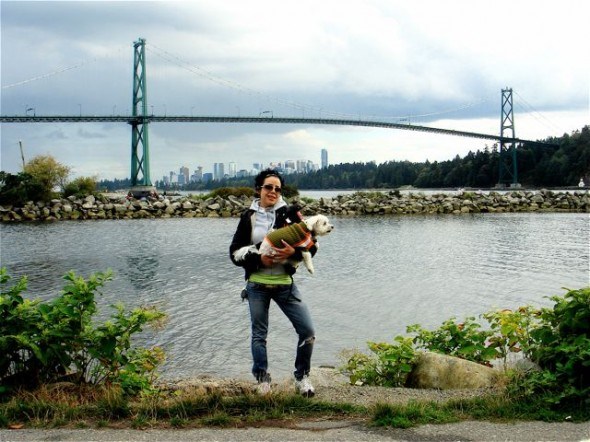 The Nakeds in West Van.
(Opera singing guy walks by outside patio.)
I love him. Usually he's on Granville St.
Obviously, the Woodward's building and that whole area is astounding. We used to hang out at China Creek skateboard park, Clarke and Broadway area. Something even as simple as that park has changed so much since we first moved here. PD's Hot Shop skateboard shop, didn't used to be in its current location on West 4th, it used to be downtown. We used to play in there. The Arts Club on Seymour ... Graceland, the Starfish Room ...
Any favourite venue memories?
The original Cruel Elephant was on Granville and Davie. It was the punk place in Vancouver. We played there for the first Music West in 91 or 92. The big rumour on the street was that Flea was coming to see us. "The Chili Peppers are coming!" We were freaking out. It makes me laugh.
Just like you were mentioning the Aristocratic – I really like that history, especially the musical history because I moved here then and we started cutting our teeth on those level of bars across the country. I miss the original era of punk rock bars that were on Hastings.
There was the Cobalt, for sure.
That wasn't doing punk bands when I was starting out. That was doing just peelers.
There has been such a shift of the music scene. At one point punk was really big in Vancouver. It's crazy different now.
It seems like they have tried to remedy it with more venues being opened, or more places doing music than were two or three years ago. To me it seems like it is reinventing itself in a way. That's probably good. All the arts have to do that in a city that's growing. Vancouver is growing design-wise, it's growing architecturally. New galleries open, new restaurants open and close. New music venues are opening and I think that's good.
Have you been to The Rickshaw?
No.
You need to go the Rickshaw. It's my favourite new venue. It's on Hastings.
I've seen it! It's beautiful.
What are some of your favourite venues that you've played here?.
The Vogue, obviously. I did something there called The Bif Naked Rap Invitational and I invited all these bands like Ragadeath and Mishi Mee and Jellystone. We played a show there that to this day remains one of my favourites ever.
It's such a contrast – it's so elegant and plush – to what you're describing.
It's a testament to the city. You couldn't have that with a lot of punk bands in another city because the audiences would destroy or damage the facility.
And believe it or not, Plaza of Nations. I will always credit CFOX for being one of the first radio stations to ever play my stuff, ever. They were kind enough to ask me to play their Foxfest that they used to have. I played that venue different times, but this one time, besides a concert I played in Nuremberg, Germany – Foxfest I want to say it was around '96? It will always remain one of my favourite shows. It was outdoors, amazing, such a perfect show. Amazing. Both of those shows were here. Opening for No Means No at the Commodore – that was a big deal. We got to open for Fishbone and play with Bad Religion at the Commodore. And then to be able to headline there later ... makes me verklempt, really.
Have you played there since the renovation? How does it compare?
From my perspective, my view – it's amazing. I haven't seen a show there because I am never awake past 9:00 pm.
Bif one-on-one with Canada's boyfriend in 2009.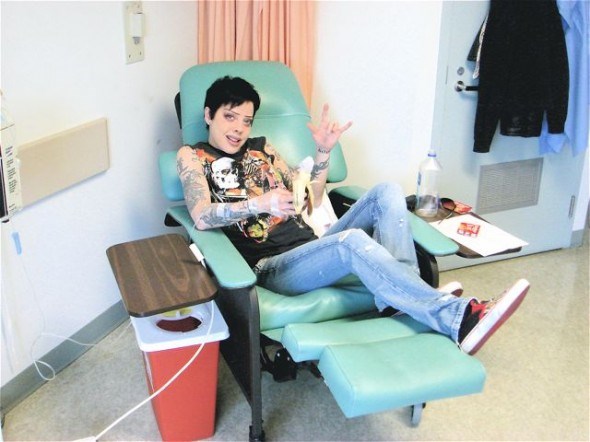 In treatment.
It says on your website you have been doing motivational speaking. What else have you been up to lately?
I asked to meet over here (Elysian Coffee on Broadway @ Ash) because every Wednesday I go to my cancer gym. I'm the rookie harasser: I meet the rookies, hang out, ask everyone how they're feeling... I love it, I wish it was my job.
I like talking a lot. I like talking better than singing. If I could just do advocacy stuff, I would. I like doing cancer-related stuff, or health care. I've started becoming interested in palliative care. I think I am going to go and get some training, because I can't get in there the way I want to, in a volunteer situation, unless I have further training. So I am probably going to go back for it. It's what I want to do.
Wow.
I don't think there's a lot of people who would be good at it. So I kinda feel a responsibility, in a way. Because I think I have a knack for it.
Society shies away from that. There's such a taboo.
It's absolutely taboo! So is cancer, though.
When I was diagnosed, for me it was, "what're you gonna do?" The problem with me was it started getting out [publicized - RF]. Ian and I had just had a wedding and my manager was like "You have to say something ... you have to. It's like the word on the street and it's starting to get weird, people thinking you're gonna croak and stuff. Who knows what they're gonna say." So we had to say something.
I discovered, as I got to know other patients and worked with chemo nurses and it was my own experience, most other people were ... ashamed. They were embarrassed. People pity cancer patients and families and stuff, and it was just ... so weird. Your posture changes. Our culture is embarrassed by things that are not glamourous, healthy, fit, sexy ... but still, it's like your brother still has f**kin' lymphoma, asshole. Why aren't we creating dialogue about it? I think that's kinda how I got into it.
You have a visual persona. You have a distinct look – it's a huge part of who you are. If you take that away from anyone, especially a woman, I think it can be dis-empowering.
It was weird. When I was in chemo I'd go to Caper's everyday before I'd go to the cancer agency. I participated in a lot of clinical trials, so I was there a lot. I'd be in my wig – full spackle! It was like doing vaudeville for God's sake. It was so funny to me, it makes me laugh. It was like being a hooker or a showgirl. I had a riot.
That's such a great attitude.
It was a great experience. To me everything's funny, but I'm also a science geek. Pragmatically I could compartmentalize it. There was never anything fear-based for me, or "deer in the headlights."
Mortality for me wasn't an issue. In the family that I grew up in that was never considered a negative or a positive, so I don't have that "fear chip." And a lot of the women that I meet do. They're very concerned with their mortality, they're anxious about it. They have a lot of trepidations about treatment. They have worries about instead of just a few hours in front of them at a time, which is where we should focus on.
Bigger worries can be a burden and can take away or distract from where the energy should be going.
It's catastrophic. It serves no purpose.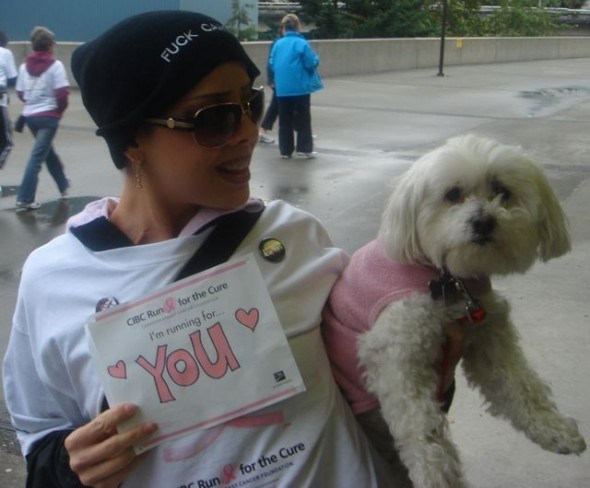 Bif and Nicklas do the run.
You're on The Twitter a lot.
I get scolded often – from either my friends, my management, or someone who tells me, "Why do you have to be like that? You've gotta sound tough!"
I used to get that on stage too. I used to not be allowed to say stuff on stage and open my mouth, because it would "betray my image. " I used to get that all the time. "We want you to be rocker girl, be tough!" And now, with the onset of Twitter, which I joined a couple of years ago, they're like "Cat's out of the bag, you're such a hippie! "
You just said you eat at The Naam. I can't imagine really tough people are going there.
I don't think so either. Although there are a lot of vegans who are in death metal bands.
You offer a lot of positivity every day through your tweets. It also seems like you get up really early.
Today it was 2:30 (am). I was at The Naam until 9 – after my bedtime. It was a special occasion. I got about 4 hours of sleep. A lot of people used to tell me that because of my (raw food) diet I don't need as much sleep because I'm not spending the time digesting food. I think it is a bunch of malarkey! Some people just don't need much sleep.
Let's talk about your fur-children, your dogs. How many do you have?
Just one now. Anna got her wings just around the time I finished my radiation. She had 10 back surgeries in her life but she was my lifesaver and I would do it twice.
Bif on The Hour, relaying her Best Story Ever. It involves dogs... and poop.
The Elizabeth Taylor of dogs. Are you involved in the dog park community?
Yes! I go to the dog park at Yaletown because that's where my son likes. I have so many photos of Niklas. I have a 13 ½ year old Maltipoo who now has mobility issues. (Reaches for her camera.) He's my muse. I take a lot of photos, I love them. It makes me so grateful for my eyesight.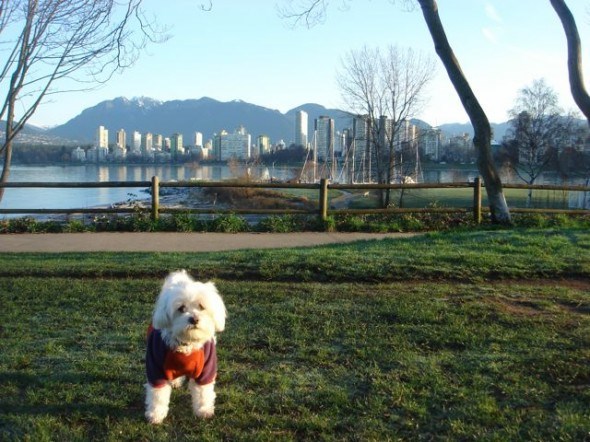 Kits Point.
I only started getting into photos recently. I have an Anne of Green Gables mentality sometimes,"simple, I don't need it." I'm not very sentimental in that way.
That's me. I could live on nothing tomorrow.
I don't like being tethered to objects.
Oh, that's really interesting. Me neither. Non-attachment! That's something that takes a lifetime of practice. Because of Anastasia's back, when I had met Ian – and I hadn't dated in about four years – I anticipated living the rest of my life as a single person. I had these two dogs - one was a meshugana and one was really health-compromised.
Boys were a liability. They were a liability to my job anyway. I just was too busy and it was too much stress to babysit somebody through my life. I've had the same manager for 21 years. Everything is was compartmentalized and it worked for me. When I met Ian I didn't like him, even though he was the sweetest little ray of sunshine. "Quit talking to me buddy, I don't have time to talk at the gym!"
You met at a gym?
Not just any gym – at Ron Zalko! Canada's first Iron Man.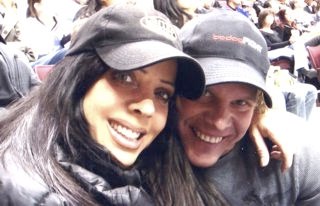 Bif found love... at the gym. So very Vancouver!
That's a great Vancouver story right there, and somewhat inspirational as I am in my "Cathy Years". Here you are meeting boys at Ron Zalko's and then getting married.
I didn't want to meet anyone. I'm a big puppy dog – I've been in love a thousand times. Been engaged nine times. I was married when I was 18.
Bif shops for her "ass-kicking wedding dress" at Clara Couture in Vancouver, 2007. Episode 3 of "Bif Naked Bride."
Did you keep the rings?
I never got a ring. Believe me. And I wouldn't have kept them anyway.
I dated Ian for three months before he ever even saw my apartment. Wouldn't even let him in my house. I didn't even have furniture in my apartment at Beach and Howe. I slept on a tatami mat for ten years because I couldn't dare risk Anastasia (my little Bijon that smelled like baby powder until the day she died - I don't know why I never put it on her – she was edible, so funny) ever jumping on any furniture and they wanted to sleep with me. And then I meet this boy -
Bacon Boy!
- who did a bait and switch, motherf**ker. Let me tell you, when they want in there they will eat your salads. Six months later he's living with me and nothing green touches this boy's lips. No salad, no vegetable, nothing. The only thing green about him is his Venice Beach t-shirt he wears at the gym.
That happens to all couples, that you put on your most agreeable personality and then you change. You just shift, I don't think we do it unconsciously. I wonder about my things, as a female, we always want to but our best features forward. You know, the good Calvin Klein underwear or whatever. Eventually, where does it end? When we're in the mirror trying to pluck our remaining four eyebrow hairs and then the boy can see you ... why are we no longer standing on our tiptoes sucking our stomaches in? Instead we're standing there looking like a pygmy. Where does the shift happen?
I call that "The Threshold of Fart."
Oh yes... I know it well.
I know someone who still hasn't farted in front of her husband and I just think she's crazy. I think, really – are you gonna do that your whole life? I make jokes saying that I get up early - everybody knows I do - so that my husband will never see me without makeup for a second in his whole life. He goes to bed before me and wakes up after me and there is never a moment that he ever sees me without my whole 100% Carol Burnett-in-the-turban schtick.
Like Norma Desmond.
Is that for real?
No, I'm kidding. He saw me bald and jaundiced.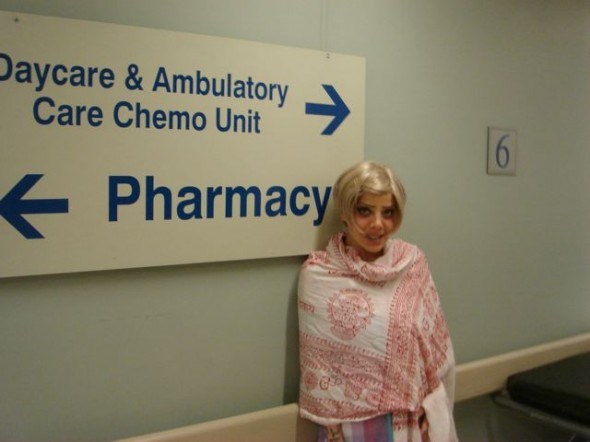 Ms Naked, ready for her close-up.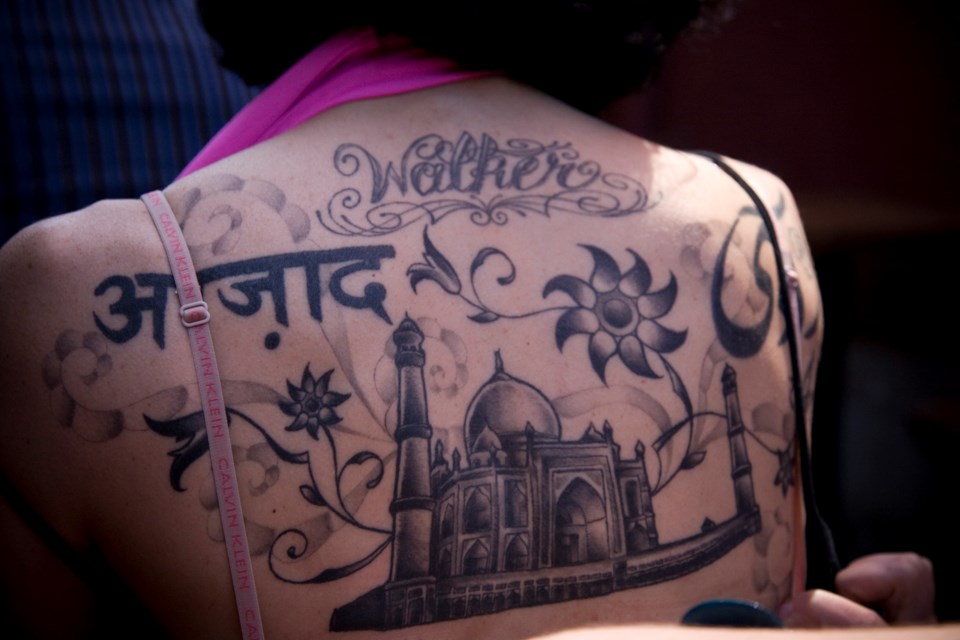 Nothing gets between Bif and her Calvins. Christine McAvoy photo.
Do you have a favourite Vancouverite?
Wow! Yeah, so many! So many more than one ...
There's about three different yoga instructors that I'm in love with on so many levels. One, her name is Janet Walden and she donated her time and taught breast cancer yoga to a group of women that I was in a clinical trial with. Without her guidance – and I had very simple procedures, my treatment was longer than a lot of other women's – my mobility was really compromised. I will always credit her for giving me my mobility back. A lot of her yoga is pilates-based and I've never taken pilates before and now I have started taking core yoga at a place called Y Yoga downtown. Janet was teaching there and gave me a pass so I went.
There's an instructor there named Rich Reynolds who teaches core yoga. I wouldn't have been able to get my strength back without it. I've been involved in fitness and yoga for 25 years, and nothing would have ever been so physically restorative for me than these yoga-pilates combinations implemented. It fascinated me.
And this was in the normal class structure - I never had private anything. I'm too cheap. I have vet bills. I have priorities.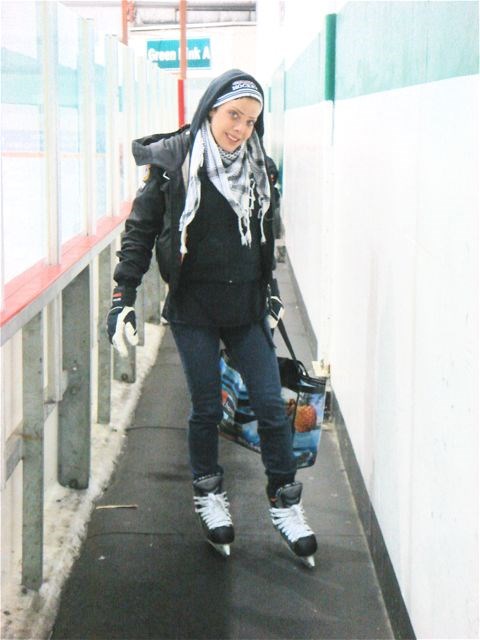 Bif working it out on the ice at 8 Rinks in Burnaby.
What is it about Vancouver that supports this lifestyle?
There's a simmering undercurrent of accessibility around that type of physical experience. It's part of our culture. I haven't lived anywhere else but I would guess, per capita, it's probably more here.
When you go anywhere else – Montréal, Toronto – people want to try and describe a Vancouverite. And they talk about us as being pregnant, in yoga pants, with an $800 stroller, in flip flops... even in a restaurant.
People here take more pride in their vehicle, whether it's green or not. It seems to me like every summer there is a luxury car that you see constantly, especially in my neighbourhood. Last years it was Maseratis, and I was looking at these guys going, "what the f**k is your job that you can afford one of those?" It's astounding to me. I have vet bills!
I bought my first car in 2009 and that was mostly because of the dogs.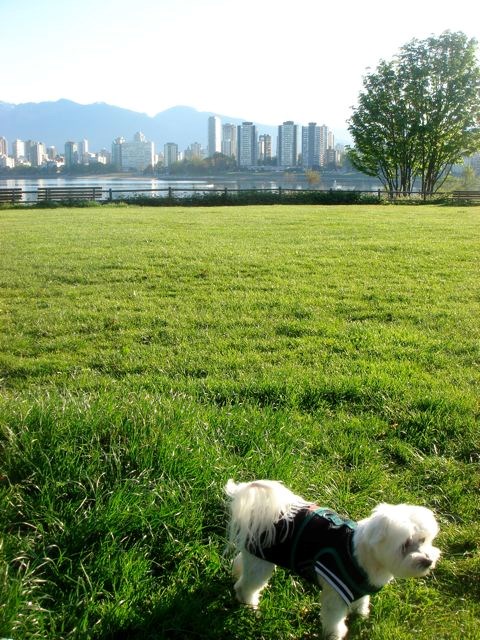 Nicklas Naked taking in Vancity.
Your dogs really influence your life.
They were all I had. I wasn't a recluse, I was just busy, and working. Kinda self-conscious. I'm not famous like Jennifer Aniston, she has people going through her parent's garbage. Can you imagine? That licks! I would quit my job. It's like a prison. I have always lived how I've lived. The dogs were the only consistency I've had.
You live pretty openly here.
I'm the King of Kensington – nobody gives a sh!t. Everyone's used to me.
Could you live like this in a different city?
I would have more anonymity in a different city. Everyone knows it's me, everyone expects it's me. I know all the cashiers at Choices. And no one cares.
Here's a question for our Vancouver is Awesome readers – if they encounter you somewhere is it cool if they come up and say hi?
They always do anyway! I'm a known hugger, much to my management's chagrin. I wear a t-shirt that says "Hug me." I have dogs and I drive a Volvo with cloth interior. I betray my image.
You tweeted the other day about bicycles and helmets.
I'm such a geek.
No, not at all.
People don't wear helmets...
I saw a guy on the seawall yesterday with a baby on the back – neither of them in helmets!
It's amazing. Who is policing that?
The Seawall Rangers – I wanna start that group.
I'm in! (Bif high-fives me). I will be with you! There's so many things I wanna do with my life ... like be a cop. To give guys like that tickets. I would be such a hall monitor.
But I am also very guilty of many things. Prior to them changing the cell phone laws ... I could balance a dog on my lap. While I drove. While on the phone. Also while sending an email... in traffic. I did that once ... maybe a million times.
Don't mess with Bif. She won't take it.
You mentioned being frugal. What are some bargains that Vancouver is Awesome readers need to know about?
It would depend. For clothes? I am brutal with clothes. These are the same Vinyasa tights from Lululemon I have had for years. They probably have a hole in the crotch. Also American Apparel – their t-shirts will last you for years.
Another deal place is Mintage. I'm a big fan of Barefoot Contessa on Main St.
I recall seeing you being interviewed on MuchMusic years ago talking about a Talbot's sweater your mother wanted you to wear. Would you wear one now?
All of the things I have that I call my "Grown-up Lady Clothes" or things that I usually refer to as my work clothes are things that I've gotten usually as gifts. I like fashion because I think often it's really artistic and creative. But I'm a square. What I am after and what I think is neat is dichotomy. What I think is interesting and what I try to do, for example, is what if you had a classic Talbot's dress – like a sheath dress, from the early 90s – and paired it with tattoos? And that was the whole point. For a long time that was really important to me, to present that. Now I am lazy, basically.
So you're an eccentric?
Probably.
Best place to get a tattoo in the city?
I go to Steve Cole, at Sacred Heart on 10th and Alma. I already had the word "survivor" tattooed on me before I was ever diagnosed. Little kid sh!t. But I wanted a survivor tattoo so Steve has started my Taj.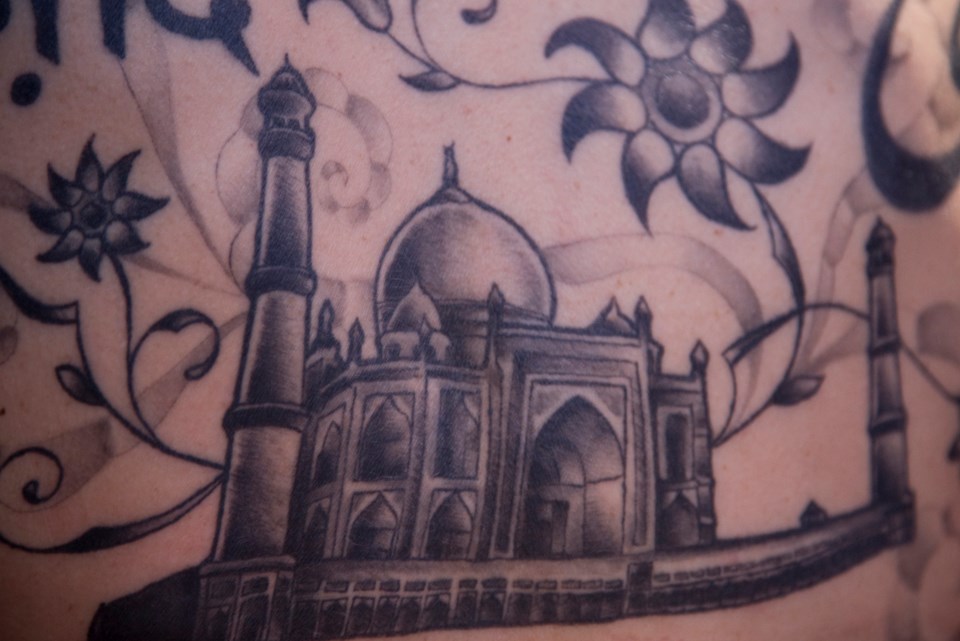 Photo by Christine McAvoy. Taj tattoo by Steve.
I'm a big fan of his. I really, really like Steve and that company, too. Chad Woodley on Kingsway and Fraser and also Mikel at Four Truths in Gastown – they're both really important tattooists.
If I gave you $100 to spend in Vancouver to spend, where would you spend it?
Honestly, I would get two papayas - if I don't take care of me, I can't take care of anyone else -which I wouldn't usually spend money on. Because I'm cheap. I would probably go down to the SPCA and I would give them $25. And there's a guy who used to stand outside Capers on 4th named Danny – he sells those community papers. I'd buy a stack and give him $20. I'd probably give the rest away ... after I got two papayas.