This morning I had the pleasure of doing something that I had never done before: I attended a talk hosted by Creative Mornings. And what is Creative Mornings you may ask? It is a monthly speaker series that takes place the first Friday of every month, and is the brainchild of Tina Roth Eisenberg who envisioned "an accessible, inspiring morning event for people to meet." What began in her New York design studio in September 2009 quickly grew into a monthly event attended by more than three hundred people! Soon after, chapters sprung up in world-class cities such as Zurich, Los Angeles, San Francisco, Chicago, London, Berlin, Stockholm - and now Vancouver! You might have noticed that Vancouver is the only Canadian city on that list - and it's because of something we have been telling you for quite some time: Vancouver Is Awesome.

The World Map according to Creative Mornings. And yes, Vancouver is on it.
The seeds for a Vancouver chapter were sown last year when Mark Busse, Design Director at Vancouver-based Industrial Brand, participated in a New York event via Skype. Confident that there was an appetite for such a gathering of creative-minded individuals in Vancouver, Mark set out to bring the event to our fair city. Any doubts that there would be a demand here were quashed when the 150 FREE tickets were scooped up in less than THREE MINUTES! The event this morning was held at W2 Media Cafe - who have committed to hosting this event for the foreseeable future. Not only are the tickets free, but they also serve coffee and breakfast - also complimentary - and are able to do so through the generous sponsorship of Langara College and the BC Chapter of the Society of Graphic Designers of Canada.
So how does the editor of the Daily Flickr Pickr end up involved in all of this? I'm glad you asked, because it ties in with the speaker of Vancouver's inaugural event: local entrepreneur and co-founder of Flickr himself - Stewart Butterfield!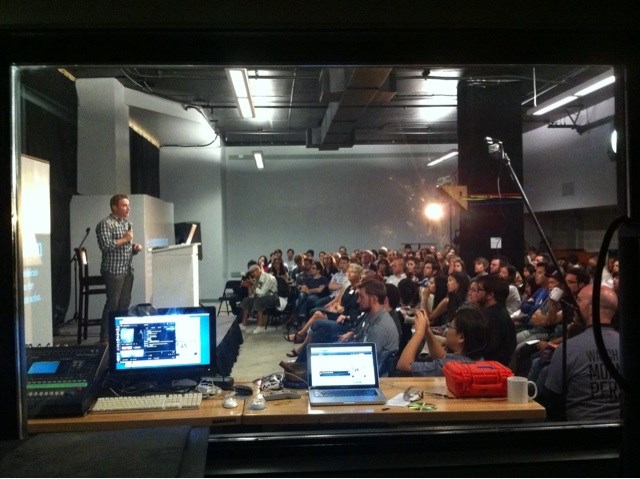 Stewart Butterfield address a full house during Creative Mornings Vancouver. photo courtesy of W2
The formula is simple: guests arrive at 8:30am, you sign in and have a coffee and something to eat and at 9am the lecture begins, followed by a 20 minute interactive-discussion session. The whole thing is over by 10am, and everyone is on their way.
Today Stewart discussed how technology and the internet have changed the way we as a species communicate (identifying the internet as a biological shift as important and significant to society as the domestication of animals or the Industrial Revolution) as well as what he has been up to since leaving Flickr to pursue other projects in 2008 - such as founding Tiny Speck, a gaming startup that created the game Glitch - an online, multi-player game where players "choose how to grow and shape the world: building and developing, learning new skills, collaborating or competing with everyone else in one enormous, ever-changing, persistent world."
In case you weren't able to attend, the entire talk as streamed live by W2, and the video has been posted here.
Next month the speaker will be Ian Grais of Rethink Communications, and it will be held on October 7 2011, with tickets being released at 11am October 3rd. But those tickets  will go quickly - not only did the 150 tickets for today's talk go in less than 3 minutes, the waiting list had 150 more people on it!
For more information, please visit http://www.creativemornings.com/