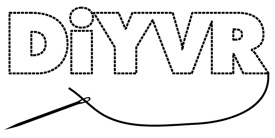 DiYVR is a weekly spotlight on all things handmade, done-by-oneself, crafted and hacked around Vancouver, featuring profiles of makers, event announcements, exhibits and general DIY fun. Know someone or something we should cover? Email me!
Well kids, it's been just over a month since I threw down the gauntlet and asked you to join me in tackling a long-put-off home-improvement project.
Did you do it? Tell us about it in the comments! Share pics and notes in the Flickr group!
I'm pleased to say I did meet the challenge. And in that vein of do-it-yourself that's best done with others, my partner Greg helped a whole heck of a lot.

For the last eight months, I saved formula canisters with the plan to follow my friend Lee's tutorial on how to mount them on the wall for some nifty, repurposed crafts storage. Though I'd intended to follow Lee's duct-tape plan, once Greg got in on the game he deviated from Lee's method, screwing some of the canisters directly into the wall and sticking all of them together with hot glue. He did it way faster than I would have, but I got my nifty storage, so I am happy.
For my part, it took me forever to decide which yarn to put in the small installation. Suffice it to say I didn't have my act together enough to fill what I like to call the large array in time for this challenge. Still, I'm so glad we got this done. In my ongoing effort to tame my crafts stuff and get my home office in order, this is a big leap forward.
Given that this was our first challenge, I wasn't too surprised to only hear from one other person who tackled it. Since local artist Rachael Ashe plans to do a similar yarn-tree installation in her home, I figure we can credit her office amelioration as a big-ole home-improvement win.
Next week I'll throw down the next DiYVR challenge. Get ready for the adventure!