It's a new dog twice a week! Click here to find out how to get your dog posted if you haven't sent in your photos yet!
Today's dog featured in Dogtown Vancouver is Gracie, Erika K's pup. Here's what she had to say about her...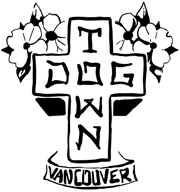 NAME: Gracie.
BREED: Dachshund/Jack Russell.
HOOD: Mount Pleasant.
FAVOURITE SNACK: Yam, carrots and anything she finds on the sidewalk.
OTHER INFO: Gracie was adopted from the Cross Our Paws Rescue three years ago. She loves woofing, sniffing and cuddling. She's the best little buddy a girl could have. If you are seriously thinking about adopting a dog, consider fostering a pup from Cross Our Paws Rescue. They are amazing!
If you're interested in adopting a pet, check out our Happy Tails feature. If you adopted your pet from the SPCA and would like to share your awesome story on Happy Tails, send an email to Rory.Blanchard@novusnow.ca.