It's a new dog twice a week! Click here to find out how to get your dog posted if you haven't sent in your photos yet!
Today's dog featured in Dogtown Vancouver is Maggie, Alexis P's pup. Here's what she had to say about her...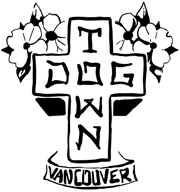 NAME: Maggie aka Mags, Rascal, Margaret.
BREED: Chow-Chow/Labrador.
HOOD: Mount Pleasant.
FAVOURITE SNACK: Garbage, cheese, anything except raw vegetables.
OTHER INFO: Maggie was adopted from the SPCA as a very timid and suspicious dog, but one year later, she has evolved into a loving and energetic member of our family. She loves to wrestle, chase squirrels and play with her pack at Boneheads (a hiking group she goes out with). She can be wary of strangers, but once she knows you, she will be your best friend! She spends a lot of time hanging out at the Fluevog Gastown store where she likes to think she owns the place. If you see her there, feel free to give her a chin scratch (after properly introducing yourself of course!).
If you're interested in adopting a pet, check out our Happy Tails feature. If you adopted your pet from the SPCA and would like to share your awesome story on Happy Tails, send an email to Rory.Blanchard@novusnow.ca.