Every Wednesday our friends at The Georgia Straight give us something new to share with you here on the blog: a preview of what you'll see on the front of - and inside - their paper the next day. As you likely already know, they're the source for lifestyle and entertainment stories in Vancouver. Along with their robust online presence they release a printed publication which is distributed all over Vancouver each Thursday.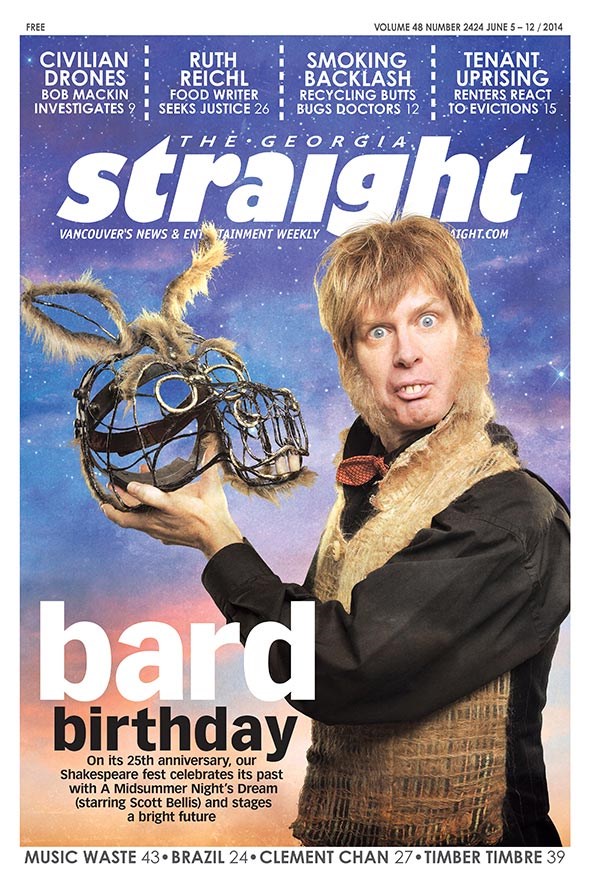 This issue is the 2,424th and on the cover this week is Bard on the Beach. On its 25th anniversary, our Shakespeare fest celebrates its past with a Midsummer Night's Dream (starring Scott Bellis) and stages a bright future. Below are some links to stories featured on the cover, which you can check out before you grab the physical paper:
- Bard on the Beach celebrates 25 years coverstory by Janet Smith
- Drones poised to fill Canadian skies by Bob Mackin
- Ruth Reichl discusses food pleasures, politics, and her new book Delicious! A Novel by Carolyn Ali
- Vancouver's experimental cigarette-recycling program backfires by Carlito Pablo
- Downtown Eastside SRO renovictions rouse tenants into action by Travis Lupick
Pick up a copy of the Straight wherever you are tomorrow!