Did you make it out to former Vancouver mayor now-MLA Sam Sullivan's Public Salon on Wednesday night? It's one of the best nights in town and it makes me so incredibly proud for us to be able to sponsor it, exposing this eclectic mix of speakers and music and socializing to more and more people. The next one is coming up in February and you can rest assured I'll be letting you know as soon as tickets are available (Wednesday's event sold out the Vancouver Playhouse!).
Over the past year I've got to know Sam a little bit and if there's one thing that's certain it's that he's a history buff when it comes to Vancouver and British Columbia. So as a gift, I decided to bring him a copy of our Vancouver WAS Awesome book that was just released. Moments after this photo of us was taken a cake came out and I learned that it was actually his birthday. Unintentional birthday gift!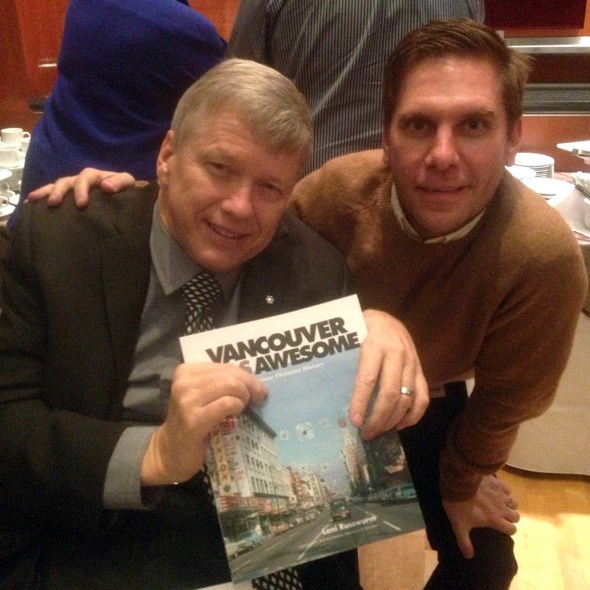 I also learned that he's bringing his old band - Spinal Chord - back together for the 25th Anniversary benefit for the Vancouver Adapted Music Society, which he co-founded. This is the first time they'll have played together in over 20 years. Watch the video below for some other local musicians who are taking part and get your ticket HERE.
http://vimeo.com/77007232