Shaun Huberts is a Vancouver-based musician who is currently the bassist for Tegan and Sara. I recently met him at the Creativemix conference where he told me all about this great new book he's working on called How To Pack Like A Rock Star, and I couldn't not share with you. Below are a couple never-before-seen images from the book that Shaun was kind enough to let us release, as well as an intro to the project, written by him. We'll remind you when the book is about to come out and until then...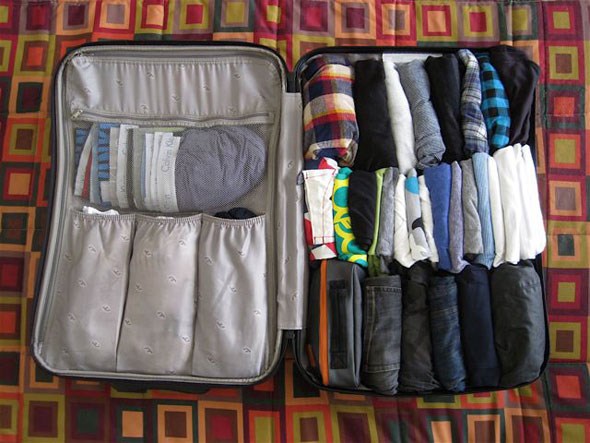 Words and photos by Shaun Huberts
Am I seriously writing a book about packing a suitcase? YES, but that's only the half of it...
The main idea behind the book How To Pack Like A Rock Star is to show and teach a new way to pack your bags for travel, BUT the best way to describe it is "a photo-driven, nerdy-cool, how-to book, full of groundbreaking suitcase packing ideas from over 30 different musicians world-wide!" In short, I've shared my specific packing method with various touring musicians around the world and have asked them to share their thoughts and comments on whether they agree with me or not. It's a combination of my patent pending packing methods (just kidding, i couldn't patent it, but I tried…), supplemented with an assortment of advice from the real packing professionals of the world, Rock Stars. And while everything comes from a traveling musician's perspective, it's all just as easily useful to anyone interested in travel, or a behind the scenes look at real life within the music biz.
How to Pack Like A Rock Star is a book that's meant to be enjoyed; It's meant to be fun; full of great stories, great photos and even dare I say educational? It really will be a book unlike anything out there. Whether or not you will ever care about packing a suitcase more efficiently, the amount of amazing musicians involved in the project and what they have to say is sure to entertain you! I can't quite tell you who is all in the book at this point but I can say that there are over dozen unique and never before seen photos of some world class musicians shot specifically for this book in conjunction with comments from many other well known bands and artists. To give you a better idea of what to expect, here is a shot of Tegan and Sara with a suitcase explosion on them…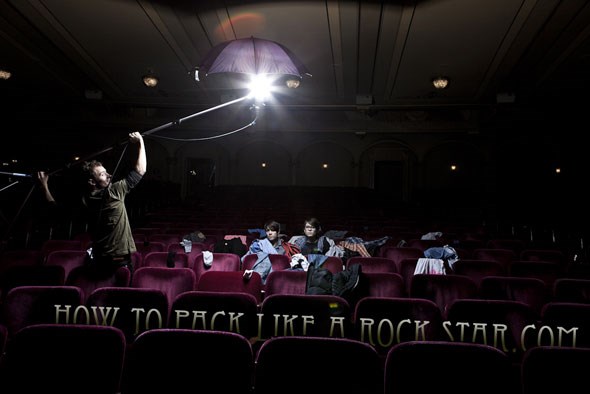 This is how I pack for tour, but how does your favorite musician do it? Stay tuned to find out…