Launching a magazine has always been an arduous task, but imagine if you would, launching a magazine over 100 years ago. You had one advantage; there wasn't very much competition. With that in mind, I'd like to take some time to look at one remarkable publication that was produced in Vancouver from 1907 to 1915. This will really only to give you a taste of the magazine, as there is such a wealth of material to review. But if you thought getting your hands on a century old magazine was going to be difficult, you're in luck! Nearly half of the issues published are already available in digital formats from Archive.org. So you can enjoy browsing a 100 year old publication when you get hold of your new iPad next week!
When it first came on the scene, the magazine was titled Westward Ho! (exclamation mark included). The front cover of the magazine stated these words in bold decorative type: "Art, Literature, Criticism, Publicity". The very first editorial begins with the Arabic greeting Salaam and then spells out its ambitions:
Westward Ho! is started for the following reasons: Western Canada does not possess a monthly magazine. It is the conviction of the promoters that in any community the cultivation of a taste for literature, art and all studies which tend to the production of a higher standard of thought should proceed pari passu with material development. British Columbia is exceptionally situated in having a large percentage of highly educated residents, who have evinced their appreciation of good literature.

The columns of a magazine furnish the best, if not the only popular medium, for reaching the general public with high class literature.

There is room for a magazine which combines with these features an absolutely independent attitude on all public questions and which is entirely free from political tinge. There is also room for a magazine which will make a special feature of exploiting the natural resources and attractions of the Province, solely in the public interest and for the purpose of giving reliable information.

British Columbia has reached a crisis in its history, its vast potential wealth is only beginning to be realized, it is the last of the great undeveloped and unpartitioned Provinces of the world. It will be confronted with problems of great magnitude, to the solution of which the soundest judgment must be brought. Westward Ho! will secure the opinion of the most competent and influential writers who from time to time will discuss these problems.

Westward Ho! will be the joint production of a British Columbian editor, manager and staff of contributors, and therefore devoted to British Columbia interests.

Westward Ho! will stand first, last and all the time for an Imperial policy, for the Motherland, for the flag and for the King.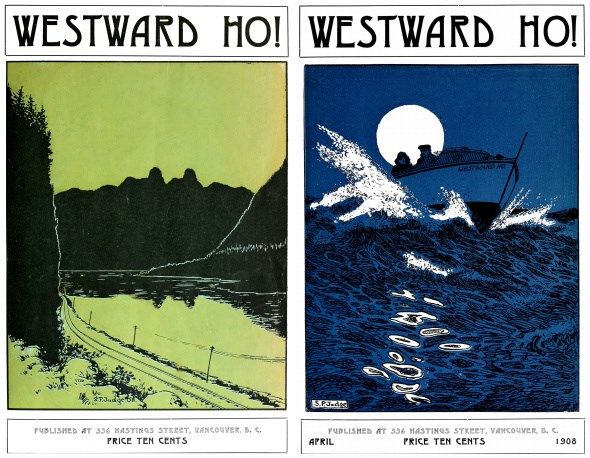 Two Westward Ho! cover images by artist S.P. Judge.
The first three issues featured the same cover image, but by the fourth issue, it was time for artist S.P. Judge to take the reigns. He would go on to illustrate over half a dozen covers, in addition to his illustrations featured throughout the magazine. Spencer Perceval Judge is an important artistic figure for the city of Vancouver, and I've featured his fine illustrations before on Illustrated Vancouver. According to Gary Sim's British Columbia Artists CD-rom, S.P. Judge exhibited in Vancouver as early as 1903 in a group exhibition with T.W. Fripp and stained glass artist James Blomfield. In addition teaching private art lessons, Judge also quickly found commercial work, as this 1904 Vancouver Tourist Association brochure attests.
Between Volume 6 and Volume 7, the magazine takes the first steps to reinvent itself, changing its name from Westward Ho! to Man-to-Man Magazine. This name was short-lived, as there are only eight issues under this new name. Only the first and last issue of Man-to-Man Magazine are available on Archive.org. Starting at Volume 7, Number 2, the editors go with the more conventional British Columbia Magazine, a name they kept to the final issue of 1915. Wikipedia mentions that the magazine ceased publication at the start of the First World War and never resumed publication. The current magazine titled British Columbia Magazine bears no direct link to its predecessor, aside from the name.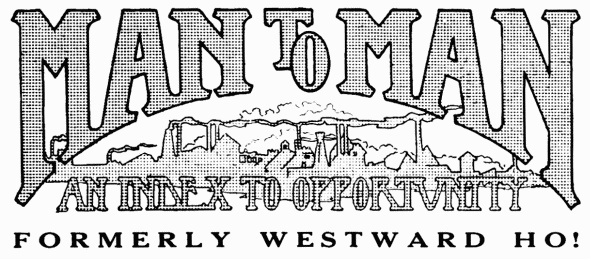 I'd like to take a moment now to explain what you can expect to find on Archive.org. The magazines currently on Archive.org were provided by Robarts Library at the University of Toronto, scanned thanks in part to funding provided by Microsoft. Unfortunately, U of T didn't have a complete set of the magazine, so there are some missing issues. Volume 3 is missing (July – December 1908), the second half of Volume 6 is missing (July – December 1910), as are these individual issues: June 1911, October 1911, and February 1912. The Archive.org set goes up until the end of Volume 8 (1912), but the magazine actually continues for 3 more Volumes. Though I haven't seen it, I believe the very last issue to be published was February 1915, Volume 11, Number 2.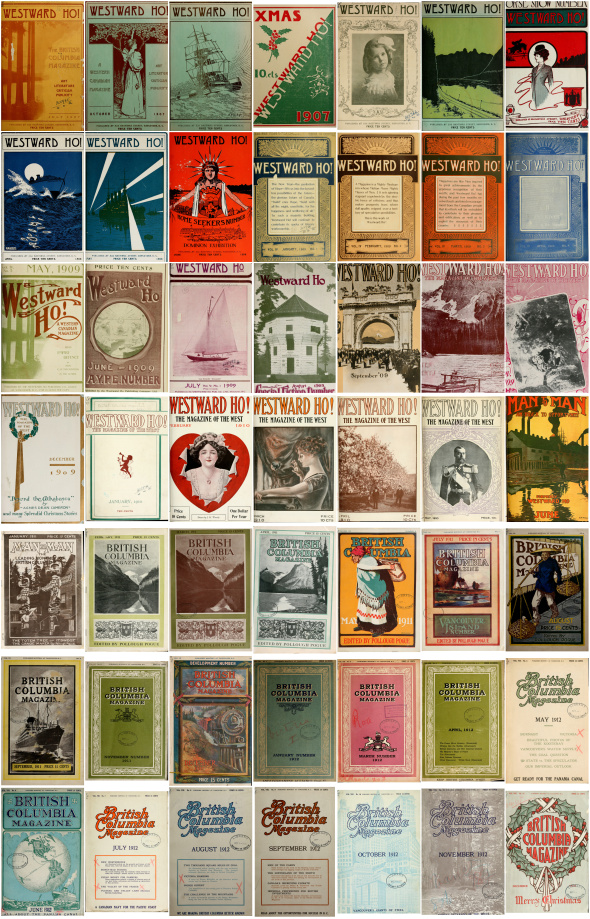 Issues of Westward Ho! Man-to-Man, & British Columbia Magazine found at Archive.org.
Fortunately, for those living in the Vancouver area, you have at least two libraries that I know of where you can fill in the blanks. The VPL Central Library Special Collections has a nearly complete set of the magazine, and it looks like UBC Special Collections has their set in the Wallace B. Chung and Madeline H. Chung Collection. No surprise there, the Chung Collection is an extraordinary collection of early British Columbia printed ephemera, and it is a must see destination for local historians, cultural anthropologists, and CPR aficionados alike. UBC also has a fonds dedicated to S.P. Judge which includes his scrapbook, much of it containing clippings from this very magazine. The album is a rare look at an early Vancouver artist / graphic designer's portfolio.
The first few volumes of Westward Ho! (1, 2, 4, 5, and 6) contain scanned bound sets of 6 monthly magazines in a single PDF. This means browsing the PDFs can be slow and cumbersome, but thankfully viewing the pages online is quick and easy. My favourite format however is the high quality JP2 format, which offers exceptional details that are missed in the online viewer or PDF files. The contact sheet above shows all of the covers from the available issues on Archive.org. The larger pair of magazine covers I have digitally retouched from the JP2 files in order to bring the artwork back to life. You can download the JP2 files when clicking on the All Files: HTTP link on each Archive.org page.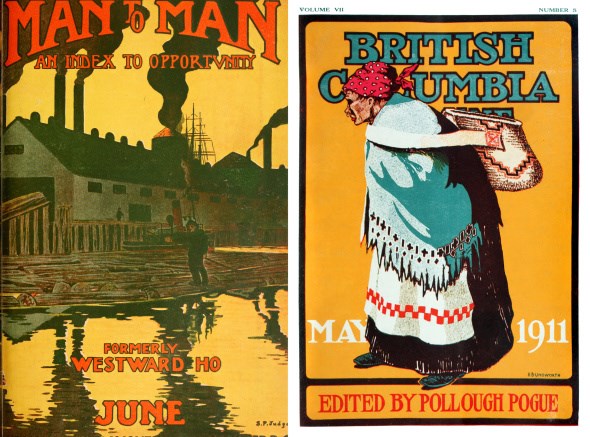 The first Man-to-Man issue from June of 1910, alongside an early British Columbia Magazine.
I wanted to showcase a cross-section of covers which really illustrate the cultural and artistic sophistication of the publication, starting with S.P. Judge's early line drawings to this full colour cover from June 1910 which he designed as the first Man-to-Man issue. It depicts the lumber industry along the waterfront, with a tall ship in the background paying homage to the early explorers and trade on the Pacific. Beside it, the May 1911 cover depicting an aboriginal woman in traditional dress expertly drawn by R.B. Unsworth strikes me as a profound work for its time.
When the editors finally change the name to British Columbia Magazine, they make a fairly large point of putting the editor's name prominently on the cover. Pollough Pogue would go on to have quite a career writing for the Province, in addition to becoming somewhat of a legend at Hollyburn, according to the Hollyburn Heritage Society.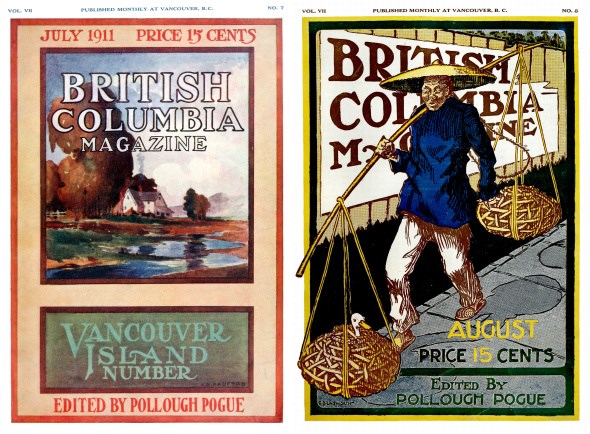 British Columbia Magazines from 1911.
Above, you can see the idyllic July 1911 cover of British Columbia Magazine illustrated by J.A. Radford, followed by another cover by R.B. Unsworth from August 1911. Again, this is a very bold cover dealt with cultural respect, and I wish I knew more about R.B. Unsworth. Alas, I can only find a single etching attributed to him on the web which recently sold for just $10. Such a shame! How many other hidden gems are left waiting for discovery in these back issues? Only time will tell! I suggest you start reading!
A Current Guide to Issues on Archive.org:
Update!
My curiosity compelled me to visit the VPL Special Collections Sunday, and I was able to photograph the index pages of nearly all the missing issues above. As for magazine covers, I wasn't so lucky; I only managed to see 11. As per my comment, I was extremely saddened to see so many of the covers had been removed when the magazines were bound. I guess it's common for magazines in libraries to end up in poor condition, especially the covers, but it still strikes me as a fairly large lack of foresight. Fingers crossed, I'll be able to fill in the blanks at UBC soon; 6 issues are outstanding, with around 40 missing covers.
This cover illustration of Sir Wilfrid Laurier was one of the standout highlights from the VPL. In fact, I think it rivals Shepard Fairey's HOPE portrait of Obama. It would make a profoundly handsome silkscreen print today, and because the magazine is out of copyright, you are welcome to do so. At present, I can't even determine who the artist was; attribution had not yet been ingrained in the publishing trade.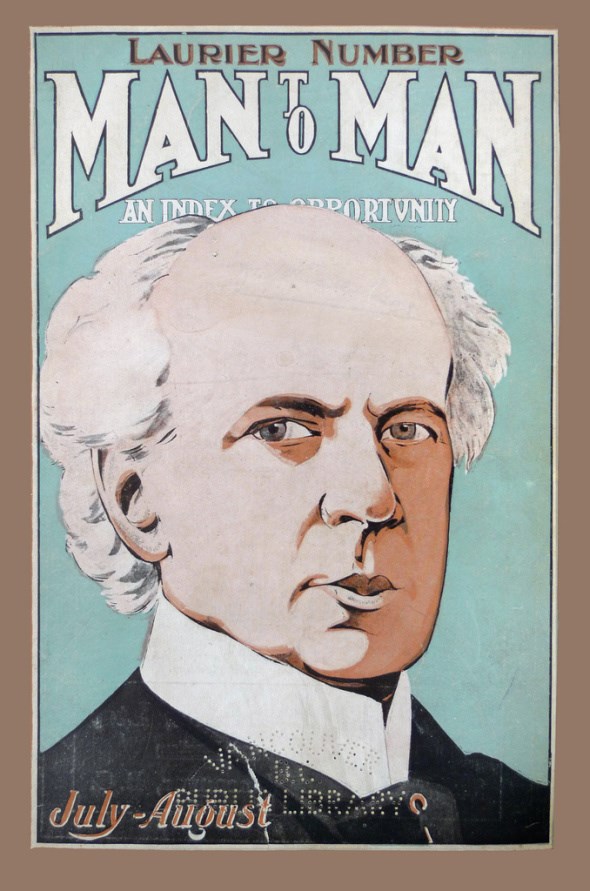 Man-to-Man Magazine cover image of Sir Wilfrid Laurier, artist unknown.
In my mind, the issues from 1910-1911 really are some of the most interesting issues that were produced, and they make for extremely compelling pieces of Vancouver printed ephemera. The publishers had a few years of experience under their belt, they experimented with bold and beautiful cover artwork, and they tried reinventing themselves twice during this time period. The magazine was about as ambitious as the city of Vancouver was at the time. As a frame of reference, the New Yorker Magazine was only started in 1925.
Gary Sim pointed out to me that Alvo von Alvensleben, Ltd was featured as a back cover advertiser in the January 1911 issue. The ad shows a bird's eye view of Vancouver from the south by Angell Engraving, showing "about 500 lots in the above blocks (Point Grey), all owned or controlled by us." Point Grey is shown fully developed with residential, a "proposed university site" is shown south of "132 ft. wide" 16th Avenue. Alvo was involved in Wigwam Inn, plus various real estate endeavours; unfortunately for him, he was run out of town due to anti-German sentiment at the start of WWI.
It was interesting to note that for the June 1914 issue, the quality of paper dropped from a smooth paper stock to a course paper more akin to newsprint and subject to more discolouration. July 1914 was the start of WWI, and it looks to me like a cheaper paper was used until the last issue bound in Volume 11, February 1915. Speaking of which, this February 1915 issue was pretty thin. Nowhere does the magazine mention "Our Final Issue!" (they rarely do), but it's clear to see there was not much left of the magazine at this point. In spite of this however, there is still some great coverage of the Panama-California Exposition in San Diego, and an article on British Columbia's youngest railway, the Pacific Great Eastern Railway Company. If you recall, the director of this very railway would go on to build the WilMar Estate ten years later in 1925, a house which is currently for sale on SW Marine Drive. Finding historical traces and connections to our modern day city is what makes a century old magazine relevant and fascinating reading material today.