Back in February of this year, I raised a challenge. I challenged anyone to submit a handmade fabric inspired work of art to Illustrated Vancouver to WIN this vintage silk pillowcase! I was looking for anything, so long as it was knit, needlepoint, crochet, cross stitch, or fabric collage, all was eligible as long as there was some sort of depiction of the city of Vancouver. Well, the time has come to choose the winner, and given the circumstances, that task is very easy! You see, there was really only one eligible submission, so I hereby declare this entry by Bettina Matzkuhn to be the hands down winner! Congratulations, Bettina!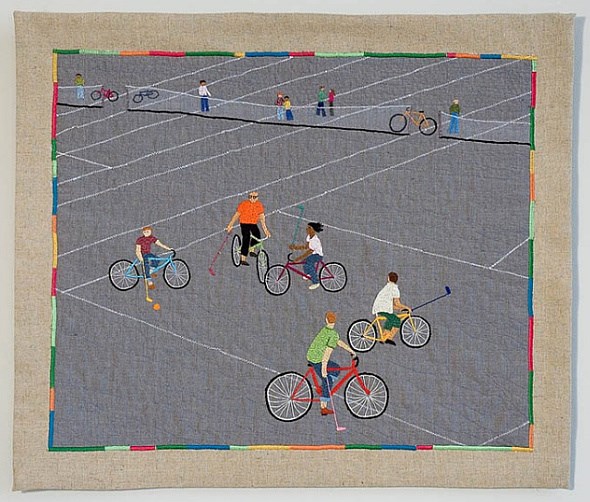 Bike Polo (Grandview Park) by Bettina Matzkuhn, 2009. This machine and hand embroidery measures 61cm x 51cm.
This work is decidedly representational of Vancouver. Until recently, East Van Bike Polo participants had to play their sport amidst the tennis courts, but with the completion of the Grandview Park renewal project last year, those tennis courts have been replaced by a multi-use court specially catering to the velo-friendly sport. Evidently, it's the first purpose-built polo court in the world; no more crashing into the tennis nets! For more on the sport, you can visit the East Van Bike Polo homepage.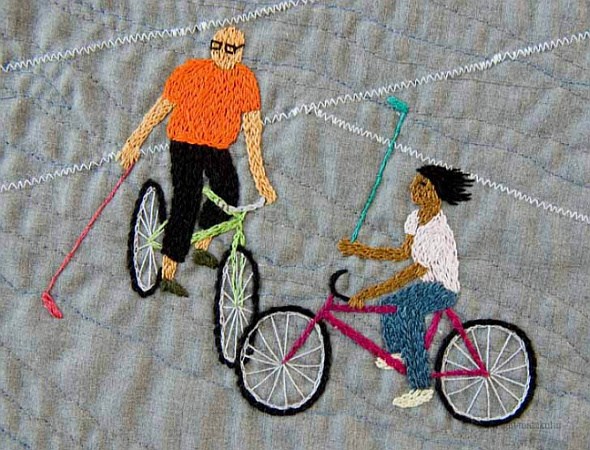 Back to Bettina Matzkuhn, I first saw her work in the Culture Crawl last fall, and I was immediately impressed by the art and craft of this tactile medium. Bettina has developed and refined her skills over 30 years of labouring in fabric, and it really shows. Her website recently got a makeover, and it does an excellent job presenting the fine artistry of her work. On her site, she writes:
I have worked in the fibre medium for over 30 years with an emphasis on the vocabulary of hand embroidery and fabric collage. Many have used this language throughout human history to tell stories; I am part of this continuum.  In the 1980s I animated and directed three award-winning films using textiles for the National Film Board of Canada and an interest in narrative continues to inform my practice.
I'd like to take this opportunity to also feature one of these NFB films alongside her winning entry. The Hometown (1979) is an NFB film that Bettina dedicated to the city of Vancouver. This animated autobiographical film of embroidery depicts a young woman departing from her hometown, Vancouver. The film won second prize for a first time filmmaker at the Ottawa International Animation Festival 1980, as well as an award for best original music at the Golden Sheaf Awards in Yorkton, Saskatchewan in 1979. The film is unfortunately not available for online viewing via the NFB app, but it is available for purchase on DVD. Fortunately for us, the beck and call of her hometown was enough to draw her back to Vancouver, where she's continued to flourish in the fabric arts ever since.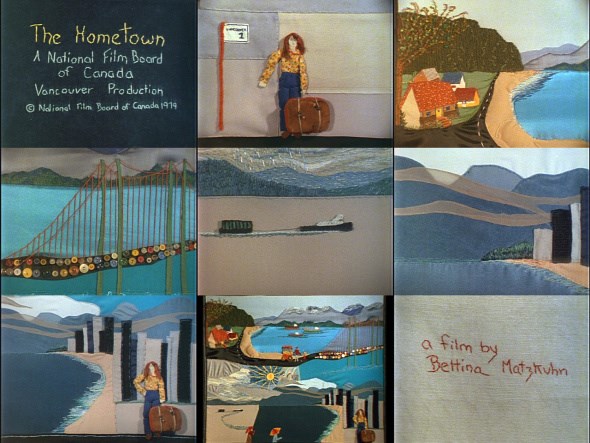 Collage of images from the NFB film, The Hometown (1979)
Bettina photographed this work again in 2012, and provided these images below. While some of the satin colours have shifted over the decades, the landmark depictions of Vancouver have not gone out of style. Once again, thanks and congratulations go out to Bettina for her inspiring contributions!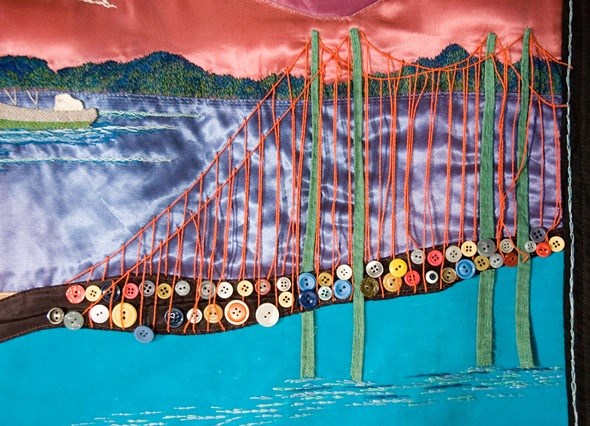 Detail of the Lions Gate Bridge, from The Hometown (1979) photographed in 2012.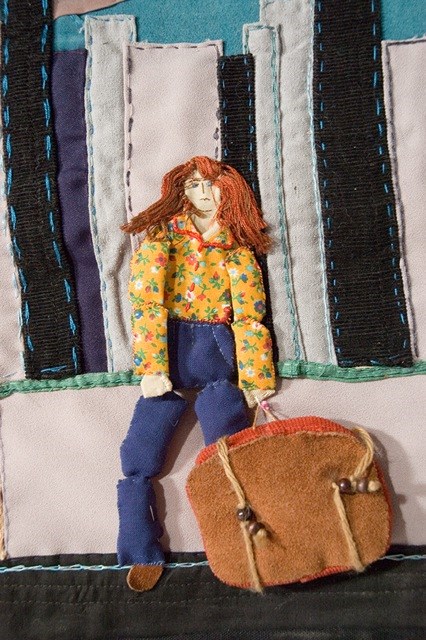 A portrait of the artist, from The Hometown (1979) photographed in 2012.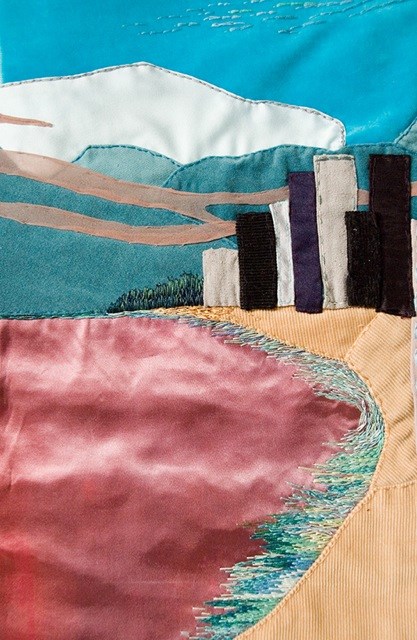 The Vancouver waterfront, from The Hometown (1979) photographed in 2012.