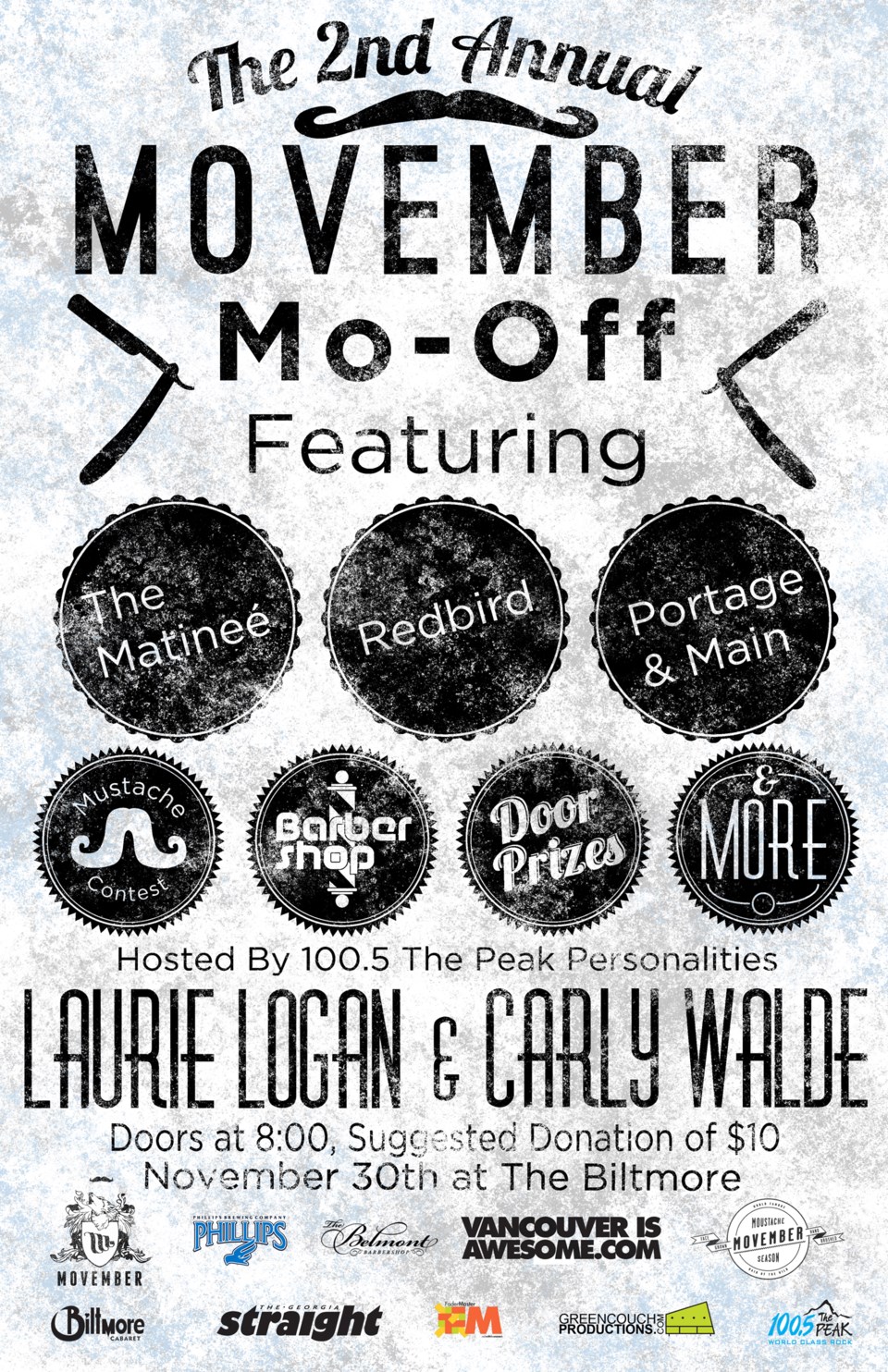 Do you remember Movember's end last year? Moustaches were judged and mo'd off, music was played, good times were had?! WELL IT'S BACK for another year.
Today marks the first day of Movember, a month-long initiative to raise awareness and funds for men's health, specifically prostate cancer. Men are encouraged to register, grow a 'stache, and get pledges supporting their mo-growth.
ON NOVEMBER 30th for the second year running, the Biltmore will play host to the Movember Mo-Off, a night celebrating the accomplishments of those who have been harvesting their soup strainers. The main event of the evening is a mustache contest, where designated ladies roam through the crowd and nominate the best Mo's.  In a true Mo-Off showdown, the crowd will decide on the most magnificent Mo, who will win a Gentleman's Prize Pack. Then, for those who are ready to part ways with their lip neighbours, The Belmont Barbershop will be stationed and ready to offer free shaves, which will be documented, photobooth-style, by us!!!
Keeping everyone and their lip warmers entertained through the evening will be:
The Matinée - http://thematineemusic.com/
Redbird - http://redbirdmusic.ca/
Portage and Main - http://portageandmainband.com/
Hosting the night's festivities will be on-air personalities Laurie Logan and Carly Walde from 100.5 the PEAK. Doors will open at 8, and cover will be by donation (suggested $10). Our friends at Phillips Brewery will be giving away free beers to the first 50 people to arrive!
Check out our Facebook EVENT PAGE and FAN PAGE...and watch for updates all throughout Movember!