About a decade ago a mentor of mine passed on the wisdom of "Keep your mouth shut!" to me. What he meant was that no matter how excited you are about a creative project you should never let the cat out of the bag until it's well groomed and ready to give birth to it's litter. He disguised the advice by saying that it was simply a superstition of his but time and time again it's proven it's worth to me as a creative director and producer. It's better to clap-bang when a project hatches than it is to jibber-jabber all along the way, especially considering not every project sees the light of day. Today I'm VERY excited to deliver the news of something that's been in the works for what seems like forever now. It's been killing me to not share it with you!
So... Todd Falkowsky (of Citizen Brand and The Canadian Design Resource), Scott Hawthorn (of Salt Tasting Room, Native Shoes and Picker Shack Orchard), designer Tyler Quarles and I have been working for the past few months on producing a Vancouver pilot for a project that Todd launched in Toronto a couple of years back. It's called PENNY SMASH and the idea is to take a souvenir penny press machine (like the ones you see inside tourist attractions - like THIS) and hijack it to produce truly affordable works of art.
The first Penny Smash Vancouver machine launches this coming Friday, November 4th at FUSE at the Vancouver Art Gallery and for just $2.01 (on top of your admission to FUSE) you'll be able purchase work from the machine by some of Vancouver's favourite visual artists including Ken Lum, Ian Grais, Jerszy Seymour and Natalie Purschwitz. Over the next few days I'll be introducing you to these artists in the project of which all of the proceeds are going to charity. First up is Ken Lum and his "Monument for East Vancouver" squished penny!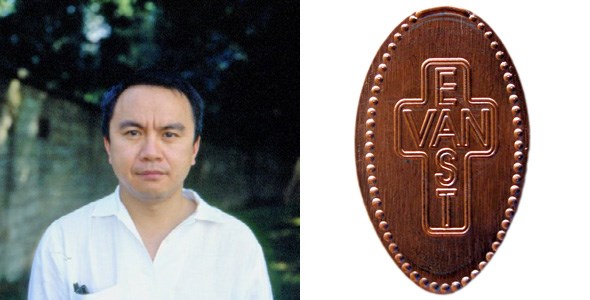 "Monument for East Vancouver is a nod to the street image circulated in East Vancouver for decades. The image has multiple associations, including religion and irreverence, and is an assertion of eastside identity."
Ken Lum, beloved Vancouver artist, former head of the studio art graduate program at University of British Columbia, professor in Paris, Munich, San Francisco and Hangzhou. Curator, editor, published author, and exhibited at Biennales around the globe. Creator of the Monument for East Vancouver erected at the corner of East 6th Avenue at Clark Drive, Ken Lum now brings his iconic piece to your pocket.
When you purchase the Ken Lum penny you will be contributing to BC Children's Hospital. Click HERE to visit their site to learn more about this important organization.
DON'T MISS THE UNVEILING OF THE PENNY SMASH MACHINE IN VANCOUVER NOVEMBER 4TH!: CLICK HERE TO BUY TICKETS TO FUSE