Last week the second Rain City Chronicles night of live storytelling took place at the Western Front. V.I.A. was a co-sponsor and the theme given to the storytellers (of which I was one!) was "luck", which is why we SHARED with you the organizers' lucky charms as a warmup.
Here's a photo of those organizers (Elianna Lev, Karen Pinchin and Lizzy Karp) introducing the night which sold out! They actually had to turn a bunch of people away at the door which is a bit of a bummer but also super encouraging that there are a lot of people in this city who want to hear stories, live.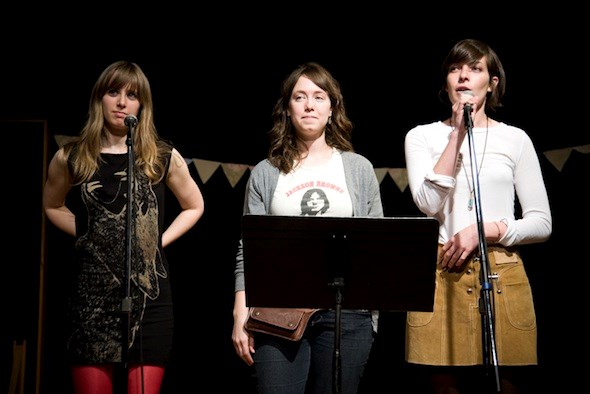 photo: christine mcavoy
The night was super fun for me as a speaker/storyteller and even more enjoyable for me as a listener of all of the inspiring, funny and, above all, interesting stories that all of the invited speakers shared with the audience. Lana Gay from CBC Radio 3 told a story about how she got her first radio job soaked in a tub of beans, Charlie Demers talked about how an old arch-nemesis of his, and the rain, helped him meet his wife, Louise Burns played songs and 6 other folks told rad stories. Oh, and Rebecca Slaven and Andre of The Obvious Peaks and Valleys played some songs too!
And luckily for you, they recorded the entire night and are featuring it as a two part podcast to listen to. Check more photos from the night as well as a link to the podcast file RIGHT HERE.
Sure you can listen to it as a podcast but you seriously DO NOT WANT TO MISS next season's Rain City Chronicles night live! We'll be sure to tell you about it before it hits, likely at a larger venue so that everybody who shows up at the door will be able to enjoy it live.