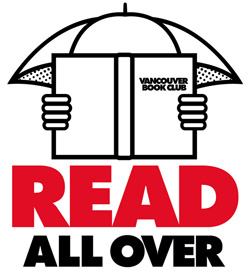 Read All Over celebrates the bookworm in all of us, showcasing readers in Vancouver and the books they love most.
Aaron Peck, lover of knitwear and cheap eats, is also a pretty terrific Vancouver writer. If you don't know him yet, you have to go pick up his books right away: The Bewilderments of Bernard Willis and Letters to the Pacific, the latter of which he cowrote with artists Adam Harrison and Dominic Osterried. Apart from writing, Aaron teaches at Emily Carr University. You can read his reviews, interviews and articles on Artforum.com, and in Fillip, Art Agenda, La Fabrica's Matador, and 01 Magazine.
What's on your nightstand right now? Are you enjoying it?
I don't have a nightstand. I use my writing desk (and the floor) to pile books instead. On my desk there is currently a pile of eighteen different books about art criticism, because of a class I'm teaching at Emily Carr University this Spring, and, yes, I'm enjoying some of them (Oscar Wilde, Eileen Myles, James Elkins, John Kelsey). At the foot of my bed remains a copy of the Selected Letters of Flaubert that has been there for five years. I read from it whenever I can't sleep.
What genre do you prefer, and why? 
I enjoy any genre, any kind. I read both for pleasure and information. I take either in whatever form it appears. But, ultimately, more important than genre for me is whether or not I find the writing compelling. I'll read a book about anything if I like the writing, and that has led me to some unlikely books.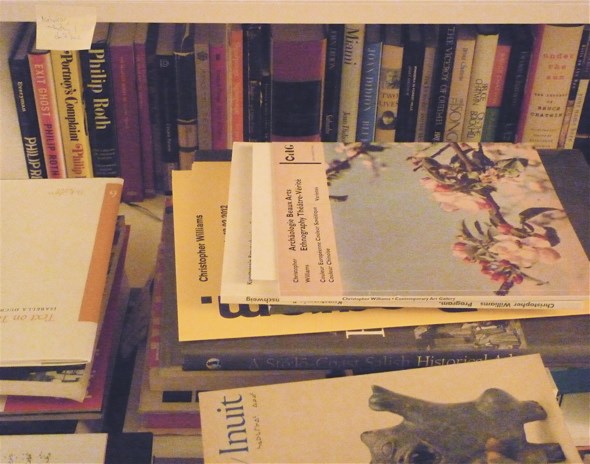 Photo courtesy Aaron Peck
What's next on your list?
Machado de Assis's The Posthumous Memoirs of Brás Cubas. I've been reading a lot of Machado lately. His novels are brilliant. Of the ones I've read, I especially liked Esau and Jacob. It's upsetting he's not better known in North America.
Who or what is your favourite Vancouver author or story set in Vancouver?
Malcolm Lowry's October Ferry to Gabriola.
Do you read newspapers and if you do, which ones? Online or print?
Online mostly: Al-jazeera, the Guardian, Democracy Now, the BBC. For local coverage, the CBC, the Tyee or even the Province sometimes.
What magazines/journals can you not live without?
If we go by what magazines I subscribe to, the list would only include the New York Review of Books, Artforum and Bookforum. But I also regularly buy the Economist, the New Yorker, the Believer, Walrus, the Times Literary Supplement, Afterall and Texte Zur Kunst. I rarely read literary journals, except for the Capilano Review or Noon perhaps, and when I do read literary journals, it's mostly to keep up-to-date with friends (example: Sam Loham's Peaches and Bats, West Coast Line, Event Magazine, or Fence); I'm sure I'm forgetting something. I also follow a number of magazines on either Twitter or Tumblr, such as the Fader, the New Inquiry, Triple Canopy, and the Rumpus.

Where is your favourite place to crack open a book in Vancouver?
I mostly read at home. Or on the bus.
What books have influenced your life the most?
That list would be way too long.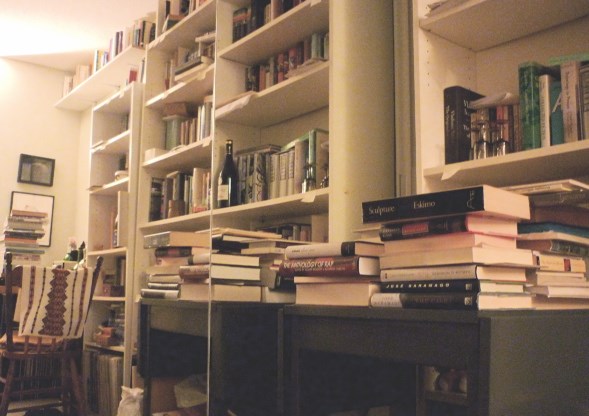 Photo courtesy Aaron Peck
What book or story impressed you as a child?  Were you obsessed with any particular ones?
I was more interested in basketball. I didn't start reading seriously until I was in my late teens. But as a child, I remember reading Robinson Crusoe and being terrified by Crusoe's encounter with cannibals, the part when he saves Friday. I read it in our family tent while my dad and I were camping at the Nakusp hotsprings.
What is the most cherished item in your library?
Off the top of my head, three things: a letterpress edition of Javier Marias's short story While the Women Were Sleeping; an early chapbook by Robin Blaser titled Cups; a copy of Jeff Wall's Object, Depiction, Event.
The one book you always recommend is...
W. G. Sebald's Austerlitz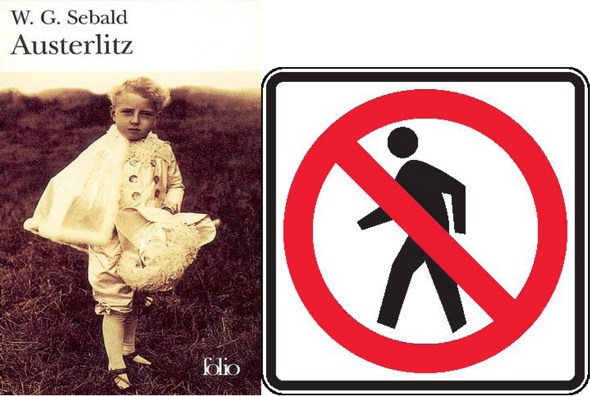 Your life story is published tomorrow, the title is?
"I Hate Walking"
Are you a hoarder or a give-away-er with books? 
I'm usually generous with my suggestions but not my library. I often buy people books, but I don't give away the books I purchase for my own collection. In fact, I've decided not to deaccession anything from my library until I turn forty. I will give away a book if I get duplicates or if I decide to hunt down another edition.
What's the last book you purchased?
I purchase a lot of books. I honestly don't remember. A good way for me to figure this out would be to ask Christopher Brayshaw at Pulpfiction Books through whom I order most my books...I think the last one I bought was a book in that pile of art criticism books called The State of Art Criticism, but the last thing I bought for myself -- to read for pleasure -- was, I think, Machado's Posthumous Memoirs. Confession: sorry, Chris, I didn't get this at Pulp Fiction, nor any of my books by Machado because I had to hunt down old hardcover copies on my own!
What's the last book you lent or gave away?
A copy of Susan Sontag's Illness and its Metaphors. I gave it away for personal reasons, but I haven't replaced it yet.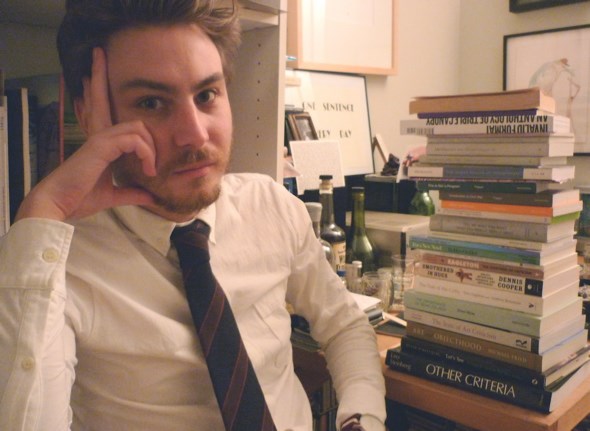 Photo courtesy Aaron Peck
Follow Aaron on Twitter and Tumblr