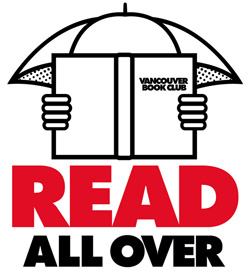 Read All Over celebrates the bookworm in all of us, showcasing readers in Vancouver and the books they love most.
Michelle Morinaga is a librarian, dancer and performer from Toronto. She loves working with books and has earned herself a sweet pair of bookstore biceps to prove it. She currently resides in East Vancouver.
What book makes you feel like a kid again?
I am continually blown away by Shaun Tan's surreal and gorgeously illustrated picture books. The Arrival and The Red Tree induce nostalgia, dreaminess and magical wonder every time I revisit them.  I have always thrived on the escapism of fictional universes, so in that sense, I'll always be a kid at heart.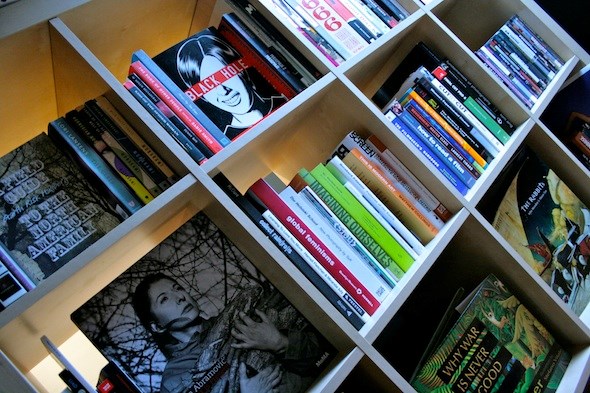 What books have changed your life?
Going back several years, bell hooks (Killing Rage, Feminist Theory: From Margin to Center) had a pretty big impact on my political awakening as a feminist. Scholars like Edward Said, Michel Foucault, Sharene Razack and Himani Bannerji were also influential at the time. On a more creative note, authors like Haruki Murakami, Miranda July, Sean Dixon, Tinling Choong, Gil Adamson and Rick Moody inspire me to start writing again.
The one book you always recommend is...
Mark Danielewski's epic House of Leaves jumps to mind. It's been a few years since I read it but it still stands out as one of the most haunting, intricate and psychologically affecting novels I've ever read. It's about a metaphysical house of sorts, and the psychoses that befall the unfortunate souls consumed by its mysteries.
How do you like your books served up best - audio books, graphic novels, used paperbacks, library loaner, e-reader…
I'm a visual person so I love art books and graphic novels. Excuse the upcoming rant, but in terms of format, there are few tactile pleasures in life that I enjoy more than browsing the shelves of mom n' pop bookshops. Digital books definitely have their place in the literary world but, for me, the analog experience is irreplaceable. I'm saddened by the closure of indie bookstores like This Ain't the Rosedale Library in Toronto and Duthie's in Vancouver because it means that there are fewer and fewer opportunities to engage with literary communities on a local level. Fortunately for us Vancouverites, we have positive initiatives like the Vancouver Book Club. Nonetheless, all you lovely readers out there, I encourage you to keep showing your love & support for local libraries and bookstores.
Librarian vs. English Professor - who is sexier?
As a librarian, my entirely unbiased opinion would have to be the former!
Your life story is published tomorrow. What's the title?
For the life of me, I can't decide on a title. That probably says a lot right there.
Where is your favorite place to crack open a good book in Vancouver?
Nothing beats bringing a companion, a beach blanket, wine, and a book of short stories to read aloud at English Bay. Miranda July's No One Belongs Here More Than You is a perfect choice for this experience. It may be cliche, but beach side reading in the West End is high on my list of favourite Vancouver activities.