The 2015 PuSh International Performing Arts Festival opened last night, but most Vancouverites probably missed the press release about our more salacious shows in this year's programming. The act to dominate Club PuSh at Performance Works on its 2015 opening, January 22–23, will be The Christeene Machine. It's a gender-blending, booty-pounding queer perversion of punk dragged through a musical theatre gutter, commanded by Christeene, a human pissoir of foul hilarity and raw unabashed sexuality.
To wind us up, we invited real-life drag husbands Peach Cobblah and the Queen of East Van, Isolde N. Barron, to share their favourite drag queens of all time.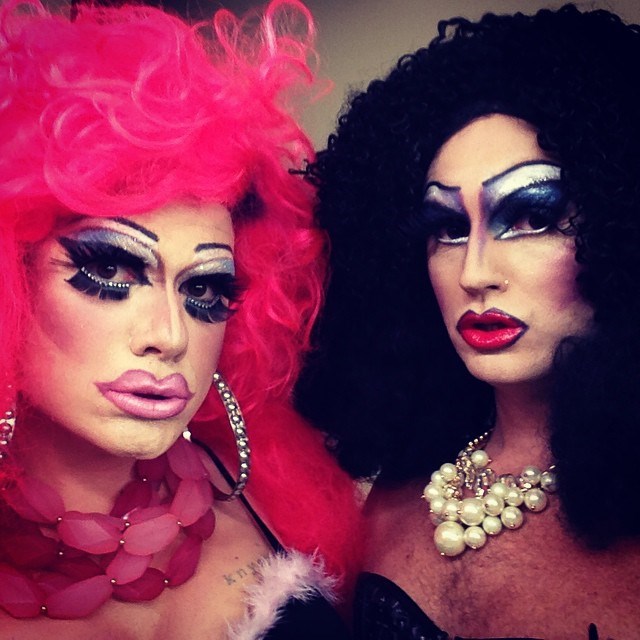 Peach Cobblah: People often forget (though Isolde and I love to remind them with our show Tucked & Plucked, which was part of PuSh last year) that drag queens are the foot soldiers of queer rights in many ways! People tend to look to us (we're hard to miss) and listen to us. Our drag ancestors were a vital part of the queer civil rights movement.
Isolde N. Barron:  Bitch don't mess with a Queen! The drag defining moment in history was definitely the Stonewall Riots in 1969! Now here's our list:
RuPaul
Peach: Love her, love her work, but enough with the mediocre reality TV girls you're churning out! If drag were a colour, a lot of those girls would be beige. Or eggshell.
http://youtu.be/LFoRH-VtFO4
Dickie Beau
Isolde: I just found out that I'm obsessed with Dickie Beau.
Peach: I do love a good dickie.
http://youtu.be/nNLejSodkm0
Lady Bunny
Peach: I wants to steal her wigs... or live in them, they're big enough.
http://youtu.be/WeCNTqvwjuc
Divine
Peach: ALL HAIL! Here's a clip from the classic John Waters film Pink Flamingos!
http://youtu.be/-RKgmEw6xZE
Ms Coco Peru
http://youtu.be/G6Y5xLvYdMM
Dame Edna Everage
Peach: Who we *just* saw live this week! Here's my Instagram video of her - up real close and personal!
Evita Bezuidenhout (Peach doesn't know who this is, but then again, she isn't the brightest bulb)
http://youtu.be/tjUhwYr48vE
Charles Busch
Peach: Yes, Peach loves Charles - a playwright and drag queen, hmm, that sounds familiar...
http://youtu.be/tMcr_7lsKOg
Lypsinka
http://youtu.be/BxjILGxNNKo
Joey Arias
Peach: A truly exquisite and highly unusual performer - his falsetto is haunting and gorgeous -  let's get him back to Vancouver!!
http://youtu.be/G-pMwDzK8uw
Christeene
Peach: This one might be NSFW...
Isolde: That all depends on where you work!
Peach: Well, you can see Christeene for yourself and make up your own mind!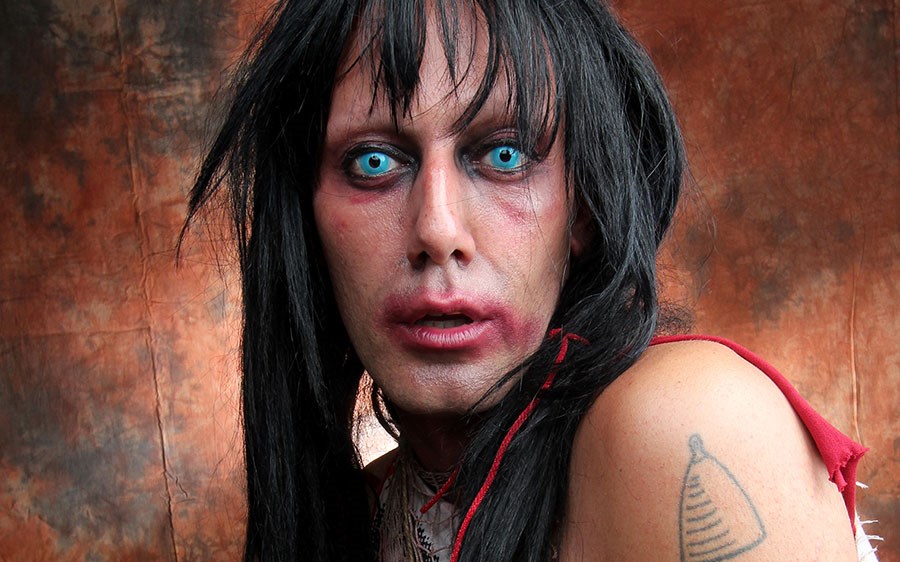 Isolde N. Barron & Peach Cobblah
Isolde: That's us, Peach!
Peach: Yes, Isolde, we are definitely some of my favourites too. Well, you mostly because you're so glamorous and I love the way you constantly throw me under the bus whenever we appear onstage together. It will make it so much sweeter when I eventually throw you under a real bus.
Peach: It's amazing how many new and impressive queens keep popping up right here at home, there must be something in the water... like glitter! I'd list them all now, but then I'd forget one, and you know how it goes, you forget one and next thing you know I show up in a dumpster with a heel in my skull.
Isolde: Here's a lesson on being a queen: you are a Queen – act like it. People will look to you as an example of what and who to be. It has to be for the art, fun and politics of it... as soon as its just about fame or your ego, QUIT.  At the end of the day you are part clown/part foot soldier and ALL man in a dress. Peach, anything else?!
Peach: Well, look at that, my dear wife actually asked for my opinion... Hmm, other lessons: one household isn't big enough for two drag queens. I'm kidding, I'm kidding! I love my wife dearly and she taught me everything I know. That's not entirely true, she only taught me the pretty bits – the ugly/decrepit bits are all me! Remember that it needs to be fun – for you, for your audience, it has to be a joke you're all in on together. Don't make it a hierarchy of you versus your people because then you'll never get them back onside! And as we learned at Stonewall, nobody wants an angry mob of torch-bearing homosexuals after them! Unless you're into that sort of thing.
---
Experience The Christeene Machine when it opens Club PuSh at Performance Works, January 22–23.  Tickets are available to book on the PuSh Pass, Youth Passport (19+), or as single tickets.