| | | |
| --- | --- | --- |
| | | THE OPENING is all about introducing the fascinating, quirky and wonderful people working in and around the visual arts in Vancouver. Each week, we'll feature an artist, collective, curator or administrator to delve deep into who and what makes art happen! |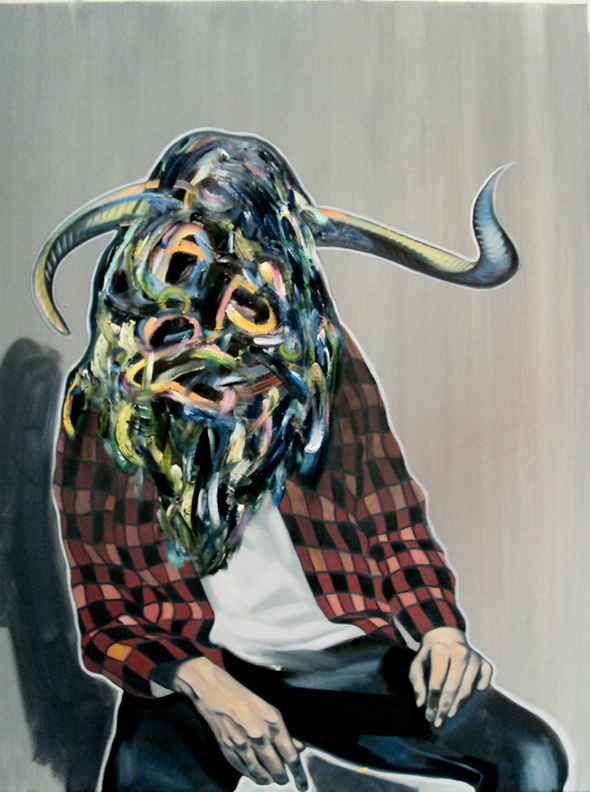 With influences ranging from 70's sci-fi to post-apocalyptic teen fiction, Angus Ferguson (b. 1973) is trying to bridge the divide between past and future, traditional vs. modern. Taken together, his paintings create filmic narratives asking you to fill in the gaps between these two poles. "You want the simplicity of this kind of peaceful existence as a wild man in the trees or something… a return to nature," says Ferguson. "Or you go forward into this sterile kind of future, clean, white, 2001 spaceships and stuff. That's the whole story of man, from the wild into the future, into space."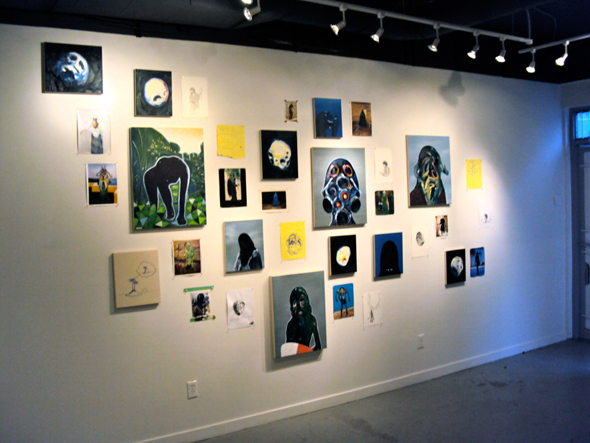 Ferguson typically paints his stories on canvas; however he often hangs fashion magazine photos he has painted on, or pen/pencil sketches on lined paper, with these more formal paintings. This salon-style of hanging is not new to him; for his current work, it seems to function more appropriately than a straight wall hanging would. It allows viewers to draw connections or create narratives in a more fluid way than if they were just hung in a line side-by-side. As Ferguson notes "it repeats back on itself. Everything is happening at once. It's whichever way your eye travels across it." You can jump from the forest to the moon to a fancy fashion-spread pool in a matter of seconds, bound together by his shaggy cast of characters.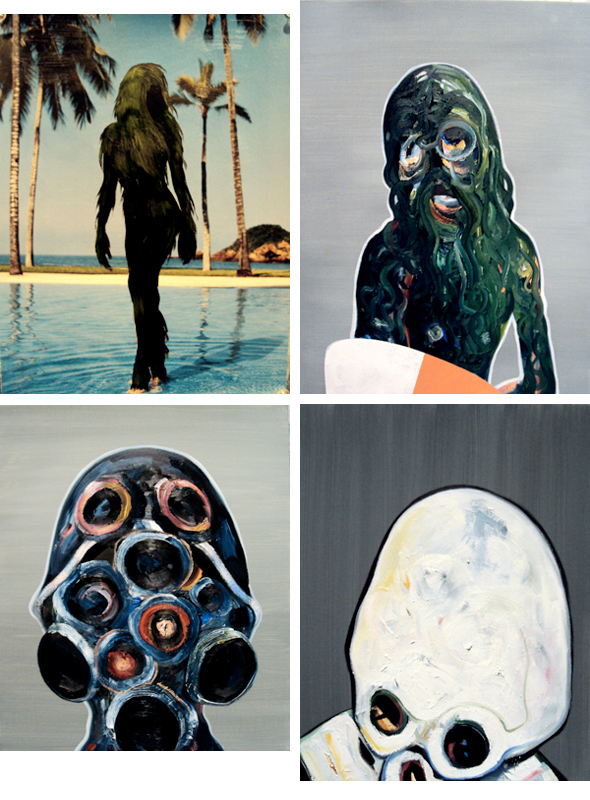 Those shaggy characters are equal in visual reference to special effects guys from the '70s as they are to Kurt Russell in the '80s. They are stuck and grounded in their past, and though others may dress and appear the same, the moment cannot be replicated. Like fellow Vancouverite Steven Shearer's longhaired metal heads, these hippies are outcasts. They are part of a particular period of time that is over, and their melancholy, however humourous, is palpable. Equally stuck, though in the sense that they do not exist yet, their sober futuristic counterparts seem appropriately adrift in space. It is this sense of progress that plays out in Ferguson's painting narrative – what has already happened, and what could happen, that comes to together to form the present.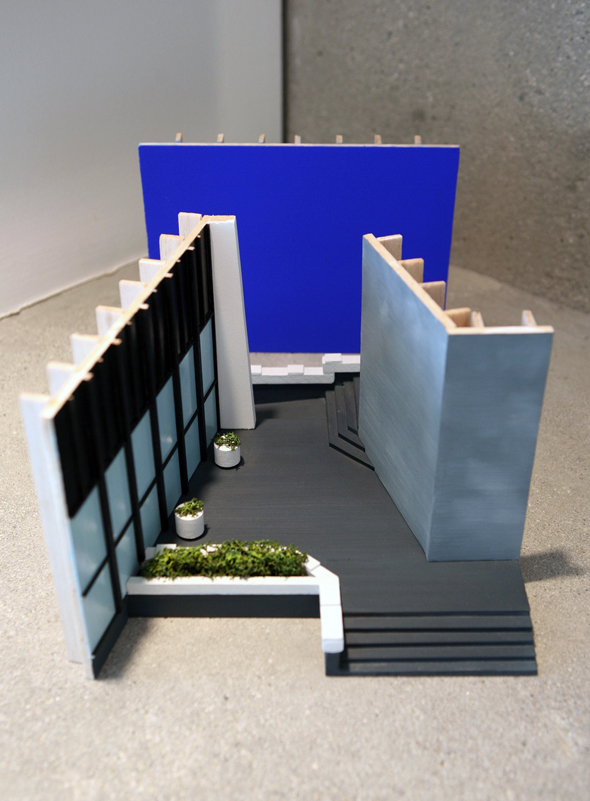 Ferguson creates more than just portraits. He has also been known to re-create places within the city in miniature – like an architectural model or the small sets used in film before computer graphics (think the original Star Trek or Star Wars). Implying another type of narrative – that of the place and not the person – they are empty without their context, without people to populate them and give them life. Ferguson enjoys creating these sets, but notes that he doesn't have any training in making architectural models, so they often come out a bit wrong. You wouldn't make the same mistakes if you knew what you were doing, but "it's kind of nice to not know what you are doing, and then see what happens. Like making a movie and not knowing how… not knowing the right way. I think a lot of making art is making things the wrong way."
No matter which way he does it Ferguson "sort of see[s] it as putting together this epic narrative that encompasses everything. It doesn't look like a film or anything, but if references film. You're just seeing it all at once." However they exist, each of his paintings, drawings and models are part of a grander story that will continue to be told, and probably never end.
Angus Ferguson graduated from Emily Carr Institute with a BFA in 2002. He has exhibited in group shows at Charles H. Scott Gallery, Belkin Satellite Gallery, and Blodgers and Klodgers Co-operative Art Parlour, as well as solo shows at Blanket Gallery and Gallery Atsui. In 2007 he was short listed for the RBC Painting Competition. Ferguson will be exhibiting at "Public Access: 1999 and Beyond," A UNIT/PITT project presented at Centre A and curated by Weekend Leisure, opening on March 25. He will also have a solo show at Chernoff Fine Arts in the summer.
All photos courtesy Angus Ferguson.