Sometimes, in a heartbeat, someone wonderful comes into your life. With a flash of blonde hair, turquoise paint and irrepressible energy, Amanda McCuaig came into ours. She's a woman of many hats: outstanding watercolour artist, serious and strategic communications professional, passionate about sustainability and a playful and effervescent friend who likes to go on adventures in the forest. She always keeps her paintbrushes clean, her imagination sharp and her tongue lodged firmly in her cheek. Plus, you might never know it, but she secretly knows almost everyone in Vancouver. That's because she's the poster girl for why Vancouver Is Awesome.
- Karen Pinchin and Lizzy Karp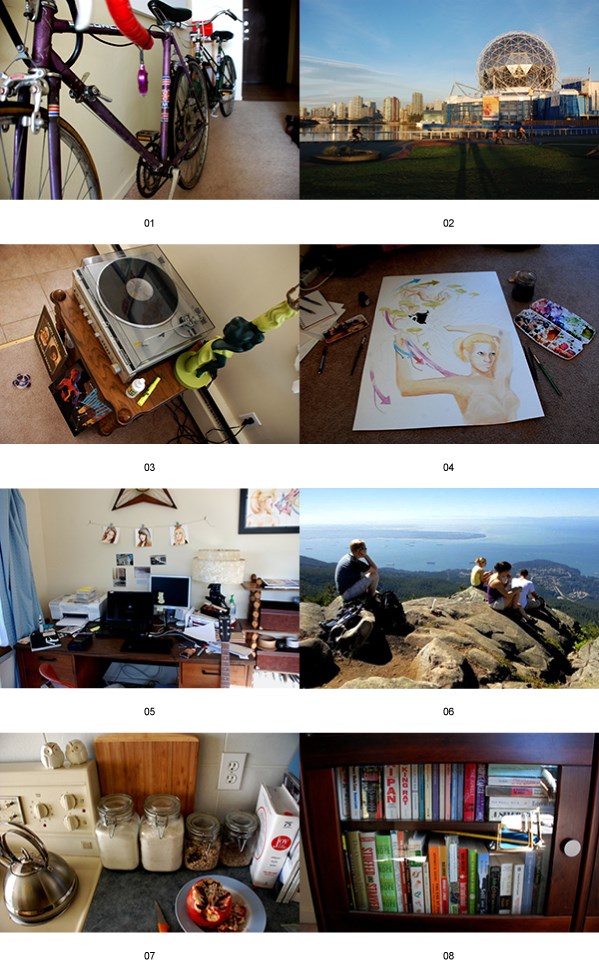 The Proof
01 I fell madly in love with old CCM bicycles when I lived briefly in Toronto. Mostly because they reminded me of my dad's hockey gear and made me nostalgic and I was sooooo homesick. I have 3 of them now - a 1 speed in blue, a 3 speed in green, and a 5 speed in purple - and an extra frame like the purple one above.
02 My view as I walk from the staff parking lot to TELUS World of Science.
03 I have listened to this Poppy Family record almost every day since I found it. This table was built by my grandfather who is a carpenter with only two fingers on his right hand (the most remarkable man, he can build anything), and the antique lamp was a mega score from the coast of Oregon.
04 I only paint with watercolour. Here is a fun fact: they always look shitty at this stage. You have to finish them just so you don't have such horrible crap lying around your apartment. The thing I love about watercolour is that it tries to control you. You have to be so careful to negotiate with the pigment to get it to do what you want. My life goal is to be able to make completely photo-realistic watercolour paintings.
05 Too many things to say about this space. This is where I write for ArtThreat.net, edit mine and Lizzy's monthly radio show Feels Like Home, and paint small portraits like the ones of Christine McAvoy (left). That lamp is also a mega score from the coast of Oregon, it sits on my prized stack of Hi-Fructose magazines. In the upper right corner is the first of my "real" paintings, and my personal favourite (I still love it 4 years later). My work space is always this untidy, despite my best intentions.
06 Hanging with some of my best friends at Eagle Bluffs. Later this day I went to Locarno Beach and pointed back up here and said "I ATE LUNCH THERE" and then jumped in the ocean. Vancouver magic.
07 When I bought the Joy of Cooking I was so excited I called my best friend long distance to say "Holy cow! Did you know that cook books teach you about food?"
08 Ever since then the majority of books I purchase are about food. Or are used classics of some sort. Or are written by James Clavell.
The Questions
What neighborhood do you live in?
I live north of Hastings Sunrise really close to the Burrard Inlet. It's like living in this quiet town that no one knows about, but it's secretly easy to get anywhere from there by bike.
What do you do and where?
I work full time at Science World as the Communications Coordinator. Yes, working there is as awesome as you think it might be and no, we aren't owned by Telus (we're actually a charitable non-profit, the building is named TELUS World of Science). Everyone here is basically amazing - there are so many artists, comedians, actors, etc, who are active artists in their off time. So far my all-time favourite moment is from watching the Sporty Science show in which the facilitator asked the kids "What do you absolutely need in order to be an athlete?" All the kids yelled stuff, and then some little boy yelled "GATORADE!"
When I'm not writing and editing and media liaising at work I'm at home painting portraits of people who inspire me / ideas of people, writing for ArtThreat.net, or up at CJSF recording stories and producing the radio show I do with my pal Lizzy called Feels Like Home.
What are you working on?
I just started a pretty ambitious portrait project where I'm going to paint the portraits of 45 people in Vancouver who inspire me and give me fun things to do. I am so in love with this city and the people in it, it just feels like everyone is doing something so neat right now and they're so passionate and enthused. I want to capture that. I hope to have it finished in February or March.
I'm also finishing that mess up above. Trust me, every watercolour painting looks better in person.
Where can we find your work?
You can find my paintings online at www.mettlelurgy.com (that is, if recent downloads of Feels Like Home hasn't crashed it). If you're ever in W2 you can swing by the Open Media office to see my portrait of Stephen Harper. And if you happen to be friends with any of my friends you can probably see paintings I've done of them at their houses. With some negotiation you can find one in your own house.
You can listen to Feels Like Home the 4th Monday of every month at 7pm on CJSF 90.1 fm, right here on VIA, or at www.feelslikehomeradio.wordpress.com.
And you can read what I write about art at www.ArtThreat.net.